This exhibit was posted on 7-2-2005
Please Note: The background on this page is an aerial photo of the sea ice near the island of Svalbard, Norway
Polar Bear Tour with a Lot of Polar Bears.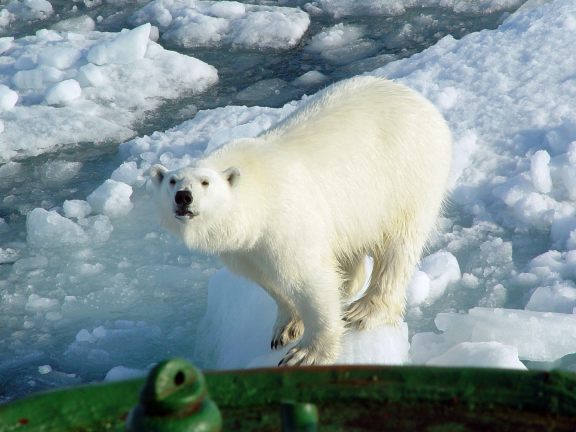 Photo by Richard Meng
`
| | | |
| --- | --- | --- |
| Go to Previous Page | | Go To the Next Page |
This is a great picture of a polar bear taken by Richard Meng. This is a snowmobile tour to Tempelfjorden on Svalbard but it can also be called a polar bear tour. On this polar bear tour the snowmobile riders ride about about one hundred miles. For your safety, there is always someone with a rifle on this tour. One of my friends in Longyearbyen said that only about one in a hundred polar bears will attack, but he went on to say that the longer he has been around polar bears the less he can predict their nature so it pays to be safe.
In the event that a polar bear does attack you must fire a warning shot first. If this doesn't stop the bear from advancing it is necessary to fire three more shots right at the middle of the polar bear. The three shots are part of a procedure that should not be deviated from. After shooting a bear, the bear should be approached from the rear and very cautiously. Once you are sure that he is dead, you must report the incident to the governors office in Longyearbyen. After the report, personnel from the governors office will inspect the bear to see that there are no shots in the bears back indicating that the bear was not in an attack posture. The polar bear will then be taken back to Longyearbyen and its fur and meat will be sold to the proper places.
..
Or to take an Arctic Adventure Cruise Click Here.
Or take a fantastic Snowmobile Vacation Click Here.
/North_Pole_2005/Snowmobile_Tempelfjorden_12_Polar_Bear_Tour.html|31473"
Click Here for Jaguar Sports Cars for Sale
Click Here to go to the YellowAirplane Online Museum
or Bible Gateway, Read Almost any Bible, In Any Language, For Free, Great Search.


Look at these exhibits and tell me what these men really fought for.
The 34th Fighter SquadronThe 34th fighter Squadron WW2 Exhibit USS Kitty Hawk Aircraft Carrier Exhibit.
About the Webmaster, Why God Send Me to the North Pole