German World War II Jet Fighters
!
Plastic Cements

Plastic Paints


Zero Gravity, Ride in the Vomit Comet Airplane.
The First Jet Aircraft


Wagner. A detailed analysis of jet aircraft design and development in Germany from the first drawing board projects to late war jet engine production. Carried on under utmost secrecy, and despite a lack of raw materials and Allied bombing, marvelous new age aircraft took to the skies, too late to make a difference in the outcome of the war. 260 pgs., 260 photos, 8"x 11", hdbd.
#0003777
Price: $39.95
The First Jet Pilot


The Story of German Test Pilot Erich Warsitz.
Warsitz. This book examines the fascinating life of pioneering German test pilot Erich Warsitz, who, in 1939, became the first man to fly both a jet-powered aircraft (the Heinkel He 178) and a liquid fuel rocket-powered aircraft (the He 176). You'll read about the birth of the jet age, Warsitz's work with legendary designers such as Wernher von Braun and Ernst Heinkel, and much more. 176 pages, B&W photographs, 6"x 9", hardcover.
#0036150
Price: $39.95
The Jet Race and the Second World War


Pavelec. In the 1930s, the German military buildup caught Britain and America off-guard, particularly in aviation technology. This analysis captures the excitement of the high-stakes race to develop effective jet engines for warfare and their development through the end of World War II, from the first turbojet engine designed by Hans von Ohain in 1939 through the Gloster Pioneer and Meteor, the Bell Airacomet, and beyond. 248 pages, 6"x 9", softcover.
#0012967
Price: $19.95
Turbojet: History and Development 1930-1960 Volume 1


Great Britain and Germany
Kay. This heavily illustrated book examines the early history and development of turbojet, turboprop and turboshaft engines from the earliest days up to the end of the 1950s, showing you the pioneering work of German and British designers and manufacturers, including the very first jet engines designed by Frank Whittle before World War II. 240 pages, 580+ B&W photographs, engine data tables, and more. 8"x 11", hardcover.
#0015555
Price: $69.95
Turbojet: History and Development 1930-1960 Volume 2


USSR, USA, Japan, France, Canada, Sweden, Switzerland, Italy and Hungary.
Kay. The second and final volume in a complete history on the early years of the jet engine, this book covers all the countries that embarked on jet engine development after the leads established by Great Britain and Germany before World War II. Superbly illustrated with hundreds of photographs of engines - turbojet, turboprop, turboshaft and turbofan - and the aircraft they powered. (See also Volume 1, item #15555). 240 pages, 300 B&W photographs and illustrations, 8"x 11", hardcover.
#0015556
Price: $69.95
V-1 Flying Bomb 1/48 Kit


The Fieseler Fi 103, better known as the V-1 "buzz bomb" or "doodlebug," was an early pulse-jet-powered predecessor of the cruise missile that Germany employed against England and Belgium from mid-1944 into the spring of 1945. This 1/48 scale, plastic kit of that early terror weapon (most of its victims were civilians) is a wonderful representation of the original. You get engraved panel and hatch lines, a realistic pulse-jet pod with inlet details, the familiar "vane anemometer" on the nose (used to provide distance information during flight), and more. You even get the transport dolly for display! 6" long; 18 parts, assembly required.
#0092963
Price: $14.95
V-1
Original WWII German Manuals for the V-1 "Buzz Bomb."


This book contains reprints of original German documents related to the V-1 "buzz bomb," which struck terror into British and Dutch civilians during World War II, as well as information about the U.S. Navy's post-war testing of the V-1 and radio-guided "Loon" missiles. Text primarily in German. 236 pages, B&W illustrations, 8"x 11", softcover.
#0020477
Price: $24.95
V-1 Flying Bomb 1942-52


Hitler's Infamous "Doodlebug"
Zaloga. Known to the Allies as the "Buzz Bomb" or "Doodlebug", the V-1 was the world's first cruise missile. This book explores the V-1 in detail, covering its initial concept, first use in 1944, the various Allied counter-measures, and the later use of the V-1 during the Battle of the Bulge. The major foreign derivatives, including the U.S. copy "JB-2 Loon" and numerous post-war Soviet variants, are also covered. 48 pages, 35 B&W photographs, 7 pages of color illustrations, 7"x 9", softcover.
#0015356
Price: $17.95
V-1 Flying Bomb vs. Gloster Meteor III 1/72 Kit


Now, you can recreate one of the most daring missions of World War II! Replicating a Nazi V-1 flying bomb and a Gloster Meteor III - the Royal Air Force's first operational jet fighter - trying to shoot it down, this 1/72 scale, plastic set includes everything you need to build both kits. You even get eight acrylic paints with brushes, poly cement, and a stand to display the V-1 and Meteor together in flight! The V-1 measures 4" long and the Meteor is 7" long with a 6" wingspan; 41 parts, skill level 2.
#0083166
Price: $29.95
Luftwaffe at War Series Vol. 14
Softbound Book
Griehl. This photo-essay, one of a 21-volume series, covers every aspect of the Luftwaffe in World War II, examining the men and the aircraft they flew as it charts the rise and fall of this mighty force. This softbound, 72 pg. volume contains 106 B&W photos along with 8 pages of color and measures 7"x 10".

As the Allies intensified their bombing of the Third Reich, the Luftwaffe's conventional fighters seemed taxed to their very limit, making the sudden appearance of rocket aircraft, when Major Spate attacked a P-47 over northern Germany in May 1944, the advent of Germany's last hope.

This volume presents extremely rare photos of Germany's rocket planes and vividly captures the wartime career of the Third Reich's secret weapons. Using images taken during the war of aircraft under development and in the field, this comprehensive study examines the rocket planes' appearance and markings and the pilots who flew and tested the aircraft. The book covers the Me 163B ('Komet'), Me 163BV1, Me 163AV4, and also examines a number of key experimental planes the Me 262 C and the 'Natter', for example. #0019114 Price: $14.95
Wings of Fire - DVD


The Messerschmitt Me 163
This DVD on the Me 163 - the world's first rocket-powered fighter, which took to the skies over German in the final days of World War II - includes an original short film covering the history of the craft; development, engine testing and flight testing footage; a vintage USAAF briefing on the Me 163; World War II gun camera film of the Me 163B in combat; still photos of the Me 163; a special "Modeler's Notes" audio commentary track; and more. B&W, 1 hr. 38 min.
#00V9454
Price: $19.95
Hi-Tech Hitler -DVD


This program explores remarkable engineering and scientific accomplishments - from jet power to the electron microscope - pioneered by the Third Reich, including many that have helped to radically transform the world for the better. You'll examine the role of science and technology in Hitler's Germany, learn why so many important advances emerged from the reviled regime, track the ongoing influence of Nazi science today, and more. Color and B&W, 50 minutes.
#00V9077
Price: $24.95
Messerschmitt Me 163 1/72 Scale Model Kit
Plastic Model Kit


Kit features fully engraved panel lines and rivets, highly detailed cockpit interior, and options for building either the "B" or "S" variant. Includes towing tractor; assembly required.
.....#0009486 $12.95
JB-1A Thunderbug


WWII Flying Wing Bomb, America's First Cruise Missile, The Northrop "Bat Bomb" and the GE B-1 Engine. Carpenter & D'Alessandro. Examine America's answer to the German V-1 Buzz Bomb through original documents, photos and interviews with participants. With an airframe designed as a manned aircraft and a turbojet engine, this late-war weapon, which never saw action, was the precursor to cruise missile technology. 52 pgs., 80 B&W photos, drawings, 8"x 11", sfbd.
#0010590
Price: $9.95
Me-262 Diecast Models
Me 262 Plastic Model Kits
Me 262 Aviation Art and Gifts
Me 262 Books
Me 262 DVD Movies
Nest of Eagles


Messerschmitt Production and Flight-Testing at Regensburg 1936-1945.
Schmoll. Filled with firsthand accounts from test pilots and Luftwaffe personnel as well as many rare photographs, this book examines the workings of the famous Messerschmitt works at Regensburg, which produced many of Nazi Germany's key aircraft, including the Bf 109, Me 210 and Me 410 fighters; the Me 163 rocket interceptor; the Me 262 jet fighter; and the massive Me 321 and Me 323 "Gigant" series of transports. 192 pages, 215 B&W photographs and illustrations, 9"x 12", hardcover.
#0049182
Price: $49.95
Focke-Wulf Ta 183
X Planes of the Third Reich


Myhra. With its single turbojet engine and signature "Multhopp T-tail," the Ta 183 had been selected for immediate series production in March, 1945, and it was believed that the 183's maiden flight might occur as quickly as June, 1945. Post-war, the Ta 183 became the "mother" of the Soviet MiG-15. This photographic history features 129 mostly previously unpublished photos, 3-view line drawings, and stunning state-of-the-art digital color images. 64 pgs., 11"x 8", sfbd.
#0003818
Price: $9.95
Messerschmitt P.1101
X Planes of the Third Reich


Myhra. Powered by a single turbojet engine, the 1101 was an attempt to produce the world's first variable wing sweep, ultra light weight interceptor, armed with Germany's state-of-the-art wing-mounted air-to-air guided missiles. An incredible attempt for its day, with the work later being continued by Bell, resulting in the U.S. X-5. This volume features mostly previously unpublished photos and 3-view line drawings. 64 pgs. with over 100 photos and line drawings. 11"x 8", sfbd.
#0003820
Price: $9.95
German Jets & V1 and V2 Flying Bombs - DVD
The Luftwaffe in WW2


On July 25, 1944, the future of air combat was changed forever when the revolutionary German jet fighter, the Messerschmitt Me 262, attacked an RAF Mosquito flying over Munich. In this fascinating video, you'll see details not only of that cutting edge Me 262, but also of an entire generation of highly advanced combat types employing jet and rocket propulsion. You'll even see the first of Hitler's "revenge" weapons - the V-1 flying bomb and V-2 rocket - that were intended to turn the tide of the war. 55 minutes.
#00V9653
Price: $14.95


Heinkel P.1077 Balsa Kit


Though the Germans were unable to complete their P.1077 advanced jet fighters before the Soviets overran the factory, your workbench runs no such risk! This laser-cut balsa wood kit includes a full-size, CAD-drawn plan; a vacuum-formed canopy; skids and gun pods; colored tissue and decals; FAI rubber and a propeller; and more. For display, rubber-, or Jetex-powered flight; 13" wingspan, assembly required.
#0008859
Price: $23.95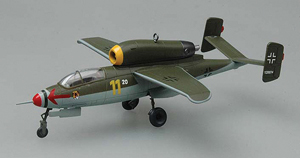 Heinkel He 162A-2 Volksjager 1/72 Model


Replicating the Heinkel He 162A-2 jet fighter (which went from drawing board to first flight in just 69 days) flown by 16-victory ace Oberleutnant Karl-Emil Demuth - Staffelkapitn of 3./JG 1 - in defense of the Reich in May, 1945, this hand painted, 1/72 scale, plastic model features textured surfaces, a detailed cockpit with an ejection seat and a glazed canopy, extended tricycle landing gear, and authentic markings, including nose colors that indicate the pilot wore the German Cross in Gold and 16 victory bars on the vertical fins. Measures 5" long and includes a display stand.
#0093516
Price: $17.95
He 162A-2 Volksjager 1/72 Die Cast Model
II./JG 1


The 19th release in the Oxford Diecast series of 1/72 scale, die cast warplanes, this model replicates an He 162A-2 Volksjaeger ("People's Fighter") single-engine, jet-powered fighter flown with II./JG 1 when it evacuated from Marienehe to Leck, Germany, in May, 1945. You get engraved panel lines; a detailed cockpit with a glazed canopy; prototypical anhedral wingtips; a pitot tube, an antenna, and other fine detail parts; an authentic paint scheme; and more. 5" long; includes a display stand identifying the plane and unit.
#0096219

Price: $19.95
Rocket and Jet Aircraft of the Third Reich


Treadwell. During World War II, German scientists and engineers were under constant pressure by German High Command to develop planes and weaponry that were at the very cutting edge of aviation technology. In this volume, you'll learn of the technological advancements those scientists and engineers achieved and see how, as the war drew to a close, they were caught between the Allies who wanted to control them and the SS who would stop at nothing to prevent them from falling into enemy hands. 192 pages, 6"x 10", hardcover.
#0029937
Price: $29.95
Luftwaffe X-Planes


German Experimental Aircraft of World War II.
Griehl. From jets and high altitude aircraft to radar-equipped fighters configured to deliver chemical weapons, numerous Luftwaffe aircraft designs reached prototype stage but never made it into mass production and battle. This book is a definitive, revelatory guide to the remarkable range of secret planes that the Third Reich envisioned but failed to complete. 80 pages, 114 B&W photographs, 6"x 9", hardcover.
#0019106
Price: $32.95
Heinkel He 162 "Volksjager"


Last Ditch Effort by the Luftwaffe
Muller. Featuring more than 200 German documents photographed in their original state, this heavily illustrated volume examines the development, manufacture and operation of the single-engine, jet-powered, Heinkel He 162 Volksjger (People's Fighter), which was fielded by the Luftwaffe in the final days of World War II. You'll learn about its propulsion, camouflage, armament, cockpit, and more. 430 pages; 140 B&W photographs, 30 color plates and 50 scale drawings; 8"x 11"; hardcover.
#0036193
Price: $89.95
Messerschmitt P.1099B/I Plastic Model Kit


The Messerschmitt P.1099B/I was intended to be a further development of the Me 262, retaining its wings but with an enhanced, armored fuselage for attacking Allied bombers.

Replicating that conceptual jet fighter, this 1/72 scale, plastic kit features textured surfaces; a detailed, two-man cockpit with a periscope sight; movable front and tail machine guns; realistic landing gear; a choice of two markings (ZG 1 and I./KG(J) 76); and more. 7" wingspan; 78 parts, skill level 3.
#0083740
Price: $19.95
JV 44 Me 262 Shirt - XX-Large


This premium quality, pre-shrunk cotton, ocean green-colored t-shirt features a screen-printed Me 262 jet fighter and "JV 44" - Jagdverband 44, a special fighter unit of top German aces who flew the Me 262 in the final months of World War II - on the front and, on the back, a list of German jet aces.
#0069312
Price: $34.95
JV 44 Me 262 Shirt - X-Large


#0069311
Price: $29.95
JV 44 Me 262 Shirt - Large


#0069310
Price: $29.95
JV 44 Me 262 Shirt - Medium


#0069309
Price: $29.95
Oberleutnant Erich Sommer's Arado Ar 234B Blitz
Limited Edition Aviation Art Print




Barry Spicer. An Arado Ar 234 flown by Oblt. Erich Sommer - accompanied by an Me 262 - continues its climb to 34,000 feet during the world's first jet reconnaissance mission, which flew on August 2, 1944, to photograph the lodgement area held by the Allies in Normandy. 31"x 23" limited edition, numbered print is signed by the artist and by Sommer.


#0072300
Price: $

149.00
The Aircraft of the Luftwaffe
The German War Files
8 DVD Movie Documentary Film


The Greatest in German Aviation of World War II
Through vintage footage, this 8-disc collection covers every aspect of Luftwaffe aircraft and their efficient, deadly threat to the Allied forces of World War II, from the menacing gull-winged Stuka dive bomber and the workhorse Ju 52 transport to revolutionary jet-propelled fighters such as the Messerschmitt Me 262. B&W and color, 7 hrs. 15 min.
#00V9659
Price: $69.60
Secret Messerschmitt Projects
Hardbound Book


Radinger & Schick. Portrays the P1101 swept-wing jet fighter that succeeded the Me 262. Information on this unique craft was not available until now. Complete facts and figures, development data and photos, plus comparisons with other Luftwaffe fighters. 200 photos, 208 pgs., 8"x 11", hdbd.
#0001670
Price: $34.95
Junkers Ju 287


Germany's Forward Swept Wing Bomber
Ransom, Korrell & Evans. The extraordinary Junkers Ju 287 - the first truly swept-winged, jet-powered aircraft - took to the sky in August, 1944, when Germany was suffering round-the-clock bombing by the Allied forces. This lavishly illustrated book examines the Ju 287 in detail, tracing the development of the forward swept-winged aircraft prior to the 287's appearance, the aircraft's subsequent history in the Soviet Union, its post-war influence on aircraft projects, and more. 160 pages, 130 B&W and color photographs, 9"x 12", hardcover.
#0011541
Price: $49.95
Junkers Ju 287
Hardbound Book


The World's First Swept-Wing Jet Aircraft. Lommel. In the summer of 1944, the prototype of the Ju 287 V1, a four-engine jet bomber with forward swept wings, took to the skies over Leipzig-Brandis and made history with its unusual design. This book reveals the striking craft through previously unpublished reports, photographs and drawings, examining not only its specifics but also its contributions to future jet aircraft designs in both the East and the West. 224 pages, 300+ B&W photographs, line drawings 8"x 11", hardcover.
#0021029
Price: $49.95
The World's First Jet Bombers
Softbound Book




Arado Ar 234 & Junkers Ju 287 Kobel. First used in combat in World War II, the Ar 234 and the Junkers Ju 287 were major developments in aircraft design. Here is the illustrated history of these groundbreaking aircraft. 48 pgs., 8"x 11", sfbd.


#0005073
Price: $

9.95
Hitler's Secret Weapons
World War II Data Book


1933-1945
The Essential Facts and Figures for the German Secret Weapons Programme
Porter. This heavily illustrated book examines the pioneering development and operational history of Nazi secret weapons, including rocket- and jet-propelled aircraft, the pilotless plane, long-range rocket technology and "robot" bombs, the world's first super-heavy tanks, and others. 192 pages, 150 color and B&W photographs and illustrations, 7"x 9", hardcover.
#0036187
Price: $34.95
Jet Planes of the Third Reich - Volume 2
The Secret Projects. Griehl.
Hardbound Book


This lavishly illustrated volume describes the Luftwaffe's jet and rocket-powered bomber, ground-attack, night fighter, reconnaissance, training and transport aircraft projects, including the Ju 287, the Arado 234, the Heinkel 343, the Me 264, the Ta 400, the BV P.188, the Me 163 and Me 263, and others. Volume One is also available (item #3806). 200 pages, B&W and color photographs, color illustrations, 9"x 12", hardcover.
#0019903 Price: $49.95