Fw 190A-8
Ernst Schroeder, Sturmgruppe 5./JG 300
the Fw 190A-8 flown by 7-victory ace Ernst Schroeder of Sturmgruppe 5./JG 300 in defense of the Reich in November, 1944
Fw 190D-9, one of Germany's best late-war fighters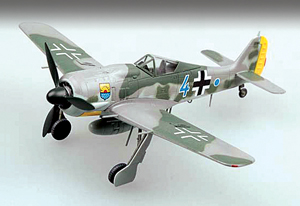 Fw 190A-8
Rudolf "Rudi" Linz, 12./JG 5 "Eismeer," 1944
Along with the Bf 109, the Fw 190 was the backbone of the Luftwaffe's World War II fighter force. the Fw 190A-8 flown over the Eastern Front by 70-victory ace Rudolf "Rudi" Linz - the commander of 12./JG 5 "Eismeer" - in 1944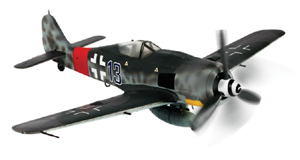 Fw 190A-8 ."Blue 13," the Fw 190A-8 flown by JG 300 commander and 100-victory ace Walter Dahl in defense of the Reich in 1944.
Fw 190F-8/R3 "Tank Buster"
One of the two tank-busting Fw 190F-8/R3 attack planes ever built (the two prototypes were built by Dornier in November, 1944, before the project was abandoned).

Fw 190F-8
I./St.G.2, Hungary, 1945
Fw 190F-8 flown by I./St.G.2 - which converted from Bf 109Es and Ju 87s to the new Fw 190F in June, 1944 - during the 1945 winter campaign in Hungary (where Fw 190Fs were always outnumbered by Soviet ground-attack aircraft and German bases were constantly under attack).

Fw 190D-9
In early 1945, after flying missions against American heavy bombers at high altitude, IV./JG 3 "Udet" pilots were stationed at Germany's Prenzlau airfield, where they flew low-level bombing and strafing attacks against Soviet troops advancing towards Stettin and Berlin. "Blue 2," an Fw 190D-9 that flew with Stab IV./JG 3 in that spring of 1945.
Fw 190D-9
3./JG 26
The Yellow 16, an Fw 190D-9 flown in defense of the Reich by Obfhr. Klaus Wendler of 3./JG 26.

Fw 190A-8
Oberstleutnant Josef Priller, JG 26 "Schlageter"
"Black 13," the famous Fw 190A flown by 101-victory ace Oberstleutnant Josef Priller - the longest serving Kommodore of JG 26 "Schlageter" - when he made a single strafing pass (made famous in the book and film The Longest Day) over Sword Beach on D-Day, June 6, 1944.
Fw 190A-8
Uffz. Paul Lixfeldt, 6.(Sturm)/JG 300
Featuring the colorful 6.(Sturm)/JG 300 markings - including a wild boar on the nose - of Uffz. Paul Lixfeldt from November of 1944, when JG 300 flew up-armored Fw 190s to take on invading B-17s.
Fw 190A-8/R2
12.(Sturm)/JG 3, Willi Unger
This 1/72 scale die cast model of the Fw 190A-8 flown by 24-victory ace Oberfeldwebel Willi Unger
Fw 190A-8
Major Kurt Buhligen, II./JG 2, Creil, France, June, 1944
the Fw 190A-8 flown by 112-victory ace Kurt Buhligen (who was finally stopped when he was captured by the Soviets after an engine malfunction) when he achieved his 100th victory over France on the day after D-Day.
Fw 190A-8
A replica of the Fw 190A-8, which had more power and a longer ranger than earlier variants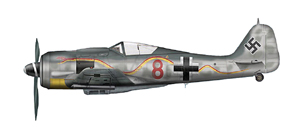 Fw 190A-7/R6
3./JGr 10, Parchim, Germany, 1944

Fw 190A-7 "Doppelreiter"
"White 7," W.Nr.380394, JGr 10
In 1944, a research team at Graf Zeppelin Flugzeugwerke designed an experimental prototype for extended range flying based on the A-7 version of the famous Fw 190.
One-of-a-kind Fw 190A-7 "Doppelreiter," which was fitted with unique, over-wing "slipper" fuel tanks in an attempt to create less drag than a standard centerline drop tank.

Fw 190A-6
Lt. Heinz Gunther Luck, I./JG 1, September, 1943
A replica of the Fw 190A-6 flown by 6-victory ace Leutnant Heinz-Gunther Luck, I./JG 1, during World War II Luck's dog "Lucki;"
Fw 190A-6
"White 2," Generalmajor Adolf Galland, Berlin-Tempelhof 1944
The Fw 190A-6 flown by 104-victory ace Generalleutnant Adolf Galland when he toured German air bases in his role as General der Jagdflieger in the fall of 1943.

Fw 190A-4
Unteroffizier Helmut Brandt, JG 54, Eastern Front, 1943
The 12th release in the Oxford Diecast series of 1/72 scale, die cast warplanes, this model replicates the Fw 190A-4 flown by Unteroffizier Helmut Brandt of the JG 54 "Green Hearts" on January 13, 1943, when he made a forced landing on the ice of Ladoga Lake following a battle against pilots of the Soviet 158th IAP.
Fw 190A
Oberleutnant Otto "Stotto" Stammberger, 4./JG 26, 1943
"White 1," the Fw 190A flown by 8-victory ace Oberleutnant Otto "Stotto" Stammberger when he was appointed Staffelkapitn of 4./JG 26 in February, 1943.

Fw 190 & Ta 154 Mistel
Introduced in 1943, the "Mistel" composite aircraft was a large "super bomb" - typically a hollowed-out bomber filled with explosives - attached to a fighter via struts. A replica of a Mistel combination that never reached production, a Focke-Wulf Fw 190 fighter and its payload, a converted Focke-Wulf Ta 154 Moskito.`

Focke-Wulf Ta 152C-0
a pre-production version of the Ta 152 (a high-altitude, late-war, Luftwaffe fighter-interceptor derived from the Fw 190)
Focke-Wulf Fw 190D-9 "Dora"
"Yellow 15," an Fw 190D-9 "Dora" flown with the Luftwaffe's JG 301 in defense of the Reich, a Junkers Jumo 213 A1 12-cylinder inverted-Vee piston engine
Fw 190A-4
3./JG.5, Leutnant Josef Pepi Jennewein, Orel, 1943
the Fw 190A-4 flown by 86-victory ace Leutnant Josef "Pepi" Jennewein of 3./JG 5 over the Eastern Front in 1943 a summer camouflage scheme

Fw 190A-4
JG 54
Fw 190A-4 flown by 58-victory ace Hannes Trautloft - Kommodore and "father" of JG 54, the "Green Hearts" - over the Eastern Front
Focke-Wulf Fw 190A-7
Fw 190A-7 Wrger fighter flown by JG 1 in defense of the Reich late in World War II III./JG 1 markings, including the unit's famous black-and-white engine cowling.
Fw 190A-3
Entering service in 1941, the Fw 190 underwent constant upgrading throughout its life, with this A-3 version incorporating the improved BMW 801Dg engine that produced 1,700 hp and an armament increase from four to six guns.
Fw 190A-6/8
Red 13, Heinz Bar

Luftwaffe fighter MG 151 and MG 131 cannons and 500 lb. bomb JG 1's 221-victory ace Heinz Br,
WW2 Focke-Wulf Fw 190 Books
WW2 Focke-Wulf Fw-190 Aviation Art
In early 1944, during the defense of the Reich (Reichsverteidigung), the Fw 190s of JG 1 were painted with striped engine cowlings and colorful fuselage bands for quick identification. Depicting an Fw 190 of I./JG 1
Fw 190A-8/R2
12.(Sturm)/JG 3, Willi Unger
the Fw 190A-8 flown by 24-victory ace Oberfeldwebel Willi Unger Unger's Yellow 17 paint scheme from 12.(Sturm)/JG 3 in 1944
Fw 190A-3 markings of 43-victory ace Oberleutnant Karl Borris, Staffelkapitan of 8./JG 26