The Essex-class USS Hancock (CV-19) aircraft carrier in her 1945 configuration - the Hancock was awarded four battle stars for her World War II service and was later employed in the Vietnam War
Suicide attacks and/or aftermath of suicide attacks on: USS Hancock (CV-19), USS Bunker Hill (CV-17), USS Enterprise (CV-6), USS Lexington (CV-2), USS Intrepid (CV-11) and USS Nevada (BB-36).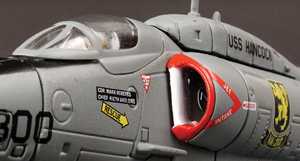 "The Fleet That Came To Stay." Photographed by USN, USMC and USCG photographers during WWII, it shows the bombing of Okinawa in preparation for invasion by 100,000 U.S. Marine Corps and Army troops. 400,000 U.S. personnel were off Okinawa on 1,400 ships. Scenes of Task Force 58 ships waiting for D-day also include many kamikaze attacks by Japanese aircraft, of which 4,232 were destroyed.
An A-4E Skyhawk flown by the VA-212 "Rampant Raiders" from the USS Hancock (CVA-19) on tactical sorties against North Vietnamese military and logistics targets during Operation Freedom Train in 1972

The ship was the fourth US Navy ship to bear the name, and was named for John Hancock, president of the Second Continental Congress and first governor of the Commonwealth of Massachusetts.
USS HANCOCK was one of the ESSEX - class aircraft carriers. Originally named TICONDEROGA, the carrier was renamed HANCOCK on May 1, 1943, becoming the fourth ship in the Navy to bear the name