The Gee Bee model X Sportster Racer.

In 1930, the Granville Brothers built the Gee Bee Sportster Model X to fly in the Cirrus Engine Company's "All American Derby."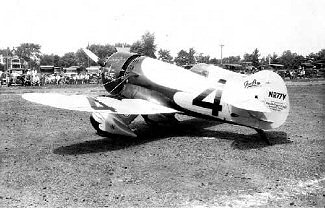 At 110hp, the Model X had a top speed of 140 mph, and was the fastest stock aircraft in the race, coming in second place to a custom-built machine. It was clear that the Gee Bee design was a winner, and the Granville Brothers fame spread quickly. The name "Gee Bee" came from "G.B." or the Granville Bros.
The Granville Brothers were soon marketing new and improved versions of the Gee Bee Sportster: the Model C, Model D, Model E, Model F, and Model Y (The Senior Sportster). As money got tight during the depressionthey were convinced to build even another racer to win the Thompson Trophy in Cleveland, OH, in 1931. The Gee Bee Model Z was the fastest airplane in America, and proved it by winning the race.
First the Gee Bee Company started out building their biplane trainer which was an excellent flying machine. Then they built a special aircraft designed around the American Cirrus engine to compete in the All American Derby of 1930. This was a 5,541 mile race sponsored by the Cirrus Company to demonstrate the durability of their engine. Eighteen aircraft competed in this race that started in Detroit, the motor capital of the world, penetrated the deep South, went as far west as Los Angeles, and then returned to Detroit. The Gee Bee Model X, as this first low wing sport plane was called, flown by Lowell Bayles, finished second in the race and thus began a situation which was to make this company, formed by the five Granville Brothers (Gee Bee was the spelled out abbreviation for Granville Brothers) one of the most well known concerns in aviation history.
Following the success of the Gee Bee Model X Sportster in the Cirrus Derby, the company received many requests from sportsman pilots for one of the little single seat Sportsters.