www.YellowAirplane.com
LCDR Mike Purcell
and his Family with their
VF-114 The Flying Aardvarks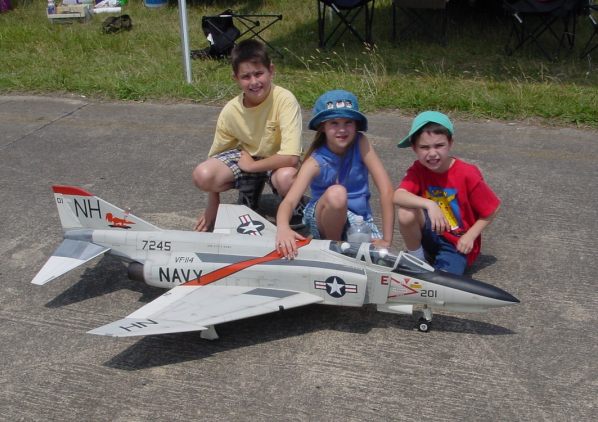 Photo by C. Jeff Dyrek
Sir, great website with lots of cool info. I was researching the Vigilante and saw the Aardvarks Phantom in the corner. I thought you might enjoy a picture of my Remote controlled version of the VF-114 F-4 Phantom. Kit is made by Yellow Aircraft and is a 1/10th scale F-4E. I had to paint it in Navy colors (I'm a Navy man myself.) All the markings are airbrushed on, including the Aardvark. Only decals are the Stars and Bars and some ejection info triangles. It has a single ducted fan engine that moves my "toom" around the sky at 150 MPH, lands at 25 kts. I can also drop a centerline tank for show. She does all the maneuvers including spins and inverted flight and just looks so cool on a low flyby. I joined the Navy to fly this famous aircraft but was too late as they phased it out during college. So I opted for P-3C Orion.

Sincerely,
LCDR Mike Purcell
Chesapeake VA
Kitty Hawk Photo Page
North Pole Expedition 2003 Exhibit
0008903135 width=380>
F-14 Tomcat Balsa Wood Kit
This unique balsa and tissue kit offers an interesting alternative for jet fighter kit building. Built as a "skeleton" model, it makes an impressive display piece. Tissue covered and decorated with decal insignia, it is an eye-catching replica of its namesake. 1/40 scale kit has a 19" wingspan when completed. Assembly required.

0009159
F-14A Tomcat 1/48 Kit

The Navy's most powerful fighter has been flying from the decks of the fleet for over 20 years. This plastic kit features an F-14 upgraded to A-plus specs with Phoenix missiles, an extended crew ladder, and authentic fleet markings. Skill level 2, 155 pieces and approx. 14" in length.
Airplane Books Airplane Videos Airplane Models
To See All Exhibits in the Yellow Airplane Online Museum, Click Here.

Yellow Airplane Home Base
Airplane Books * Airplane Movies * * Airplane Models * Camaros for SaleAircraft Calendars * Jet Fighter Models * Flight Manuals
Exhibits * Museums * RC Boats * Ship Models * Sailing Ships
Tanks * Military Vehicles * * * Action Figures *
( Train Sets ) * Railroad Books * Real Sports Cars for Sale * * * Real Sports Cars for Sale * Adventures * Survival Equipment More Aviation Art * More Models *
Click Here for a list of WW2 Fighter Groups
Click Here to go to the YellowAirplane Online Museum
/pics/Purcell_F-4_VF-114.htm|35647"