A Tribute to Vincent Dauro and Joe Parker,
test pilots in World War 2

Joe Parker, a famous test pilot, was the only loss of a pilots life on Ie Shima when he Crashed his P-47 Thunderbolt in WW2.
The 318th Fighter Group in WW2
Info From Our Readers
A Tribute to Vincent A. Dauro
Plus
A Tribute to Joe parker, test pilot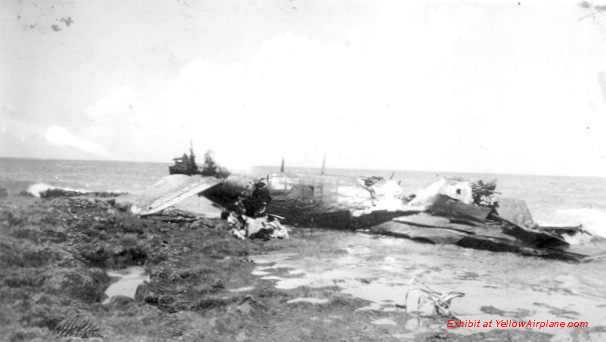 Scanned by Frank and Denise Dauro
I went on ahead and sent you Dads description of Joe Parker's crashed plane,
My Father told me later that he was attempting
a takeoff. And was trying to show the boys you didn't
have to make a full Throttle takeoff.
He did not realize the airstrip was very short.
Joe Parker was a test pilot in WW2
Webmasters Note: One of my long time friends, Jack Long, a AT6 Fighter Pilot Instructor then a B-29 Pilot, told me a story about his first experience with the P-47. He was stationed at a training base in Florida when a pilot came to show the squadron the new P-47. Jacks Commanding Officer took the plane for his first test ride and flew past the troops who were watching on the ground. Jacks Commander flew by at full speed then pulled back on the stick for a quick climb. This is a DON'T. The plane went into a high speed stall and instantaneous horizontal spin only fifty feet from the ground. Jacks Commander recovered, flew around the pattern then landed. He told his troops, "I almost got killed." This is one of the DON'T's of flying a Warbird. Don't Show Off. C. Jeff Dyrek
00V8403
00V8403465 width=284> 00V8403
Gun Camera Footage of WWII
00V8403

Original Footage from WWII Fighters and Bombers! Loaded with historic footage, viewers will witness the terror of the air war exactly as it was fought in Europe and the Pacific, all seen from the unique vantage point of the cockpit. Shown the way it happened - with U.S. bombers under relentless attack by Nazi fighters and then our own P-51s, P-47s, and P-38s as they charge into battle. Approx. 45 min.
.
The Deep Flight Aviator - unique hydrobatic submersible craft
Click Here to Take a Ride Yourself

or Watch This TV Program to hear the latest on where our country is going.
Look at these exhibits and tell me what these men really fought for.
the 34th fighter Squadron
USS Kitty Hawk
About the Webmaster, Why God Send Me to the North Pole
Avitop.com Aviation banner exchange - Join now!
/34th-2/Dauro_16.html|23388"