Books about the P-38 Lightning.
0001401327 width=250 align=left>
0001401
Pilots Manual for the Lockheed P-38 Lightning
Softbound Book
0001401
A reprint of the official government handbook designed to show the new cadet how to fly the aircraft. Heavily illustrated with all the data. 66pgs., 8½"x 11", sfbd.
9
Portals Into the Sky" 172"0049541border="1" hspace="10" vspace="4" width="250" height="198" align="left">0049541
Portals Into the Sky

A Collection of Vintage Cockpit Photographs.
Cilio. This photo-history takes you into the cockpit of vintage airplanes to view the instruments and controls.
You'll enter the Aeronca Champion, Beechchraft Bonanza Model 35, Bellanca Skyrocket, Boeing B-17 and B-24, Cesnna 172 Skyhawk, Convair 340, de Havilland DHC-2 Beaver, McDonnell Douglas DC-3 and -6, Grumman F6F Hellcat, Hughes H-4 Hercules, Lockheed P-38 Lightning and Constellation, North American P-51 Mustang, Northrop P-61, Piper J-3 Cub, Republic P-47 Thunderbolt, Sikorsky S-38, Stinson 108, and many others. 112 pages, 160 B&W photographs and illustrations, 11"x 8", softcover #0049541 2
0021105
The 14th Fighter Group in World War II
Hardbound Book
0021105
Lambert. Through hundreds of photographs as well as first-person accounts, this heavily illustrated book presents a detailed history of one of the first P-38 units - the 14th Fighter Group - to fight in North Africa and the Mediterranean during World War II, following it from the Allied invasion of North Africa in November, 1942, through the two-year Mediterranean air war in which it battled German, Hungarian, Rumanian and even Russian air forces. 176 pages, 200+ B&W and color photographs, 8"x 11", hardcover.
#0021105
4
0005119325 width=250 align=left>
0005119
20th Fighter Group
Ron MacKay.
0005119
Follow the WWII exploits of the 20th Fighter Group, flying their P-38 Lightnings and P-51 Mustangs over Europe. You'll read of such famous aces as Jack Ilfrey in his P-38 "Happy Jack's Go Buggy" and Jim Morris in his "'Til We Meet Again." But even better, you'll read of the less famous yet equally brave men who went about their task day by day, month by month. A wonderful look at what one typical Group experienced during the war. 80 pgs., 200 B&W photos, 32 color profiles and more. 8½"x 11", sfbd. #0005119 1
0006881
The 370th Fighter Group in WWII
Hardbound Book
0006881

In Action Over Europe with the P-38 and P-51
Jones. This thorough history of the 370th covers their formation, their assignment to the 9th Air Force to fly P-38s, and finally their switch to P-51s. Involved in every major Allied offensive from D-Day on, these airmen showed extreme courage and determination, as you'll see here through the words and photos of the pilots themselves. 320 pages, 700+ B&W and color photographs, color profiles, 8"x 11", hardcover.
#0006881
0021028
The 479th Fighter Group
Hardbound Book
0021028
In WWII in Action over Europe with the P-38 and P-51. Fairfield. This book's chronological listing of the 479th FG's activities in WWII is based on their own historical records, military documents and interviews. In addition to the hard facts and the statistics the group achieved, you'll also read personal anecdotes from members who describe both combat action and life back at the base. 500 pages, 650+ B&W photographs, color profiles, 8"x 11", hardcover.
#0021028

0715307932Air Combat Legends
by Nicholas Trudgian, Nicolas Trudgian
Hardcover - 96 pages (May 1999

0715307932
for the latest
This is an excellent example of military artwork at its best. Gives the reader an excellent background on the thought process behind each of Trudgian's masterpieces. I own 11 separate prints of his and this book is a welcome addition to my Trudgian collection. Highly recommend this book to any WW2 historian or fan. You'll almost feel as if you're there, breaching the Mohne Dam in 1943, celebrating victory with a Spitfire Squadron, or making a first strike on Berlin. The legends of air combat come alive once again in these 30 extraordinary full-color paintings by acclaimed artist Nicholas Trudgian. Here are some of the most important battles and bombers in modern warfare -- including the Luftwaffe defending the Third Reich and a "Dawn Chorus" of Lightning planes soaring over the countryside, bathed in morning light. Preliminary sketches accompany some, and exciting historical commentaries place the paintings in context.
Hardcover: 95 pages
Publisher: David & Charles (March 1999)
Language: English
ISBN-10: 0715307932
ISBN-13: 978-0715307939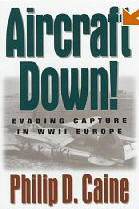 1574880861 Aircraft Down! :
Hardbound Book
1574880861
Evading Capture in WWII Europe
by Philip D. Caine
Hardcover An authority on pilot evasion, escape, and survival recounts extraordinary adventures that took place in Holland, Belgium, France, Spain, Italy, Albania, and Greece during World War II.
About the Author
Brig. Gen. Philip D. Caine, USAF (Ret.), has more than 4,500 hours of flight time, taught military history at the U.S. Air Force Academy, and is the author of American Pilots in the RAF (Brasseys, Inc., 1993) and Aircraft Down! Evading Capture in WWII Europe (Brasseys, Inc., 1997). He lives in Monument, Colorado.
Hardcover: 285 pages
Publisher: Brassey's Inc; 1st edition (November 1997)
Language: English
ISBN-10: 1574880861
ISBN-13: 978-1574880861
0001389325 width=250 align=left>
0001389
America's Hundred Thousand
U.S. Production Fighters of WWII
Dean.
0001389
Covers in detail the eleven fighter typers produced during WWII. P-40, P-39, P-38, P-47, P-51, Corsair, Hellcat, Wildcat and others. Includes development, production, combat records, comparative records with a chronology of combat, and more. 608 pgs., 1000 photos, 8½"x 11", hdbd. #0001389
0001677325 width=250 align=left>
0001677
Attack & Conquer
Stanaway & Hickey.
0001677
The 8th Fighter Group in WWII. The 8th took the first P-39s into combat against the Imperial Japanese Navy. They added victories in P-40s and P-47s, and finally took the air war to the enemy with P-38s over Rabaul Hollandia. 500 photos, 320 pgs., 8½"x 11", hdbd. #0001677 4
0021078
Battle Colors Volume II
Hardbound Book
0021078
Insignia and Aircraft Markings of the Eighth Air Force in World War II, Volume II: (VIII) Fighter Command
Watkins. This second volume in the Battle Colors series focuses on the Fighter Groups, Scouting Force and Special Operations units of the Mighty Eighth, depicting all known unit insignia, tactical markings and identification codes and diagramming approved specifications for the size and placement of all versions of the U.S. insignia applied to P-38, P-47 and P-51 fighter aircraft. 144 pages; 600+ color profiles, insignia, photographs and maps; 9"x 12"; hardcover.
#0021078
4
0019117
Flying American Combat Aircraft of World War II
Softbound Book
0019117
1939-45
Higham, ed. Firsthand accounts from pilots and dozens of accompanying photographs take you inside the cockpits of classics such as the P-51 Mustang, the B-17 Flying Fortress, the P-47 Thunderbolt, the P-38 Lightning, the P-40 Warhawk and others to find out what combat was truly like in the wartime skies of World War II. 368 pages, 73 B&W photos, 6"x 9", softbound.
#0019117
2
0001856325 width=250 align=left>
0001856
Happy Jack's Go Buggy
A Fighter Pilots Story
Jack Ilfrey.
0001856
Fly through the skies with Ilfrey in his P-38 as he and his unit, the famed 94th Fighter Squadron, become the first group of American aircraft to fly from the USA to England. Thrill to the stories of aerial combat over North Africa as Ilfrey becomes one of Americas first WWII air aces. Over 190 B&W and color photos, 3 color aircraft profiles, 128 pgs., 8½"x 11", hdbd. #0001856 3
0005377245 width=250 align=left>0005377
Lockheed P-38 Lightning
Aero Detail Vol. 28
0005377
This is a close-up, photographic tour of the two immaculately restored P-38Ls on display at the USAF Museum and the EAA Aviation Center.165 color photos give you a detailed look at the aircraft, while engineering drawings, cutaways, exploded views, 3-views and color profiles complete this detailed reference on these amazing fighters. 72 pgs., 10"x 10", sfbd.
#0005377
0015529
Lockheed P-38 Lightning
Hardbound Book
0015529
Scutts. Lightning! One of the best-named aircraft of World War II, the Lockheed P-38 was also one of the few fighters in production throughout hostilities. Here, you'll follow the twin-boomed aircraft's development throughout the war and see its service in all theaters of battle as the P-38 came to exemplify the technical peak reached by aeronautical engineers of the 1940s. 160 pages, 165 B&W photographs, 8"x 11", hardcover.
#0015529

0002189322 width=250 align=left>
0002189
P-38 Lightning, Part 1
In Detail & Scale Vol. 57
Kinzey.
0002189
Includes detailed coverage of the prototype through the P-38H variant. The corresponding F-4 and F-5 photographic reconnaissance variants are also covered. Cockpits, landing gear, engines, armament, photographic bays, and much more. 80 pgs., 16 in color, 200 photos, 8½"x 11", sfbd. #0002189 1
0002131335 width=250 align=left>
0002131
P-38 Aces of the ETO/MTO
Aircraft of the Aces Vol. 19
Stanaway.
0002131
Takes the story of the P-38 to Europe and North Africa, tracing the careers of many previously unknown aces and helping to redress the balance which has in the past seen all the "glory" for the fighter victories in the theater shared between the pilots of the P-47 and P-51. 96 pgs including 12 pgs. of color profiles and portraits., 90 photos, 7¼"x 9¾". #0002131 2

0002071338 width=250 align=left>
0002071
P-38 Aces of the Pacific & CBI
Aircraft of the Aces Vol. 14
Stanaway.
0002071
The P-38 was used on virtually every front to which the USAAF was committed, but enjoyed its greatest success in the China-Burma-India theaters. Over 1800 Japanese aircraft fell to its guns and more than 100 pilots scored at least five aerial victories in the P-38. Here is the story of the plane and those pilots! 96 pgs including 15 pgs. of color profiles and portraits, 85 photos, 7¼"x 9¾". sfbd. 0002071 2
096293593X Pacific War Eagles : China/Pacific Aerial Conflict in Original Color

096293593X
by Jeffrey L. Ethell, Warren M. Bodie, Bob Boyd (Illustrator) Very well done! The color photos were excellent adding a whole new dimension to that horrendous conflict. Jeffrey J. Ethell and Warren M. Bodie have done a great service to all who participated in the Pacific war.
Hardcover: 224 pages
Publisher: Widewing Publications; 1St Edition edition (May 1997)
Language: English
ISBN-10: 096293593X
ISBN-13: 978-0962935930
0004411322 width=250 align=left>
0004411
Peter Three Eight
The Pilots Story
Stanaway.
0004411
From the eyes of the P-38 fighter pilots themselves comes this dynamite history of the fork-tailed devil, beginning with its intro in 1942 through the end of the war. Follow the 5th Air Force in China, Burma and India; the 13th AF in the Solomons; the 8th and 9th sorties from England; and the 12th and 15th in Italy and the Mediterranean. Lists the top aces and their mounts with nose art, crew photos and experiences. 251 photos. 132 pgs., 8½"x 11", sfbd. #0004411
0004753341 width=250 align=left>
0004753
Picture History of WWII
American Aircraft Production
Stoff.
0004753
A war time tour of restricted aircraft plants. Consists of 258 large, crisp photos taken inside U.S. aircraft plants during the war. You name it, see it being assembled: P-38s, Hellcats, B-17s, Corsairs, etc. 179 pgs., 8¾"x 11¾", sfbd. #0004753 1
0003666325 width=250 align=left>
0003666
Possum, Clover & Hades
Stanaway.
0003666
Unit history of the 475th P-38 Fighter Group in WWII, the fastest-scoring outfit in the SW Pacific. Compiled from American, Australian and Japanese records, included are interviews with the veterans. You get color profiles, victory lists, and over 300 P-38s listed by serial number and pilot. 700 plus photos, 320 pgs., 8½"x 11", hdbd. #0003666 4
0003584328 width=250 align=left>
0003584
Queen of the Midnight Skies
The Story of American Air Force Night Fighters Pape
Harrison.
0003584
Here is the book for P-61 and night fighter buffs. Details of the development and combat records of all American night fighter units, detailing each record with over 800 B&W and color photos. Includes the service of P-70 and P-38 night units, plus the development of radar and night defenses during WWII. 320pgs., 8½"x 11", hdbd #0003584 4
0003781365 width=250 align=left>
0003781
Report of Joint Fighter Conference.
Hardbound Book
0003781
NAS Patuxent River, MD 16-23 Oct. 1944. A must for the buff or historian, this book covers the views of the military services, test pilots, engineers, scientists, and a transcript of proceedings. Discusses the qualities of aircraft such as the P-39, P-47, P-38, P-51, etc. in relation to their adversaries. Serving to promote cross-talk between all aspects of aircraft fighter production and use. 6"x 9", 432 pgs., 100 photos and charts, hdbd. #0003781 3
0001613372 width=250 align=left>
0001613
Sharpie
Bartels.
0001613
Evelyn Sharp was an early barnstorming pilot who became one of the first women to ferry U.S. Army Air Force fighters during World War II. Evelyn was an original member of WAFS and WASP. Her life ended prematurely when the P-38 she was to ferry crashed soon after takeoff. 344 pgs., 105 photos, 6"x 9", sfbd. #0001613 1
0018125
Torrance Airport
Images of Aviation
Softbound Book
0018125

Lobb. This photo-essay presents the history of California's Lomita Flight Strip, known today as Zamperini Field, the Torrance Airport, or TOA. You'll see squadrons of P-38s fly off into World War II; Japanese Americans who found temporary housing at the field after being released from internment camps; the world's largest manufacturer of civilian helicopters, which settled at the field more than 30 years ago; aerobatic champ Bob Herendeen in training; and much more. 128 pages, 205 B&W photographs, 6"x 9", softcover.
#0018125

"Twelve to One" V Fighter Command Aces of the Pacific0015171342" align="left">
0015171
"Twelve to One" V Fighter Command Aces of the Pacific
Aircraft of the Aces Vol. 61
Softbound Book
0015171

Holmes, ed. This book includes the never-before-available-to-the-public USAAF manual for new pilots heading to the Pacific Theater of Operations to face the Japanese. In addition to the training document, you also get biographies of contributing pilots such as Dick Bong, John McGuire and others who discuss the performance of P-38s, P-40s and other fighters. 128 pgs., 90 B&W photos, 36 color profiles, 7"x 9", sfbd.
#0015171
2
Victory Roll!0005817322" align="left">
0005817
Victory Roll!
Hardbound Airplane Book.
0005817

The American Fighter Pilot and Aircraft in World War II. William Wolf. This is the story of America's "best and brightest," from the early-war young men who were hastily trained and flying inferior aircraft such as the P-39, F2A and F4F, to the well-trained, late-war pilots in their F4Us, F6Fs, P-47s, P-38s and finally, P-51s. You'll learn the key role this generation of young Americans played before they took their place in American society and industry. 456 pgs., 670+ B&W photos, 8"x 11", hdbd.
#0005817

Out of Print Books
P-38 Lightning Walk Around0006865vspace="4" border="1" width="150" height="112" align="left">
P-38 Lightning Walk Around
Davis. Lockheed designed the Lightning as a fighter-interceptor, which led to its distinctive twin-boom, twin-engine design. Seeing action in all theaters of WWII, the P-38 evolved to incorporate more powerful engines and refined systems as well as adapting to photo-recon, fighter-bomber and night-fighter roles. Take a detailed look at the P-38J day-fighter, F-4/F-5 recon and P-38M night-fighter variants. 79 pgs., 195 color and B&W photos, 18 color profiles and more. 11"x 8", sfbd.
0005681193 width=150 align=left>The Lockheed P-38 Lightning
Warren Bodie.
A highly detailed record of the development and operation of the P-38 Lightning. "...the most thoroughly researched and well written book..." - Kelly Johnson, Lockheed Skunk Works. High precision line drawings - including details on never-before-published prototypes and proposals - are just some of the treats inside. In addition to the plane, you'll also get coverage of top P-38 aces of WWII. 276 pgs., 280 B&W and 39 color illustrations, 8¾"x 11¼", sfbd.
0002488218 width=150 align=left>
Dear Mom, So We Have a War
Carl Bong.
Dick Bong, a P-38 pilot from Wisconsin, became Americas top flying ace with 40 enemy aircraft destroyed. From his letters, combat reports, and statements, the reader will get to know this gutsy and dedicated airman and legitimate hero. 672 pgs., 250 photos, 6"x 9", hdbd.
0002684193 width=150 align=left>
Lockheed P-38 Lightning
Pace.
The inside story of this famous WWII Allied aircraft, from its early design phases all the way through full wartime production. Witness the creation and combat uses of Lockheeds legendary 'Fork-Tailed Devil' in over 100 photographs. Filled with Lightning prototypes, technical details and markings. 120 pgs., 40 B&W illustrations, 18 color, 8¼"x 10¾", sfbd.
0001991232 width=150 align=left>
Fork-Tailed Devil
Caidin.

The Lockheed P-38 Lightning is known today as a fighter airplane, but in fact it was designed to intercept and destroy enemy bombers. But, from the first test flights, the plane that was to become the P-38 made it clear that it truly was a new generation fighter. And it demanded a new kind of pilot - one who could handle the kind of firepower and speed that foreshadowed the modern jet fighter. Here is the story of pilot and plane in development and in combat, as they swept the skies of Europe, North Africa, and the Pacific. A magnificent story of one of the finest weapons to be applied in WWII. 304 pgs., 5¼"x 8¼", sfbd.
P-38 Units of the 8th & 9th0006282vspace="4" border="1" width="150" height="201" align="left">
P-38 Units of the 8th & 9th
American Eagles
Freeman. This book examines the distinctive P-38 Lightning's service in the European Theatre of Operations with the Eighth and Ninth Air Forces, including photographic variants, bomber escort operations and 'Droop Snoot' high-speed bombing missions. The author also presents an overview of P-38 camouflage and markings as well as the careers of several P-38 aces. 80 pgs., 130 B&W photos, 30 color illus., 8"x 11", sfbd.
0004321225 width=150 align=left>
Kelly
Clarence L. 'Kelly' Johnson and Maggie Smith. Designer of almost every outstanding Lockheed aircraft from the P-38 to the awesome Blackbirds, Kelly Johnson emerged from a childhood of poverty and obscurity to make his mark on the aviation world. His A-12/YF-12/SR-71 was secretly flying at Mach III+ long before other designers even admitted it was possible. This is the book the CIA didnt want published because of the sensitivity of some of Lockheeds projects. The book doesnt print any secrets, but it does reveal details on the development of many famous (and infamous) airplanes. 210 pgs., 6"x 9", sfbd.
Leydenfrost
The Baron of Aviation Art: Combat Aircraft Paintings Published by Esquire Magazine from 1942 to 1945
Wayt & Wayt. Autographed by the authors, this large-format book features the stunning artwork of Alexander Leydenfrost that appeared in Esquire magazine during World War II. You'll thrill to paintings of legendary U.S. aircraft including the F4F-3 Wildcat, P-38 Lightning, B-26 Marauder, P-39 Airacobra, P-47 Thunderbolt, CG-4A Glider, SB2C Helldiver, B-29 Superfortress, P-61 Black Widow and many others. 54 pages, 35 color and B&W illustrations and 66 B&W and color photographs, 10"x 14", hardcover.
0005309213 width=150 align=left>
Lockheed
Images of America
Bowman.
A photographic history of Lockheed starting from the Loughead brothers' first (failed) company begun in a garage, and continuing through the Lockheed Corporation's development of such aircraft as the Vega, the P-38 Lightning, the C-130 Hercules, the SR-71 spyplane and many more. An incredible journey chronicled by a wonderful selection of 230 B&W photographs, each documented by well-written, explanatory text. 128 pgs., 6½"x 9¼", sfbd.
0003738193 width=150 align=left>
Thunderbolt and Lightning
The Jug and the Fork-Tailed Devil
Michael O'Leary.
0002231202 width=150 align=left>Lockheed P-38 Lightning
Prod. Line to Frontline Vol. 3
OLeary.
With its innovative twin-boom and supercharged engines, the P-38 Lightning was considered by many the Cadillac of World War II fighters. Rare archival material from Lockheed shows P-38 prototypes and frontline variants at the manufacturers facilities. 8 page color section, double-page cutaway, 144 pgs., 130 B&W, 7¼"x 9¾", sfbd.
0004149113 width=150 align=left>P-38 Lightning in Action
Davis.
"The Fork-tailed Devil" was the most recognizable fighter aircraft of the Second World War. When it was introduced during 1939, the Lockheed design immediately made every other fighter aircraft obsolete. Here is a heavily illustrated history of its design, testing and deployment. Includes 3-view drawings, 10 color profiles and 140 photos. 57 pgs., 11"x 8¼", sfbd.
0004948194 width=150 align=left>
Lightning Strikes
The 457th Fighter Group in the Pacific War,
1943-1945
Yoshino.
A richly detailed history of the 475th Fighter Group and their P-38 Lightnings in battle. Includes a complete Group roster and a Victories list. 165 pgs., 150 photos, 8½"x 11", sfbd.
0001733229 width=150 align=left>
Fighter Pilot
World War II in the South Pacific.
Gaskill.
After Gaskill joined the 13th Air Force, he became his squadrons test pilot in the South Pacific. He flew ground support in the Bell P-39 Airacobra, then flew the Lockheed P-38 Lightning. He flew over 500 combat hours, with 87 combat missions in the P-39 and 90 in the P-38. From his overseas diary and his Pilots Reference Strip map carried on every mission, he has reconstructed these experiences. 6"x 9", 186 pp., illustrations, sfbd.
0006159213 width=150 align=left>
The Lockheed Twins
Marson.
This is the ultimate reference on all the commercial and military versions of the Lockheed 10 Electra, Lockheed 12, Lockheed 14, Hudson, Lodestar, Learstar, PV-1 Ventura, PV-2 Harpoon, Saturn, and the many post-war civil conversions. Preserved and civil P-38 Lightnings and P2V Neptunes are also covered. Includes more than 7,000 aircraft histories with over 330 photos. 680 pgs., 8¼"x 11¾", hdbd.
0002629195 width=150 align=left>
An Escort of P-38s
Mullins.
The history of the 1st Fighter Group in WWII is told using both official records and personal recollections. Flying the P-38 throughout the war, they fought from bases in England, North Africa and Italy, and downed of over 400 Axis aircraft. 190 pgs., 177 photos/illustrations, 8½"x 11", hdbd.
0002191193 width=150 align=left>
P-38 Lightning, Part 2
In Detail & Scale Vol. 58
Continues Lightning coverage with the P-38J through the P-38M, a night fighter created through conversion of "L" models. Purchase with Part 1 above for complete Lightning coverage. 80 pgs., 16 in color, 200+ photos, 8½"x 11", sfbd.
"Happy Jack's Go Buggy"
WW2 P38 Ace North Africa,Jack Ilfrey
Publisher: Schiffer Pub.Ltd.
4880 Lower Valley Rd.
Atglen,PA.,19310
Ph 610-593-1777
FAX 610-593-2002
Comment from Mike Eaton: Very good reading! Best book on aerial combat that I have ever read.

Info from Mike Eaton