A-1 Skyraider Books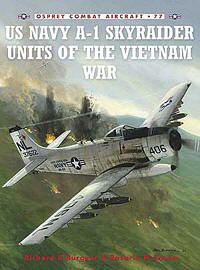 U.S. Navy A-1 Skyraider Units of the Vietnam War
Combat Aircraft Vol. 77
Burgess & Rausa. Nicknamed the "flying dump truck," the A-1 was a key component in naval air wings from the Korean War through the 1960s. Now, filled with rare photographs and full-color profiles, this book examines the operations of the U.S. Navy's A-1 attack and EA-1F airborne early warning aircraft in southeast Asia from 1960 through 1969, when the last examples were finally retired from carrier decks. 96 pages, color and B&W photographs and illustrations, 7"x 9", softcover.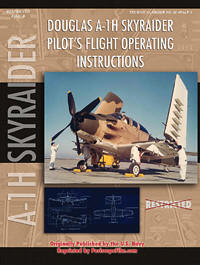 Douglas A-1H Skyraider Pilot's Flight Operating Instructions
A reproduction of a previously restricted U.S. Navy manual, this book provides unique insight into the Douglas A-1H Skyraider, which, boasting heavy armor and seven hardpoints on each wing, was one of the U.S. military's most versatile Cold War-era aircraft. You'll learn everything you need to know before entering the cockpit - just like the pilots who flew the "Spad" over Korea and Vietnam! 390 pages, B&W illustrations and photographs, 8"x 11", softcover.
Hero Found
The Greatest POW Escape of the Vietnam War
Henderson. "An engaging tale." - Kirkus Reviews. Drawing on personal interviews with the intrepid U.S. Navy pilot, his squadron mates, and his friends and family, this gripping book tells the incredible true story of German-born Dieter Dengler, who, shot down over Laos in his AD Skyraider, was one of only a handful of Vietnam War POWs to escape from captivity. 320 pages, B&W photographs, 6"x 9", hardcover.

The A-1 Skyraider in Vietnam
The Spad's Last War
Hardbound Book

Mutza. Thanks to its remarkable service during the war in Southeast Asia, the Skyraider became legendary. Serving with distinction with both U.S. and South Vietnamese forces, the Skyraider took the war to the enemy, often at low altitude and in the face of devastating losses from anti-aircraft fire. Here, take a detailed look at the craft and its pilots and crews who dubbed it the "Spad." 208 pages, 300+ B&W and color photographs, 8"x 11", hardcover.
Douglas A-1 Skyraider
Johnsen.
Softbound Book.
A new study of the famous and successful U.S. Navy aircraft. Explores the role of the various versions in Korea and Vietnam, and the planes legendary ground attack capabilities. 100 photos, 96 pgs, 8½"x 11", sfbd..
American Airpower: Bombers 1935-1960
Vintage Aviation Photographs from WWII, Korea and the Cold War
Cilio. In 1935, America's largest bombers could approach 200 miles per hour. By 1960, the Cold War B-58 could fly 1,320 mph - almost twice the speed of sound! This photo-history, which examines those bombers and everything in-between, is filled with rare archival images of heavy, medium and light types as well as dive-bombers and fighter-bombers.
You'll view the B-15, B-17, B-24, B-25, B-26, A-20, P-70, A-29, Dauntless, Helldiver, Avenger, B-29, Marauder, Skyraider, F-84, B-36, B-50, B-52, B-58 and more. 124 pages, 155 B&W photographs and illustrations, 11"x 8", softcover.
Strike From the Sea
U.S. Navy Attack Aircraft from Skyraider to Super Hornet 1948-Present
Thomason. This lavishly illustrated book examines the development and history of American carrier-based air-to-ground attack aircraft, which first came into operation during the Korean War. You'll view legendary aircraft such as the A-4D Skyhawk, A3J Vigilante and A-6 Intruder as well as their armament and the carriers themselves. 264 pages, 259 color and B&W photographs and 40 illustrations, 10"x 10", hardcover.
USS Midway Air Wings
Aircraft Pictorial #1.
Clayton. This heavily illustrated book examines aircraft flown off the USS Midway (CV-41/CVA/CVB) from her shakedown cruise in 1945 through Operation Desert Storm in 1991. You'll view many-never-before published photographs of F4U Corsairs, TBM Avengers, SB2C Helldivers, F9F Panthers, F7U Cutlasses, F-3H Demons, F-4 Phantoms, A-4 Skyhawks, AD Skyraiders, F-8 Crusaders, F-14 Tomcats, F/A-18 Hornets, H-3 Sea Kings, and many others. 72 pages, 100+ B&W photographs, 11"x 8", softcover.
AD Skyraider
Detail & Scale Vol. 67
Kinzey. Soon after WWII, jet aircraft entered widespread service in the U.S. military, presumably making piston-engine aircraft obsolete. But the prop-driven AD Skyraider (re-designated A-1 in 1962) replaced both torpedo-bombers and dive-bombers aboard aircraft carriers, and its range and load-carrying capabilities served the Navy well. Here, see this warhorse in all its variants. 80 pgs., 250+ B&W photos, 16 pgs. of color, 10 color profiles, 8"x 11", sfbd.
A-1 Skyraider Walk Around
Dann.
Softbound Book.
This highly illustrated volume of the versatile A-1 Skyraider gives you a close-up view of both single and multi-seat variants from Korea through Vietnam. You'll get an inside look at the cockpit and airframe, engine, landing gear, weapons, and more through scores of full color and B&W photographs. 80 pgs., 11"x 8¼", sfbd.
Douglas A-1 Skyraider
Warbird Tech Vol. 13
Hughes & Dranem.
Softbound Book.

Skyraider missions covered the spectrum, from dive and torpedo bomber, to airborne early warning aircraft, to flying ambulance, to aerial tanker, to fighter. The A-1 performed all of these rolls with distinction. Learn how it proved itself to be one of the most versatile aircraft of the 20th Century. 100 pgs., 180 photos, 20 tech manual drawings. 8½"x 11", sfbd.
Wings of the CIA
Lert.

CIA aircraft requirements break down into two broad categories, covert operations and surveillance. Coverage of covert operations aircraft begins with the B-26s of Bay of Pigs fame and proceeds through the Skyraiders of Vietnam to the high-performance, low-visibility aircraft of today. Surveillance planes have included the SR-71, the legendary U-2, specially modified Boeing 707s, and remotely piloted drone craft in recent years. 370 pgs., heavily illustrated, 7"x 10", sfbd
Military Aircraft of the Cold War
The Aviation Factfile.
Winchester, ed. Though the Cold War was responsible for decades of suspicion and mistrust between the U.S. and the Soviet Union, it was also responsible for an amazing leap forward in aircraft research, design, and development.
Filled with historical photographs, full-color graphics, timelines and facts that showcase the genius behind some of the greatest designs in aviation history, this comprehensive guide examines 121 Cold War military aircraft - from the A-1 Skyraider to the Tu-95 Bear bomber - in service between 1945 and 1985. 256 pages, 2,000+ color and B&W photographs and illustrations, 11"x 9", hardcover.