(function() { var cx = 'partner-pub-7074154417990578:3196189405'; var gcse = document.createElement('script'); gcse.type = 'text/javascript'; gcse.async = true; gcse.src = (document.location.protocol == 'https:' ? 'https:' : 'http:') + '//cse.google.com/cse.js?cx=' + cx; var s = document.getElementsByTagName('script')[0]; s.parentNode.insertBefore(gcse, s); })();

src="images/Pilots_View_A-7_Corsair_2.jpg" id="prodImage17" onMouseOut="sitb_doHide('bookpopover'); return false;" alt="Kerosene Cowboys: Manning the Spare A7 Corsair" ="sitb_showLayer('bookpopover'); return false;" width="250" border="0" height="376" align="left" hspace="10" vspace="4">Kerosene Cowboys: Manning the Sparee/ir0595432409

Product Description
Even though one fourth of total flight time must be flown at night, for most Tactical Naval Aviators when the sun goes down its time to shed their speed slacks, splash on a little cologne and head for the OClub bar. Undoubtedly, there would be a bevy of beauties adorning the barstools this Friday evening at the Jack Black Memorial Officers Club. After all, it was the day before a huge Drill Weekend for the air station with Navy, Marine Corps, Air Force and Air Guard units all scheduled to be in town for their last drill of 1991. Indeed, the Jacksons (20 bills) would be flying across the bar tonight.

Without question many of the single, and not so single, women in Southeastern Louisiana were aware of this fact and would be out in search of a pilot for a little rest and relaxation before the hectic pace of the holiday season took its annual toll. It wasnt close to the spectacle that occurs each Wednesday evening at the Officers Club at Miramar Naval Air Station in San Diego. It couldnt even compare to Thursday nights at the Spin Drifter Tavern in Jacksonville. But for Belle Chasse, Louisiana, it was the only game in town on a Drill Weekend.

About the Author
Randy Arrington is a retired tactical naval aviator who is currently serving as a supervisory air interdiction agent with the Department of Homeland Security in San Diego. He earned his PhD in Political Science in 1998. Arrington has five children who reside in New Orleans.
Product Details

* Paperback: 456 pages
* Publisher: iUniverse, Inc. (March 21, 2007)
* Language: English
* ISBN-10: 0595432409
* ISBN-13: 978-0595432400
* Product Dimensions: 9 x 6 x 1.3 inches

A-7 Corsair II Models and More

A-7 Corsair II 1/144 Scale Models

A-7 Corsair II 1/100 Scale Models

A-7 Corsair II 1/72 Scale Models

A-7 Corsair II 1/48 Scale Models

A-7 Corsair II 1/32 Scale Models

A-7 Corsair II Photos

A-7 Corsair II Patches

A-7 Corsair II 1/72 Cockpits

A-7 Corsair II 1/48 Cockpits

A-7 Corsair II 1/32 Cockpits

A-7 Corsair II Books

A-7 Corsair II 1/72 Decals

A-7 Corsair II 1/48 Decals

A-7 Corsair II 1/32 Decals

A-7 Corsair DVD Videos

A-7 Corsair Lapel / Hat Pins

src="images/A-7_Corsair_II_Pilots_Flight_Manual.jpg" id="prodImage8" onMouseOut="sitb_doHide('bookpopover'); return false;" alt="A-7 Corsair II Pilot's Flight Operating Manual" ="sitb_showLayer('bookpopover'); return false;" width="250" border="0" height="325" align="left" hspace="10" vspace="4">Super Find
A-7 Corsair II Pilot's Flight Operating Manuale/ir1935327410


Product Description
Vought's A-7 Corsair II served the U.S. Navy for over over two decades, and flew with distinction during the Vietnam conflict. The subsonic A-7 was based on Chance Vought's supersonic F-8 Crusader. It boasted a heads-up display, an inertial navigation system, and other innovations. The plane entered service in 1966, and served in Vietnam in late 1967. Its performance was impressive. The USS Ranger s VA-147 flew over 1,400 sorties with the loss of only one aircraft. The Air Force purchased an advanced version, the A-7D, equipped with a more powerful engine. The plane later flew missions over Lebanon, Libya, Grenada, Panama, and Iraq. The last planes in U.S. inventory were retired in 1991. Originally printed by the U.S. Navy and Vought, this handbook for the A-7 provides a fascinating glimpse inside the cockpit of this famous aircraft. Originally classified restricted , the manual was recently declassified and is here reprinted in book form.
# Perfect Paperback: 712 pages
# Publisher: Periscope Film LLC (September 8, 2008)
# Language: English
# ISBN-10: 1935327410
# ISBN-13: 978-1935327417

Other Books from the United States Navygerman_fighters.htm

src="images/A7_Corsair_II_Books alt="A-7 Corsair II in detail & scale - D&S Vol. 22" width="250" border="0" height="323" align="left" hspace="10" vspace="4">

A-7 Corsair II in detail & scale - D&S Vol. 22e/ir0830685324


# Paperback: 72 pages
# Publisher: Squadron/ Signal Publications; Rev Sub edition (August 1986)
# Language: English
# ISBN-10: 0830685324
# ISBN-13: 978-0830685325
116.32 New to 7.99 Used

More Books from Bert Kinzey

german_fighters.htm
src="images/A-7_Corsair_II_William.jpg" id="prodImage1" alt="A-7 Corsair II - Aero Series 39" width="250" border="0" height="314" align="left" hspace="10" vspace="4">

A-7 Corsair II - Aero Series 39e/ir0830634525


# Paperback: 78 pages
# Publisher: Aero Publishers; 1st edition (July 1990)
# Language: English
# ISBN-10: 0830634525
# ISBN-13: 978-0830634521

src="images/A7_Corsair_II_Units_Vietnam.jpg" onMouseOut="sitb_doHide('bookpopover'); return false;" alt="US Navy A-7 Corsair II Units of the Vietnam War (Combat Aircraft)" ="sitb_showLayer('bookpopover'); return false;" width="250" border="0" height="335" align="left" hspace="10" vspace="4">

US Navy A-7 Corsair II Units of the Vietnam War (Combat Aircraft)e/ir184176731X


Product Description
Arriving on station with the USS Ranger (CVA-61) in early December 1967, the first Corsair II squadron became operational immediately and sustained its first combat loss three weeks later. This book tells how the A-7 soon proved its worth supporting ground operations in South Vietnam. As it continued to serve in the ground support role, the navy swiftly introduced the A-7E which soon ran into difficulties with supply lines - perhaps on account of what many perceived to have been a rushed introduction to service. Once these teething problems were resolved, the A-7E became the primary air-to-ground aircraft of the fleet.
# Paperback: 96 pages
# Publisher: Osprey Publishing (September 23, 2004)
# Language: English
# ISBN-10: 184176731X
# ISBN-13: 978-1841767314

Vought TA-7C/EA-7L, A-7K Twosair
Naval Fighters Vol. 78

Ginter. This heavily illustrated book examines the A-7 Corsair II family of carrier-based subsonic light attack aircraft - introduced to replace the A-4 Skyhawk - in detail, covering the planes' service in the U.S. Navy and in the air forces of Greece, Portugal and Thailand. Includes close-up photographs and detailed line drawings of the cockpit, armament, landing gear, and other systems. 88 pages, 165 B&W and 15 color photographs, 8"x 11", softcover.


Force Drawdown

The end of the Cold War created a golden opportunity for reducing the defense burden and providing taxpayers with a "Peace Dividend." For the United States Air Force, this resulted in drastic reductions: 23% in aircraft inventory, 30% in personnel, and 32% in the number of bases and other major installations. Well-known and long-serving aircraft, such as the A-7D/K, the B-52G, the F-4C/D/E, the F-111A/D, the FB-111A and the SR-71, have been withdrawn from active and reserve components, and some states, such as California, have lost nearly half of their Air Force bases. Illustrated with over 410 color photographs, this new book provides a rich pictorial record of aircraft (including old and new markings) and units which no longer exist, and offers a visual chronicle of organizational changes between 1988-1995. 144 pages, 8" x 11", hardcover.

src="images/A-7_Corsair_II_CarrierAircraft Histories of the Ling-Temco-Vought A-7 Corsair II:" width="250" border="0" height="322" align="left" hspace="10" vspace="4">

Aircraft Histories of the Ling-Temco-Vought A-7 Corsair II:e/ir0764332384


Product Description
Aircraft Histories of the Ling-Temco-Vought A-7 Corsair II
Roberts. This heavily illustrated book examines individual aircraft histories of the A-7 Corsair II - which, based on the F-8 Crusader, won the 1963 competition for a new attack aircraft - including information such as U.S. Navy acceptance date and flight records as well as photos capturing the A-7 from production through operations and salvage. 400 pages, 1,200+ photographs and illustrations, 8"x 11", hardcover.
Ling-Temco-Vought A-7 Corsair II won the 1963 competition for a new attack aircraft. The A-7 design was based on the F-8 Crusader but with many differences. Each individual aircraft history starts with the Contract Manufacturers Number, followed by the Bureau Number, Navy acceptance date, flight records, and where available, crash notes and date sent to Davis-Monthan AFB for storage. The 1,200 aircraft photographs capture the A-7 at literally every phase of its operation: starting with engineering drawings, production, all but two of the commands that flew the aircraft, storage, salvage, plus accidents and crashes. The 136 patches represent the aircraft, air wings, commands, and squadrons. Its use by the Hellenic Air Force HAF (Greece), Portuguese Air Force, and Royal Thai Navy Division RTND are also represented.
# Hardcover: 400 pages
# Publisher: Schiffer Publishing, Ltd. (April 28, 2009)
# Language: English
# ISBN-10: 0764332384
# ISBN-13: 978-0764332388

src="images/A-7_Corsair_II_in_Action.jpg" id="prodImage3" alt="A-7 Corsair II in Action - Aircraft No. 22" width="300" border="1" height="224" align="left" hspace="10" vspace="4">

A-7 Corsair II in Action - Aircraft No. 22e/ir0897470214


by Lou Drendel
# Paperback: 50 pages
# Publisher: Squadron/Signal Publications (October 1979)
# Language: English
# ISBN-10: 0897470214
# ISBN-13: 978-0897470216

Other books by Lou Drendelgerman_fighters.htm

src="images/A-7_Corsair_2_Aircraft. alt="Colors & Markings of the A-7 Corsair II, Part 2: Pacific Coast Squadrons - C&M Vol. 15" width="250" border="0" height="285" align="left" hspace="10" vspace="4">

Colors & Markings of the A-7 Corsair II, Part 2: Pacific Coast Squadrons - C&M Vol. 15e/ir0830685391


Bert Kinzey Ray Leader
# Paperback: 64 pages
# Publisher: Mcgraw-Hill; 1st edition (May 1990)
# Language: English
# ISBN-10: 0830685391
# ISBN-13: 978-0830685394

More Books by Ray Leadergerman_fighters.htm

src="images/A-7_Corsair_II_Airplane.jpg" id="prodImage10" alt="F-8 Crusader: A-7 Corsair II, XF8U-3 Crusader III, F-100 Super Sabre, F-11 Tiger, List of fighter aircraft, List of military aircraft of the United States, Aircraft carrier" width="250" border="1" height="327" align="left" hspace="10" vspace="4">

F-8 Crusader: A-7 Corsair II, XF8U-3 Crusader III, F-100 Super Sabre, F-11 Tiger, List of fighter aircraft, List of military aircraft of the United States, Aircraft carriere/ir6130217595


Frederic P. Miller Agnes F. Vandome John McBrewster
Product Description
The F-8 Crusader was a single-engine aircraft carrier-based air superiority fighter aircraft built by Vought. It replaced the Vought F-7 Cutlass. The first F-8 prototype was ready for flight in February 1955, and was the last American fighter with guns as the primary weapon, principally serving in the Vietnam War. The RF-8 Crusader was a photo-reconnaissance development and operated longer in U.S. service than any of the fighter versions. RF-8s played a crucial role in the Cuban Missile Crisis, providing essential low-level photographs impossible to acquire by other means. US Naval Reserve units continued to operate the RF-8 until 1987
# Paperback: 140 pages
# Publisher: Alphascript Publishing (November 24, 2009)
# Language: English
# ISBN-10: 6130217595
# ISBN-13: 978-6130217594

More Books by Frederic P. Millergerman_fighters.htm
More Books by Agnes F. Vandomegerman_fighters.htm
More Books by John McBrewstergerman_fighters.htm

src="images/A-7_Corsair_II_Squadron.jpg" id="prodImage9" alt="LTV A-07 Corsair II Airdoc Post WW II Combat Aircraft Series No. 12 Part 1 the SLUF ( Short Little Ugly Fellow ) in US Navy Service" width="250" border="0" height="346" align="left" hspace="10" vspace="4">

LTV A-07 Corsair II Airdoc Post WW II Combat Aircraft Series No. 12 Part 1 the SLUF ( Short Little Ugly Fellow ) in US Navy Servicee/ir3935687125


Werner Munzenmaier
# Paperback: 72 pages
# Publisher: Airdoc - Aircraft Documentations (2006)
# Language: English, German
# ISBN-10: 3935687125
# ISBN-13: 978-3935687126

src="images/A-7_Corsair_II_VoughtVought A-7 Corsair II (Osprey Air Combat)" width="250" border="0" height="355" align="left" hspace="10" vspace="4">

Vought A-7 Corsair II (Osprey Air Combat)e/irB000BKJOSI


Robert F. Dorr
# Paperback: 200 pages
# Publisher: Osprey Publishing Ltd. (UK) (January 1, 1985)
# Language: English
# ASIN: B000BKJOSI

More Books from Robert F. Dorrgerman_fighters.htm

A-7 Corsair II Color & Markings Vol. 19
Colors & Markings of the A-7 Corsair II, Part 3: USAF & ANG Versions - C&M Vol. 19e/ir0830621512




Bert Kinzey Ray Leader

# Paperback: 64 pages
# Publisher: McGraw-Hill Professional Publishing; 1st edition (November 1991)
# Language: English
# ISBN-10: 0830621512
# ISBN-13: 978-0830621514

src="images/A-7_Corsair_II_Attack.jpg" alt="United States Attack Aircraft 1960-1969: Lockheed Ac-130, Ah-1 Cobra, General Dynamics F-111, A-7 Corsair Ii, Ov-10 Bronco, A-6 Intruder" width="236" border="1" height="354" align="left" hspace="10" vspace="4">

United States Attack Aircraft 1960-1969: Lockheed Ac-130, Ah-1 Cobra, General Dynamics F-111, A-7 Corsair Ii, Ov-10 Bronco, A-6 Intrudere/ir1155293274


Product Description
Chapters: Lockheed Ac-130, Ah-1 Cobra, General Dynamics F-111, A-7 Corsair Ii, Ov-10 Bronco, A-6 Intruder, Ah-1 Supercobra, Mh-6 Little Bird, A-37 Dragonfly, Oh-6 Cayuse, Ac-47 Spooky, Convair Model 48 Charger, Bell 309, Fairchild Ac-119. Source: Wikipedia. Pages: 185. Not illustrated. Free updates online. Purchase includes a free trial membership in the publisher's book club where you can select from more than a million books without charge. Excerpt: The General Dynamics F-111 "Aardvark" is a medium-range interdictor and tactical strike aircraft that also fills the roles of strategic bomber, reconnaissance, and electronic warfare in its various versions. Developed in the 1960s and first entering service in 1967, the United States Air Force (USAF) variants were officially retired by 1998. The Royal Australian Air Force (RAAF) is the sole remaining operator of the F-111. The F-111 pioneered several technologies for production military aircraft including variable-sweep wings, afterburning turbofan engines, and automated terrain following radar for low-level, high-speed flight. Its design was influential, being reflected in later Soviet aircraft such as the Sukhoi Su-24, and some of its advanced features have since become commonplace. During its inception, however, the F-111 suffered a variety of development problems, and several of its intended roles, such as naval interception through the F-111B, failed to materialize. In USAF service the F-111 has been effectively replaced by the F-15E Strike Eagle for medium-range precision strike missions, while the supersonic bomber role has been assumed by the B-1B Lancer. In 2007, the RAAF decided to replace its 21 F-111s in 2010 with 24 F/A-18F Super Hornets. The beginnings of the F-111 were in the TFX program, an ambitious early 1960s project to combine the United States Air Force requirement for an improved fighter-bomber with the United States Navy's need for a long-range carrier-based Aircraft.
# Paperback: 186 pages
# Publisher: Books LLC (September 15, 2010)
# Language: English
# ISBN-10: 1155293274
# ISBN-13: 978-1155293271

src="images/A-7_Corsair_2_Plane.jpg" id="prodImage14" alt="A-7 Corsair II: United States Navy, List of military aircraft of the United States, Ground-attack aircraft, List of attack aircraft, A- 6 Intruder, Sukhoi ... Crusader, List of A-7 Corsair II operators" width="150" border="1" height="198" align="left" hspace="10" vspace="4">

A-7 Corsair II: United States Navy, List of military aircraft of the United States, Ground-attack aircraft, List of attack aircraft, A- 6 Intruder, Sukhoi ... Crusader, List of A-7 Corsair II operatorse/ir6130044631

Product Description
A-7 Corsair II. United States Navy, List of military aircraft of the United States, Ground-attack aircraft, List of attack aircraft, A-6 Intruder, Sukhoi Su-17, F-8 Crusader, List of A-7 Corsair II operators, Ling-Temco- Vought
Product Details

* Paperback: 156 pages
* Publisher: Alphascript Publishing (September 25, 2009)
* Language: English
* ISBN-10: 6130044631
* ISBN-13: 978-6130044633
* Product Dimensions: 8.7 x 5.9 x 0.4 inches

src="images/F-15_Eagle_Jet_Fighter.jpg" id="prodImage13" alt="A-4 Skyhawk: McDonnell Douglas, Douglas Aircraft Company, Argentine air forces in the Falklands War, List of A-4 Skyhawk operators, A-4AR Fightinghawk, ... Skyhawk, A-7 Corsair II, AV-8B Harrier II" width="150" border="1" height="199" align="left" hspace="10" vspace="4">

A-4 Skyhawk: McDonnell Douglas, Douglas Aircraft Company, Argentine air forces in the Falklands War, List of A-4 Skyhawk operators, A-4AR Fightinghawk, ... Skyhawk, A-7 Corsair II, AV-8B Harrier IIe/ir6130044607
Federic P. Miller, Agnes F. Vandome, John McBrewster
Product Description
A-4 Skyhawk. McDonnell Douglas, Douglas Aircraft Company, Argentine air forces in the Falklands War, List of A-4 Skyhawk operators, A-4AR Fightinghawk, A-4SU Super Skyhawk, A-7 Corsair II, AV-8B Harrier II, Dassault tendard IV, Nanchang Q-5, List of attack aircraft
Product Details

* Paperback: 112 pages
* Publisher: Alphascript Publishing (September 25, 2009)
* Language: English
* ISBN-10: 6130044607
* ISBN-13: 978-6130044602

src="images/US_Naval_Aviation.jpg" id="prodImage16" onMouseOut="sitb_doHide('bookpopover'); return false;" alt="U.S. Naval Aviation" ="sitb_showLayer('bookpopover'); return false;" width="250" border="0" height="358" align="left" hspace="10" vspace="4">

U.S. Naval Aviatione/ir0883631024


Product Description
Since its founding in 1911, U.S. naval aviation has been characterized by courage and innovation. Today's sophisticated crews owe their careers to men like self-taught flyer Eugene Ely, who, wearing a football helmet and a bicycle inner tube as a life preserver, was the first man to take off and land on the deck of a ship. In this comprehensive account, historians, authors, and experts, as well as active duty and retired Navy, Marine Corps, and Coast Guard officers, contribute essays on naval aviation history and past and present aviators. Oversized and magnificently illustrated, this book will be cherished by aviators and the countless others who have been inspired by the feats of U.S. naval aviation.

Naval Aviation Museum Foundation, M. Hill Goodspeed, Richard R. Burgess.
Product Details

* Hardcover: 352 pages
* Publisher: Universe; 1ST edition (September 18, 2001)
* Language: English
* ISBN-10: 0883631024
* ISBN-13: 978-0883631027
* Product Dimensions: 14.6 x 10.6 x 1.6 inches

About the Author
M. Hill Goodspeed is the Director of the Emil Buehler Naval Aviation Library and is Historian at the National Museum of Naval Aviation at Naval Air Station Pensacola, Florida. Grandson of a World War II naval aviator, he is a native of Pensacola. Foreword author Vice Admiral Thomas J. Kilcline, Jr., assumed the duties of Commander, Naval Air Forces on June 22, 2007. Admiral Kilcline is a 1973 graduate of the United States Naval Academy, and was designated a naval aviator in 1975. He has flown more than 5,600 hours in F-4, A-4, F-5, F-14, and F-18 aircraft, and has logged 63 combat missions and 1,150 carrier aircraft arrested landings.

More Books from Richard R. Burgessgerman_fighters.htm
3A%2F%2F2Fs%3Fie%3DUTF8%26sort%3Drelevancerank%26search-alias%3Dbooks%26ref_%3Dntt_athr_dp_sr_2%26field-author%3DM.%2520Hill%2520Goodspeed1789390957">More Books from M. Hill Goodspeedgerman_fighters.htm

src="images/A-7_Corsair_II_SLUF.jpg" id="prodImage11" alt="Cn3009 - SLUF A-7 Corsair II" width="250" border="0" height="330" align="left" hspace="10" vspace="4">

SLUF A-7 Corsair IIe/ir9623617232


SLUF stood for Short Little Ugly Fellow, this is a perfect description of the A-7 Corsair II.

David F. Brown
# Paperback: 64 pages
# Publisher: Concord Publication Co. (1997)
# ISBN-10: 9623617232
# ISBN-13: 978-9623617239

More Books by David F. Browngerman_fighters.htm

A-7 Corsair II in Action
Softbound Book

Adcock. A sub-sonic attack version of the F-8 Crusader fighter, the U.S. Navy's A-7 Corsair II entered combat over Vietnam in 1967 and saw further action over Libya, Panama, Iraq and Kuwait before being retired in 1993. This history of this first-class attack plane presents all variants, from the initial A-7A, through the "C" trainer and "D" USAF versions, to the A-7E, which was the final version ordered by the U.S. fleet. 50 pages, 120 B&W photographs, 10 color profiles, 3-views and more. 11"x 8", softcover.
Vought TA-7C/EA-7L, A-7K "Twosair"
Softbound Book

Naval Fighters Volume 78
Ginter. This heavily illustrated book examines the A-7 Corsair II family of carrier-based subsonic light attack aircraft - introduced to replace the A-4 Skyhawk - in detail, covering the planes' service in the U.S. Navy and in the air forces of Greece, Portugal and Thailand. Includes close-up photographs and detailed line drawings of the cockpit, armament, landing gear, and other systems. 88 pages, 165 B&W and 15 color photographs, 8"x 11", softcover.


Carrier Combat




by David W. Wragg
Hardcover - 288 pages
(May 1998)

The entire world has a deep respect for the effect that the carrier has on the world around us. When it is time for it to swing into action it is a formidable force to be reckoned with. This book illustrates that fact beautifully. It is a must have for any military aviation or Naval Warfare enthusiast!! Vivid first-hand accounts with action photographs reveal a true picture of war on an aircraft carrier.

This is the stirring account of the aircraft carrier at war and the crucial naval actions in which aircraft carriers of all nations have played a pivotal role. The story is told primarily through personal accounts by the men who crewed the carriers and flew the aircraft off the decks, from the open cockpits of the primitive Fleet Air Arm Swordfish torpedo biplanes leading the attack on the Bismarck in 1941, to the clash of the US and Japanese navies at the Battle of Midway, to the lethal hi-tech F/A-18 Hornets of the US Navy during the 1991 Gulf War.

Hardcover: 291 pages
Publisher: Naval Inst Pr (May 1998)
Language: English
ISBN-10: 1557501157
ISBN-13: 978-1557501158

Click Here for Close up of Combat Carrier

A-7 Corsair II Walk Around
Softbound Book

A replacement for the legendary A-4 Skyhawk, the A-7 was a light attack aircraft based on the F-8 Crusader and made a significant contribution to the effort in Vietnam. Here, you'll get an up-close look at its airframe, systems, and weapons, including its Heads Up Display, which was the first of its type in a combat aircraft; its Doppler inertial navigation system; its turbofan engine; and more. 80 pages, 150+ color and B&W photographs, 12 color profiles, detailed line drawings and more. 11"x 8", softcover.
U.S. Navy A-7 Corsair II Units of the Vietnam War

Combat Aircraft Vol. 48
Birzer & Mersky. Arriving on station and operational with the USS Ranger (CVA-61) in late 1967, the first Corsair II squadron sustained its first combat loss three weeks later. This book tells how the A-7 soon proved its worth supporting ground operations in South Vietnam and how, evolving into the A-7E, the Corsair II became the primary air-to-ground aircraft of the fleet. 96 pages, B&W photos and color artwork, 7"x 9", softcover.
Force Drawdown
Hardbound Book

The end of the Cold War created a golden opportunity for reducing the defense burden and providing taxpayers with a "Peace Dividend." For the United States Air Force, this resulted in drastic reductions: 23% in aircraft inventory, 30% in personnel, and 32% in the number of bases and other major installations. Well-known and long-serving aircraft, such as the

A-7D/K,

the B-52G, the F-4C/D/E, the F-111A/D, the FB-111A and the SR-71, have been withdrawn from active and reserve components, and some states, such as California, have lost nearly half of their Air Force bases. Illustrated with over 410 color photographs, this new book provides a rich pictorial record of aircraft (including old and new markings) and units which no longer exist, and offers a visual chronicle of organizational changes between 1988-1995. 144 pages, 8" x 11", hardcover.

A-7E CORSAIR II, Jet Fighter Aircraft V. 9 C&M

Lock on No. 9 : A7D/K Corsair


by Willy Peeters

Soft cover 36 pages 82 full color photographs

The ninth installment in the popular LOCK ON series, this volume focuses on the Chance-Vought single seat A-7D and two seat A-7K Corsair II. The stunning photographs found in this book are of the attractively camouflaged aircraft which served with 174th Tactical Fighter Squadron, 185th Tactical Fighter Group of the Iowa Air National Guard based in Sioux City, Iowa as they appeared while touring NATOs Brustem air base of the Belgian Air Force in the late 1980s. Details covered by the photographs in this publication include avionics bays, landing gear, cockpits, engine, radar, and much more, all supplemented with highly informative captions. Many of the photographs depict aircraft undergoing routine maintenance, revealing details which are rarely seen by the general public. This book provides a unique and fascinating look at a very attractive aircraft, and it belongs in the collection of any scale aircraft modeler or aviation enthusiast. Paperback: 36 pages
Publisher: Verlinden Publications; 1st edition (August 1, 1990)
Language: English
ISBN-10: 9070932229
ISBN-13: 978-9070932220

src="images/A-7_Corsair_II_Top_Secret.jpg" id="prodImage12" alt="A-7 Corsair II (Paper Airplane Model Kit) (Top Secret Flyers)" width="222" border="0" height="297" align="left" hspace="10" vspace="4">

A-7 Corsair II (Paper Airplane Model Kit) (Top Secret Flyers)e/irB002B5CY6A


# Paperback: 12 pages
# Publisher: Educational Insights (1998)
# Language: English
# ASIN: B002B5CY6A
# Product Dimensions: 11.5 x 8.5 x 0.1 inches

Paper Airplane Kit

A paper airplane model of the A-7 Corsair II, with accompanying instruction guide. The guide contains directions on how to assemble the plane, plus an explanation of why and how an airplane flies. There are also ideas about how to use the model after it is assembled. Recommended for ages 8 and up.

The Corsair and Other Vought Jet Fighter Aircraft

Aeroplanes, 1917-1977

Moran.

The Vought Corsair became legend during WWII. More than a story of Vought aircraft, missiles and related hardware, book also delves into the human side - the management, the workers and the business climate through the years. 168 pgs., 316 photos, 39 general arrangement 3-views, 8½"x 11", sfbd.
Close air support : upgraded A-7 aircraft's mission effectiveness and total cost unknown (SuDoc GA 1.13:NSIAD-88-210)e/irB000102QT2

# Unknown Binding
# Publisher: The Office (1988)
# ASIN: B000102QT2
More Books from the U.S. General Accounting Officegerman_fighters.htm
Famous Airplanes of the World #18 September, 1989: LTV A-7 Corsair II Navy Versione/irB000VU5MRU

# Paperback
# Publisher: Bunrin-Do Co. Ltd. (1989)
# ASIN: B000VU5MRU
A-7 Corsair II : USAF and ANG Versions (Colours & Markings S,)e/ir1853106283

Bert Kinzey Ray Leader
# Paperback: 64 pages
# Publisher: Airlife Pub. (April 28, 1992)
# ISBN-10: 1853106283
# ISBN-13: 978-1853106286
A-7 Corsair II PT. II: Pacific Coast Squadrons (A-7 Corsair II PT. II)e/ir0071559361
Bert Kinzey David W. Menard Ray Leader
# Paperback
# Publisher: McGraw-Hill Professional Publishing (April 1990)
# Language: English
# ISBN-10: 0071559361
# ISBN-13: 978-0071559362
LTV A-7 Corsair II (Koku-Fan, May 5, 1972) (Famous Airplanes of the World, 25)e/irB000V0YSZM


# Paperback: 58 pages
# Publisher: Bunrin-Do (1972)
# Language: Japanese
# ASIN: B000V0YSZM
src="images/A-7_Corsair_II_JetColors & Markings of the A-7 Corsair II, Part 3: USAF & ANG Versions - C&M Vol. 19" border="0" height="299" width="229" align="left" hspace="10" vspace="4">

Colors & Markings of the A -7 Corsair II Fighter Jet Aircraft:


USAF & ANG Versions (Colors & Markings, Vol. 19)
Bert Kinzey, Ray Leader / Paperback: 64 pages
Publisher: Squadron/Signal Publications; 1st edition (November 1991)
Language: English
ISBN-10: 0830621512
ISBN-13: 978-0830621514
src="images/A-7_Corsair_II_Jet_PlanesA-7 Corsair II - Aero Series 39" border="0" height="298" width="238" align="left" hspace="10" vspace="4">

A-7 Corsair II


(Aero Series, Vol 39)
William G. Holder
Paperback: 78 pages
Publisher: TAB Books / Aero Publishers; 1st edition (July 1990)
Language: English
ISBN-10: 0830634525
ISBN-13: 978-0830634521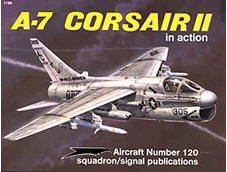 A-7 Corsair II in Action

(Aircraft, No 120)
Al Adcock
Developed as a replacement for the Douglas A-4, the A-7 Corsair II has seen combat with both Navy and Air Force in Vietnam, Grenada and during Operation Desert Storm. Includes the A-7A, A-7P, A-7B, A-7C, NA-7C, TA-7C, EA-7L, YA-7H, A-7D, A-7E, A-7G, A-7H, YA-7F, and A-7K variants. Over 100 photos, 40 detail drawings, 2 pages of scale drawings, 13 full-color drawings. 50 pages.
# Unknown Binding
# Publisher: SQD1120
# ASIN: B0028UJILC
src="images/A-7_Corsair_II_Attack_AircraftA-7 Corsair II in detail & scale - D&S Vol. 22" border="0" height="297" width="226" align="left" hspace="10" vspace="4">

A -7 Corsair II in Detail & Scale

(Detail and Scale, Vol 22)
Bert Kinzey
Paperback: 72 pages
Publisher: Squadron/ Signal Publications; Rev Sub edition (August 1986)
Language: English
ISBN-10: 0830685324
ISBN-13: 978-0830685325
Colors and Markings of the A -7 Corsair II.

Part 2 : Pacific Coast Squadrons
(Colors and Markings, Vol 15)
Bert Kinzey, Ray Leader
Paperback: 64 pages
Publisher: Mcgraw-Hill; 1st edition (May 1990)
Language: English
ISBN-10: 0830685391
ISBN-13: 978-0830685394
src="images/A-7_Corsair_2_DiveA-7 Corsair II in Action - Aircraft No. 22" border="1" height="221" width="297" align="left" hspace="10" vspace="4">

A-Seven Corsair Two in Action

(Aircraft in Action Series)
Paperback: 50 pages
Publisher: Squadron/Signal Publications I (1979)
Language: English
ISBN-10: 0897470214
ISBN-13: 978-0897470216
src="images/A-7E_Corsair_IIColors & Markings of the A-7E Corsair II: U.S. Navy Atlantic Coast Post-Vietnam Markings (C&M, Vol. 9)" border="1" height="298" width="230" align="left" hspace="10" vspace="4">

Colors and Markings of the A-7E Corsair II :

U.S. Navy Atlantic Coast Post-Viet Markings
(Colors and Markings, Vol 9)
Bert Kinzey, Ray Leader
Paperback / Published 1987

Paperback: 64 pages
Publisher: Tab Books; 1st edition (November 1987)
Language: English
ISBN-10: 0830684336
ISBN-13: 978-0830684335
src="images/A-7_Corsair_II_Light_StrikeLight Strike: Harrier IIS, Hornets and Corsair IIS (Osprey Military Aircraft)" border="0" height="279" width="245" align="left" hspace="10" vspace="4">

Light Strike :

Harrier II's, Hornets and Corsair II's (Osprey Military Aircraft)
by Joe Cupido, Tony Holmes
Paperback (September 1993)

Paperback: 128 pages
Publisher: Osprey Publishing Ltd. (September 1993)
Language: English
ISBN-10: 1855323095
ISBN-13: 978-1855323094
Click Here's a
Jig Saw Puzzle
that you can make on line. It's Great, It's Free