www.YellowAirplane.com

Curtiss Jenny Models& Other Curtis Model Airplanes,

Plastic Model Kits, Diecast Models and More Model Planes.

World War 1 Airplane Models.

You are in the
Curtiss Jenny Airplane section.
of the World War 1 Fighter Model Department.
in the YellowAirplane store.
Curtis Jenny Models and other Curtis Racing Airplanes, World War 1 model airplanes, plastic model airplane kits, balsa wood model airplane kits of the Curtis Wright Jenny.
All of these World War 1 Airplanes show some great pictures of one of the best known planes of World War 1, the Curtiss Jenny was an advancement in World War 1 biplane technology. The aviation art section has some great World War 1 photos and other images. Building and owning these model aircraft will give anyone a good picture of World War 1 and other biplane models.
This hobby page includes balsa wood model airplanes, plastic model airplane kits, metal diecast models and scale models that are great to build and display. I don't consider these toy model airplanes because they are really built to show adults and kids the history of aviation. Models come in 1/18, 1/32, 1/72 scale desktop models.
These model airplanes come in 1/20, 1/24, 1/32, 1/48 and 1/72 Scale Pre Built Diecast and Mahogany Display Models and Balsa Wood and Plastic Model Kits.
Curtiss Jenny Books Curtiss Jenny Aviation Art Curtiss Jenny Cups, Mugs, Gifts, Shirts
World War 1 Model Airplane Main Index

Typhoon Mosquito Spitfire British Fighter Jets British WWI Aircraft British Airways
World War 1 Airplane Main Index
Pre World War 1 Airplane Models
Click Here to fly in a Real Russian MiG Jet Fighter
Survival Equipment - Survival Supplies Airplane Art
Curtiss Jenny
Flying Circus on Floats
Fitted with wood floats, this delightful, 1/35 scale "Flying Circus" JN-4 Jenny
Curtis Jenny Airplane DVD Movies

Crop Dusters00V8887353">
00V8887
DVD Video
00V8887


1921 Thru 1955
Follow the progression of the crop dusting industry from the hand pump and donkey cart to the high-powered planes of the mid-1950s. You'll see vintage film of Curtiss Jennys, de Havilland D.H.4s, Piper Cubs, Stearman biplanes and others, including the only known color footage of Cutback Cubs on the job, dusting and spraying. "A video of historical value that completes a part of America's aviation history that many of us have overlooked." - Flight Video Review. 1 hr. 15 min.
#00V8887
Curtiss Jenny Books Curtiss Jenny Aviation Art Curtiss Jenny Cups, Mugs, Gifts, Shirts
0088992
Curtiss JN-4D Jenny
0088992
1/16 Scale Museum Kit
Wood, Plastic, Metal and Rubber Model Airplane Kit.
0088992
This true-to-life, 1/16 scale static kit of the beloved Curtiss Jenny is designed without the customary fabric covering to better show the fascinating structural components reproduced with virtually every detail. The kit includes over 300 laser cut basswood and birch parts for ribs, fuselage and other wooden components; a scale replica Curtiss OX-5 in-line V8 water-cooled engine assembled from over 100 finely cast Britannia metal parts and complete with cylinders, distributor, spark plugs and crankcase; nearly 600 highly detailed photo-etched parts for the aluminum cowl and seats, copper turnbuckles and other wing and fuselage fittings; and even photo-etched nickel silver wheel spokes! Six highly detailed, actual size plan sheets and an illustrated step-by-step instruction manual assist you in the completion of this museum quality model. 32" wingspan; assembly required.
#0088992 499.00
A Special Customer Request.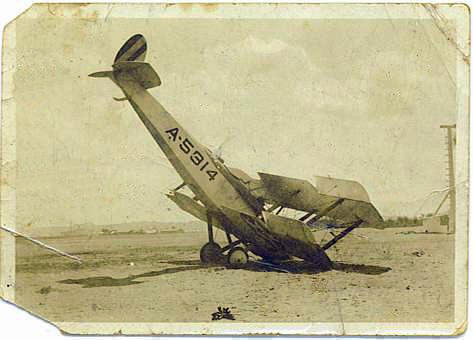 Can You Help Me?
I would love to find any information on this plane. My Grandfather, James Siler, served in the Navy between 1922 to 1926 or 27. He could have taken this picture at one of the Bases he was station at . He was station in the Panama Canal and Off of the coast of China on a little island and most of his time in San Diego any help would be great. Thanks again Randy Meador.
If anyone knows anything about this plane or Mr. James Siler in the Navy,
please let me know at this link.
Mail To C. Jeff Dyrek, Webmaster.
8-23-2011
Hi,
I noticed your interesting old picture of a US Navy biplane standing on the nose. It took some time to identify it mainly because of the ambiguous registration at the side of the fuselage which I first read as A-5314. Lists of these registration numbers gave no hit as this number was from a batch of Curtiss Flying Boats ordered by the Navy but cancelled at the end of WW1.
This machine has the Bureau No A-5814 at the side which defines it as a USA built de Havilland DH-4B. This DH-4B was from a small batch of machines [A-5809 till A-5814] taken over from the War department in exchange for 6 DH-4 planes at the Naval Aircraft Factory [NAF] for use by the US Marine Corps [USMC].
It is noted that A-5814 crashed on Haiti on October 5, 1921. The place is given as Sarte Dau, but unfortunately this is a place or writing of the place not known to Google Maps
I do not think that the picture of A-5814 gives a picture of the crash, as the damage of this nose stand is not that great and repair could be easily done. Nose stands were quite common, due to the state of the airfields (mud pools in rainy seasons) or due to the experience of the pilot.
So to summarize this is an US built de Havilland DH-4B in service with the US Marine Corps.
To get to know the life and times of the grandfather of James Tiler in the US Navy / USMC you could do a search in the US National Archives which hold all historical military service records
http://www.archives.gov/veterans/
All the best
Kees Kort
Holland
Look Below for More Biplane Pictures and Exhibits
Jack Varanelli's Pitts Radio Controlled Airplane Kit

Built to look exactly like Chuck Robert's Pitts Airplane, here's a whole construction exhibit on how a foam airplane, covered with balsa wood is built. This is a 1/3rd Scale Radio Controlled Model with a 2-1/2 HP motor. A real nice exhibit

Exhibit Added 20 Jan. 2008
Research Notes
Out-of-work aviators flying out-of-work airplanes after the Great War. These barnstormers, as they called themselves, were an American phenomenon - wandering from east to west, performing in pastures, big city air shows, and Hollywood dramas.
The racer that Jimmy Doolittle flew to victory in the 1925 Schneider Cup
A Curtiss Jenny rounds a pylon during the National Guard Speed Race at Miller Field, New York, in 1926.
the Jenny used for training U.S. pilots during WWI and for mail service, barnstorming and flying circuses after the war.
Barr was a bush pilot in the '30s and '40s, carrying passengers, mail, and freight to remote villages, mining camps, and solitary trappers' cabins. He flew every plane from the Jenny to the Supercub, made more forced landings than he could remember, and once rebuilt his wrecked plane himself in order to fly it out of the wilderness.
The Curtiss JN-4 "Jenny" first entered service during WWI as a primary trainer for the fledgling US Army Air Corps. After the war, surplus Jennys found fame with enterprising barnstormers who crisscrossed the countryside performing air shows and giving awe-struck passengers their first taste of flight.

Please Note: I took the photo of the clouds used in the background picture
while we were flying from a Northern Siberian city named Khatanga
on our way to the North Pole in April 2002. C. Jeff Dyrek, webmaster
Click Here to Join the next expedition
See C. Jeff Dyrek's YouTube Videos
Models_World_War_1/Biplane_Curtiss_Jenny.html|35904"
4-19-2010 12-13-2011 6-14-2012 2-17-2014