This Antique Aviators Vintage Flight Suit
are to be on Sale on ebay in ?,
we will disclose the exact date Later.
Don't miss this chance to see the Historic Coveralls for sale. You can own them for your collection.
Contact Diane here WW1in1918.gmail.com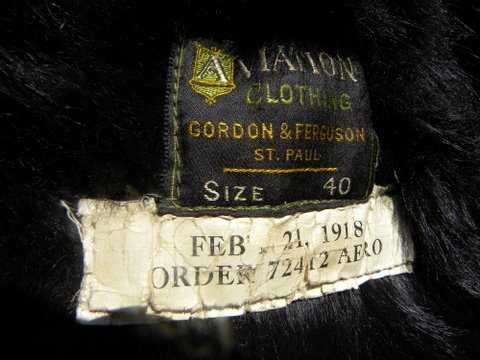 Label, Feb 21 1918 Order 72412 Aero, by Gordon & Ferguson St. Paul Minnesota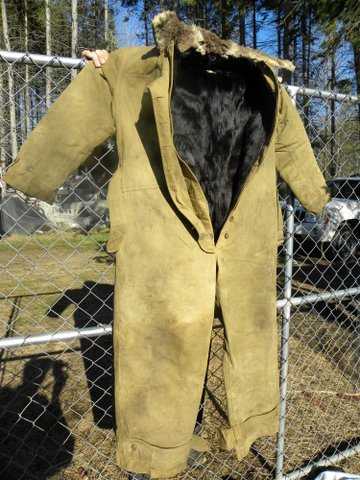 Full View of the Gordon and Ferguson Aero Vintage Flight Suit Showing Fur Lining
8-17-2009
Dear Diane, Yes, they have value. The US Army Aviation Museum at Fort Rucker is interested in them. I think the fur is supposed to be Chinese Nuchwang dog. By 1918, some 50000 fur-lined flying suits were produced. Steve should be able to help you. Sincerely, Luther QM Museum
I just got off the phone with this person and he said the coveralls could be worth up to 800. but couldn't put a value on them due to where he works, but it's getting more interesting. Diane.
From the Webmaster, Now I'm finding that the top value of this Flying Suit has been steadily going up. The last evaluation has been 3000. My guess, with all of the information that we have collected on this flying suit history, is that it will go up much higher. Jeff Dyrek
The Gordon & Ferguson ranked as one of the best known fur manufacturers in St. Paul Minnesota. Their furs were very good furs and were sold and worn throughout the northwest, eastward, and throughout aviation community. They were a large manufacturer of men's fur coats, caps, gloves and as makers of ladies' furs. The fur vintage flight suit shown here are the Aero version manufactured in 1918.
Their business was established by Richard Gordon on April 1st, 1817 at 132 Third Street and they had a steady growth rate to date. Paul R. Ferguson entered into the partnership in July of 1873.
Gordon & Ferguson flight suits were worn by famous aviators like Admiral Richard E. Byrd on his first expedition to Antarctica in 1928. Their fur lined flight suits were also manufactured for light apparel for open cockpit biplanes and was selected by Minnesota native Charles Lindbergh which he wore when flying "The Spirit of St. Louis" on the first solo non-stop flight from the United States to Paris. His suit was proudly bearing the Gordon & Ferguson Label.
Moving on into World War 2, dozens of companies used to make jackets for the Air Force and Navy, including companies such as Aero Leather, Air Comfort, Cagleco Sportswear, Edmund Church, Osterman, Perry Sportswear and Rough Wear Clothing. The Navy's Bureau of Aeronautics news Letter for April 1st 1941 list contracts to Gordon & Ferguson Company, St. Paul, Minnesota for "flight jackets, Aviators', Leather, intermediate," and also Wills & Geiger of New York City.
After the war there was a big market in Japan for flight jackets worn by American pilots in World War 2. These were worth a lot more if it was worn in combat. If it had good markings on it such as squadron insignia, it could go for as much a 3000 USD.
Famous pilots like retired Air Force General, Paul Tibbets, the pilot of the B-29 Superfortress, Enola Gay, used one of these flight jackets, but not on day of the dropping of the Atomic Bomb.
The entire story of the Gordon & Ferguson company can be found at this link about the Gordon & Furguson company, a brief History.
The vintage flight suit shown in this picture was very common for pilots in the open cockpit biplanes and it has a very high value in both and it's historic value. It was a super find and is available today.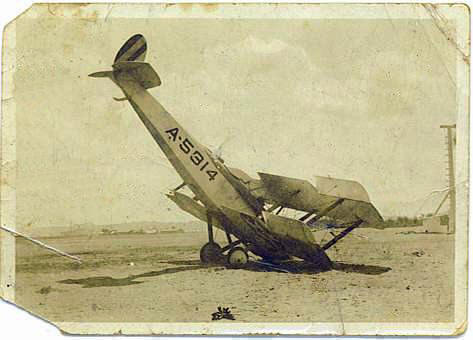 A JN4 Jenny open cockpit biplane which the pilot wore flight suits like the
Gordon & Ferguson Aero type.
See C. Jeff Dyrek's YouTube Videos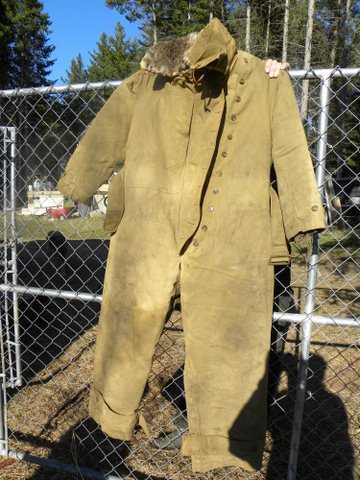 Another View of the Gordon &
Ferguson Vintage Pilots Flight Suite from 1918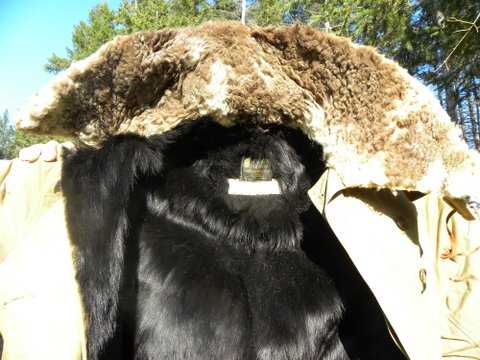 A Close-up View of the WW1 Flight Suit by Gordon & Ferguson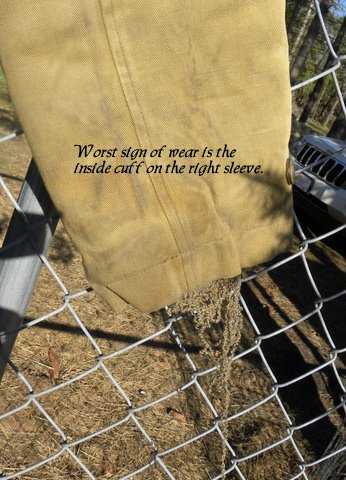 A photo of the sleeve showing the only wear on this very preserved vintage flight suit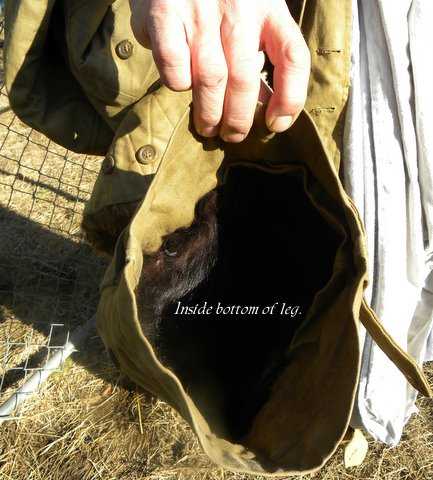 Inside the Pants Led of the Gordon & Ferguson
Aero Flight Suit
Wow! You have a really nice piece of history there. These aviator coveralls were used in WWI, so they are rare since aviation was new at that time. Also, not many survived! I would think they would bring at least 400-600 at auction. The value would be higher if the pilot was identified, and if there were signs of combat on the piece.
Thank you for contacting us.Andrea
Research and Appraisals
6-25-2009
Some links about the Chinese Nuchwang Dog
500,000 dog pelts were bought by the American Air Service before the Armistice of WW1 With aircraft soon reaching altitudes of 18,000 feet, only twelve years after the Wright Brothers made their first flight, pilots were experiencing frostbite. Better flight suits were being sought after and developed.
WW1 Production required the purchase of 450,000 Nuchwang Dog Skins from China. In addition it required the planting of 100,000 acres of castor beans for the high performance oil and assigning more than 27,000 men to work in the forest to supply the spruce required for aircraft production.
The lust for power of William Hohenzollern brought the slaughter of half a million Nuchwang Dogs in far off China. The size of the American Air Service clothing problem involved cost was around 5,000,000. Of this were 50,000 fur lined suits costing 36.25.
After the furs of many animals were tested, the Chinese Nuchwang Dog met the requirements of warmth, bulk and . We were making so many of these suits that we required all of the dog skins we could get, not only in this country, but in China.
Now in 2005 Animal Rights Groups have called for an embargo on fur produced on the mainland of China. Full report by Dennis Chong talks about fur production in China coming from animals being skinned alive. Whether the Nuchwang Dog furs were gathered in this way is yet to be known.
The B1 is very scarce and was called the Monkey Suit. These suits were made of Chinese Nuchwang Dog Furs and were used until about 1931. Pictures of the suit are on this link.
Aviators Flight Suits made of Chinese Nuchwang Dog Fur are getting increasingly difficult to find, especially with the fur intact. The interior of the suite is completely lined from head to toe with Nuchwang Dog Fur. Many pictures of various models of this suit are shown on this link.
Through these flightsuits were wire cables terminating in snap fasteners which were electrical heating units. These snaps were also connected to gloves and helmets to keep the pilots warm at high altitudes.
Electrically heated flying suits were introduced in 1918. Before that, coverall flying suits kept the pilots warm by using additional clothing underneath.
Click Here for North Pole Global Warming Adventure Travel Tours
Go to Yellow Airplane's own Online Museum
Incredible Bi-Plane Adventures" src="../../Logos/q-biplane-125x300.gif" width="125" height="300">