YellowAirplane.com

Colorful Image of a Russian Mi-8 Helicopters on the North Pole.

North Pole Expedition 2002.

This Russian Mil Mi-8 helicopter picture looked so good on a white background that I had to make this web page that way. I love this colorful image of the Mi-8 helicopter on the Geographic North Pole.
North Pole 2002 Russian Planes page 25.
This Russian helicopter photo looked so good on a white background
that I had to make that way. A Colorful Image.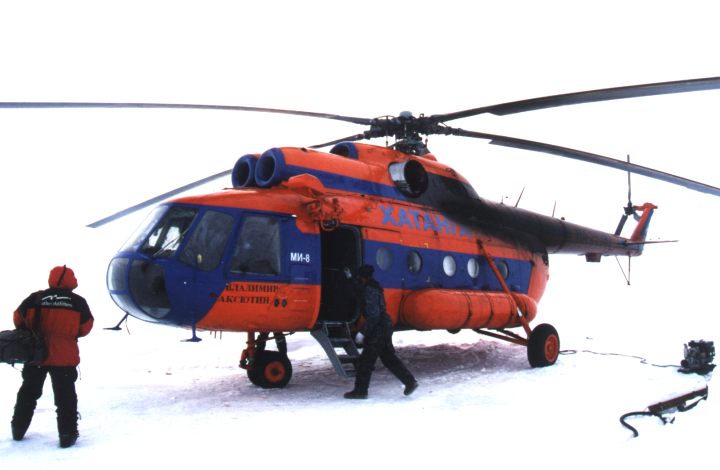 Colorful Image by C. Jeff Dyrek.
MiG-29 Movies * MiG-29 Books * MiG-29 ModelsRussian Prop Models *
Russian Jet Fighter Models
( ) ( Model Airplanes ) ( Motorcycle Tours of Southern Europe )
This photo looked so good with an all white background that I couldn't resist making it that way. We are just leaving for the North Pole. We are at the base camp, Camp Barneo , and the helicopter engines are just about ready to be started. With the white background and the red helicopter, this a real colorful image.
Russian Aircraft Links
Antonov-26
Antonov AN-26 with interior layout diagrams
Aircraft types for charter
A Guide to Russian Airliners: Index of Aircraft Types
A guide to Cargo Aircraft from around the world
Antonov An-26 used for arms transport
Aircraft specs for many Russian Planes
Russian Aviation a great site.
An-24 and An-26 photos
Airline History Airliners of the 1970s with lots of Russian Aircraft
Antonov An-26 Curl

Avitop.com Aviation banner exchange - Join now!


Click Here for a list of WW2 Fighter Groups
Click Here to go to the YellowAirplane Online Museum
Look at these exhibits and tell me what these men really fought for.
The 34th Fighter SquadronThe 34th fighter Squadron WW2 Exhibit USS Kitty Hawk Aircraft Carrier Exhibit.
About the Webmaster, Why God Send Me to the North Pole
/North_Pole_2002/Russian_Planes_25.html|10037"