F-101 Voodoo Model Planes.
F-101 Voodoo 1/144 Scale Models
F-101 Voodoo Matchbox Models
F-101 Voodoo 1/72 Scale Models
F-101 Voodoo 1/72 Scale Decals
F-101 Voodoo 1/72 Detail Kits
F-101 Voodoo 1/48 Scale Models
F-101 Voodoo 1/48 Scale Decals
F-101 Voodoo 1/48 Avionics Kits
F-101 Voodoo 1/48 Painting Mask
F-101 Voodoo 1/48 Landing Gear Kit
F-101 Voodoo Die Cast Models
F-101 Voodoo Wood Models
F-101 Voodoo Shoulder Patches
F-101 Voodoo Shirts
F-101 Voodoo Hat & Lapel Pins
F-101 Voodoo Books
F-101 Voodoo DVDs
F-101 Voodoo Art Prints
F-101 Voodoo Photo
F-101 Voodoo Mugs
Jet Fighter Helmets
The Voodoo's career as a fighter-bomber was relatively brief, but the reconnaissance versions served for some time. Along with the US Air Force's U-2 and US Navy's RF-8 Crusaders.
The reconnaissance variant of the Voodoo was instrumental during the Cuban Missile Crisis and saw extensive service during the Vietnam War.
The F-101 was initially designed by McDonnell Aircraft as a long-range bomber escort (known as a penetration fighter) for the Strategic Air Command (SAC) but went on to be adapted as a nuclear-armed fighter-bomber for the Tactical Air Command (TAC), and as a photo reconnaissance aircraft.
The F-101 was well known as the One-Oh-Wonder! The Voodoo was a supersonic jet fighter which served the United States Air Force (USAF) and the Royal Canadian Air Force (RCAF).
iPhones, Cell Phones, Mobile Phones, GPS
Boost Mobile Phones
Smart Phone GPS
Android 4G
Android 3G
Android Dual
Android Unlocked
LG Optimus
iPhone 5
Samsung Galaxy
Virgin Mobile
HTC Onemax
HTC Desire
128 GB Cell Phones
64 GB Cell Phones
32 GB Cell Phones
16 GB Cell Phones
8 GB Cell Phones
Quad Core Cell Phones
Dual Core Cell Phones
GSM Cell Phones
Motorola Cell Phones
ZTE Smartphones
Smartphones
Unlocked AT&T
Unlocked T-Mobile
Unlocked Straight Talk Mobile
Unlocked Android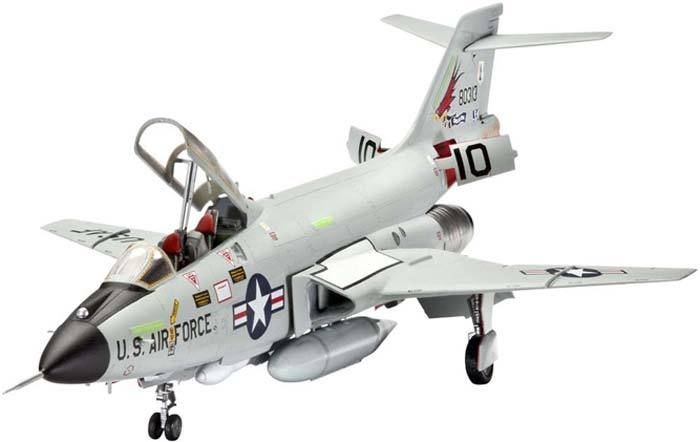 F-101 VooDoo 1/48 Kit
Plastic Model Airplane Kit.
Introduced in 1957 to combat the threat of enemy bombers, the F-101 Voodoo supersonic fighter is beautifully replicated in this 1/48 scale plastic kit. Fine features include textured surfaces, a fully outfitted cockpit with a glazed canopy and crew figures, two externally mounted "Genie" nuclear-tipped missiles and two "Falcon" rocket-powered missiles, external fuel tanks, authentic U.S. Air Force markings and more. 10" wingspan; 108 pieces, skill level 2.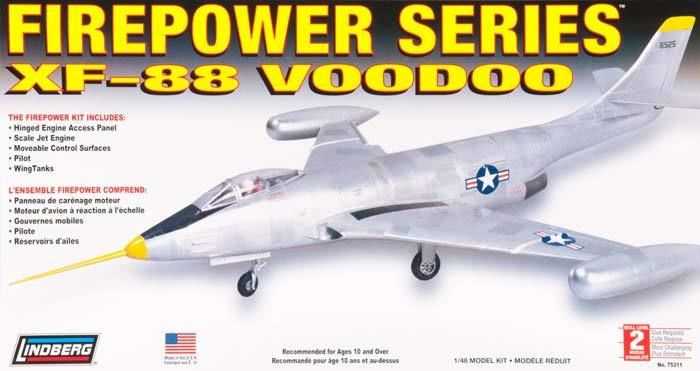 The XF-88 Voodoo which ultimately led to the development of the F-101 Voodoo See More Here

Plastic Model Airplane Kit.
A twin-engine jet fighter designed for the U.S. Air Force, the McDonnell XF-88 Voodoo - of which only two were built - ultimately led to the development of the F-101 Voodoo.
Voodoo - DVD
The F-101 Story. Filled with archival film footage, this program examines the supersonic F-101 Voodoo - employed by the USAF from 1957-66 - in detail, from its development from the experimental XF-88 through its test flying and deployment. You'll fly along in the RF-101C recon version, witness unbelievable speed records in Operations Sunrun and Firewall, and get a close-up look at the two-seat F-101B interceptor and its missiles and rockets. Color, 1 hour
McDonnell XF-88 Voodoo
Soft Bound Book
Air Force Legends Vol. 205
Pace. The XF-88 was in competition with the XF-90 and YF-93 for a penetration fighter contract. Although the program was cancelled, lessons learned were applied to the F-101. Interestingly, late in the program, a turboprop engine was added to the nose of the #1 aircraft to test supersonic propellers at NACA. Includes 85 photographs plus cutaways, systems diagrams, engineering drawings and 3-views. 57 pages, 8" x 11", softcover.
Tactical Reconnaissance in the Cold War
Hardbound Book
1945 to Korea, Cuba, Vietnam & The Iron Curtain
Gordon. This book describes how the United States Air Force tactical reconnaissance units operated from the end of World War II until the 1970s - an immensely active period that included major conflicts in Korea and Vietnam as well as rapid technological development in aircraft and photographic techniques. Includes missions flown by the RF-86, the RB-57A, the RF-100A, the RF-101 and the RB-66 over China and the Soviet Union. 316 pages, 350 B&W and color photographs, 7"x 10", hardcover.

USAF Interceptors

A Military Photo Logbook (1946-1979).
Isham & McLaren. This lavishly illustrated volume examines Air Defense Command interceptors of the Cold War era, from the propeller-driven aircraft of the immediate post-World War II period through the beginning of the jet age and beyond.
You'll see interceptors such as the P-61 Black Widow, F-82 Twin Mustang, F-86 Sabre, F-89 Scorpion and F-94 Starfire; unique, mission-support airplanes such as the C-124, EB-57, EC-121 Constellation and T-33; and famous next-generation "Century Series" supersonic Air Force interceptors such as the F-101B Voodoo, Convair's F-102 Delta Dagger and F-106 Delta Dart twins, and the F-104 Starfighter. 128 pages, 150 color and 150 B&W photographs, 8"x 11", softcover.
RF-101 Voodoo
Lithograph Aviation Art Print
Ken Fox. Detailed, black and white charcoal pencil lithograph shows the reconnaissance version of the F-101, of which more than 300 were built. This highly collectible print is 20"x 16" including border with title.
F-101 Voodoo Art Prints
F-101 Voodoo Photos
Century Series Fantasy Formation
Aviation Art Print
Douglas Castleman. Developed by the United States in the 1950s and '60s, the Century Series aircraft - the F-100, F-101, F-102, F-104, F-105, F-106 and F-107 - were noted for their high speed, advanced avionics and devastating firepower. This hand numbered, limited edition print measures 24"x 18"
.