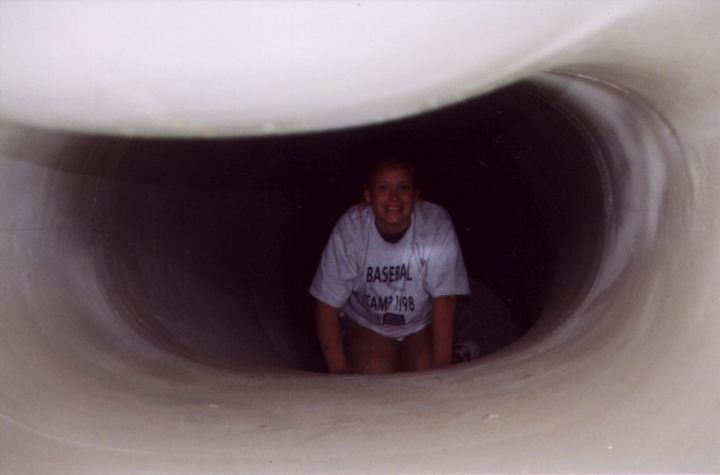 A view inside the Jet Fighter intake. Amanda is still alive.
A-7 Corsair II books * A-7 Corsair II movies * A-7 Corsair II models
Looking down the intake. Wait! this man eating airplane is a woman eater too! We pulled the intake cover off and look what we found! It's Amanda! Really, we took the cover off to look at the intake tract. The curved surface above is the bottom of the pilots capsule. You can see the size of the intake and if you are unlucky enough to get sucked into this bird, and some people have, you don't have much of a chance before you get pulled into the turning cutters of the compression blades on the jet engine.
Amanda crawled all the way back to the engine and you could hear with an echoing voice, "It's really neat in here." Amanda and her dad, Graham, had a ball this day. It's not every day you get to get sucked into an A-7 intake.
Books Index Page
Movie Index Page

Prairie Aviation Museum Bloomington, IL.
Take a ride in a real Russian military MiG 29 jet fighter
A-7 Corsair II Model Airplanes Here.
YellowAirplane Virtual Online Museum