Take your Hot Air Balloon to the North Pole with us Next April, Click Here
Please Note: The background on this page is an aerial photo of the sea ice near the island of Svalbard, Norway
North Pole 2005

Go to Page One Go To the Next Page in this Exhibit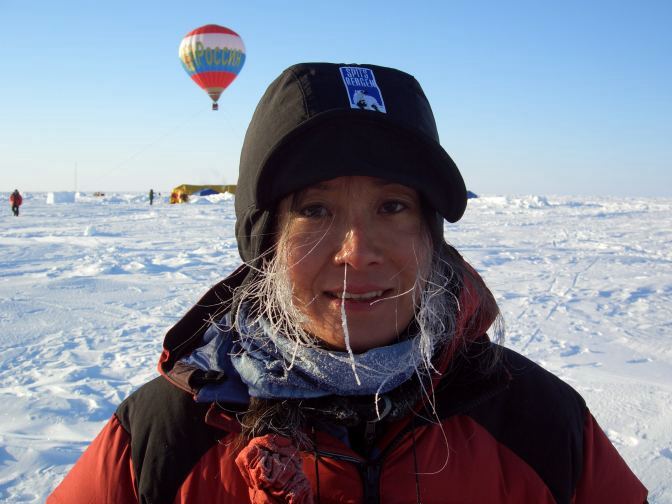 Photo by Cao Jun
Wang Qiuyang standing in Camp Barneo just as a hot air balloon takes off in the background. Notice the ice in her hair. This picture was taken only about 66 miles from the Geographic North Pole in 2005. Wang Qiuyang is from China and is in tremendous shape, as she needs to be for her ski trip to the actual North Pole. A trip like this is like running ten miles a day for ten days straight. But it's really more than that, you must pull a 270 lb sledge and do all of this at temperatures as low as forty degrees below zero and wind chills of minus seventy degrees. You must has a lot of upper body strength because it's not just pulling the sledge, it's pulling it up and over many, many pressure ridges. If you ever get to meet Wang personally, you wouldn't believe that she could complete this incredible adventure. You will also notice that she has the nicest personality. As the webmaster, I am finding that the people who have the nicest personalities are the people that will push themselves to the absolute limit and then keep on pushing. It's the attitude of success.
Click Here for North Pole Adventure Travel
Click Here to go to the YellowAirplane Online Museum
or Bible Gateway, Read Almost any Bible, In Any Language, For Free, Great Search.


Look at these exhibits and tell me what these men really fought for.
The 34th fighter Squadron WW2 Exhibit USS Kitty Hawk Aircraft Carrier Exhibit.
Read the Webmasters Story, Why God Sent Me to the North Pole

Click her to see how I have to live and what it looks like to be a disabled Vet.