The Mighty Eighth Air Force WWII,
The First Plane to Land on the Willow Airport Property.
The Mighty Eighth Air Force WW2 Page 4
Picture of the first airplane to land on the Willow Run Airport property
Imagen del primer avin en aterrizar en el aeropuerto de Willow propiedad Ejecutar
The Mighty Eighth Air Force
World War II
by Warren Benjamin Kidder
The first plane to land at the Willow Run Airport, plus Charles Lindbergh, B-24 Liberator Test Pilot.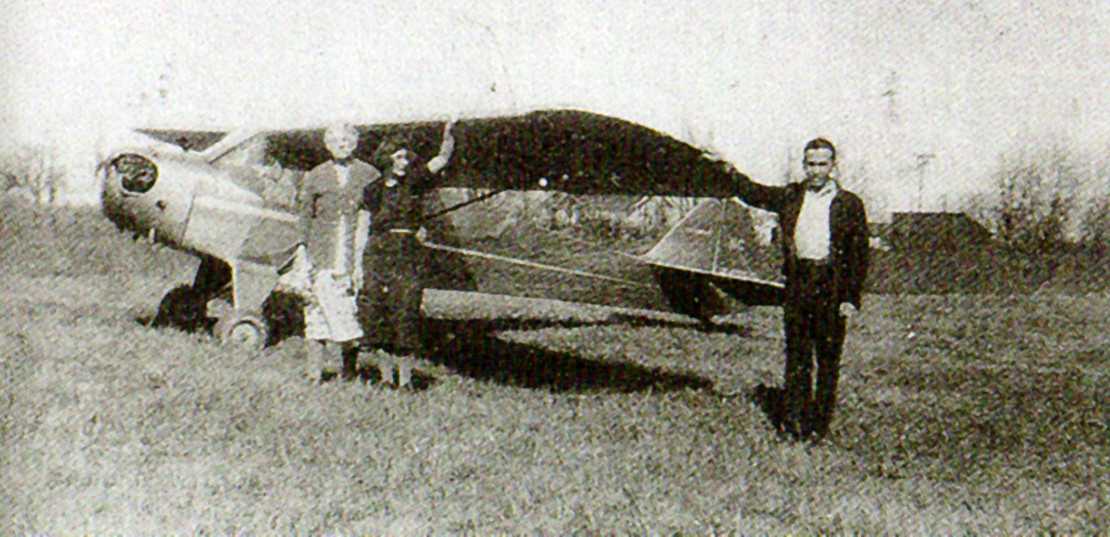 This is the first plane to land on what became the Willow Run Airport, 1936
Photo Scanned by C. Jeff Dyrek
Sequel to "Willow Run the Colossus of Industry"
about the construction of the B-24 Liberator
Click Here's Warren Benjamin Kidders, Willow Run The Colossus of Industry Click Here's the Movie Script for Willow Run
The first plane, a Piper Cub, landed on my father's farm in 1936, Ben Kidder said. It's pilot William "Gerry" Spurr had come to visit his aunt, my mother, and his Grandmother, Phoebe Dickson.

William Spurr worked with Charles Lindbergh and and tested fighter plane high altitude performance. Later, after obtaining a letter, personally written by Lindbergh, to leave Willow, Run, William Spurr became an Army Air Force fighter plane instructor.

In addition to his responsibilities as Ford's Engineering Consultant, Charles Lindbergh flight tested, many B-24 Liberator bombers coming off of the assembly lines. He also performed high altitude test on the Republic P-47 ignition system and was the only pilot to achieve an altitude of over 42,000 feet. Born on February 4th, 1903, almost a year before the Wright Brothers flew their first airplane at Kitty Hawk, Lindbergh purchased his first airplane from World War 1 Army Surplus. Four years later, on May 20, 1927, he left Long Island, N.Y. on the fist solo flight across the Atlantic to Paris, a 33 1/2 hour flight that catapulted him into immediate, lasting world recognition. Politically ostracized by President Roosevelt for his independent political position, Lindbergh gave his Colonel's Commission back to the President, and served in World War II by flying combat duty for General MacArthur in the South Pacific as an unpaid civilian. Charles Lindbergh was the only civilian to ever have shot down a Japanese Zero. After the war the U.S. Congress made him a Brigadier General in the United States Air Force Reserve.
Click Here to see the Script Release for
"Willow Run The Eighth Air Force WW2 Movie"
Order Willow Run, the Book.
To Order
Your Personal Autographed Copy Contact

KFT Publishers,
3617 Christine Dr.
Lansing, MI. 48911

For Information Contact
Email: kidderfr@ATT.net Phone 517- 394-2849
Here's another Book Review about a B-24 Pilot in WW2, Jessie Pettey.
A
n Article by the webmaster
Click Here's Warren Benjamin Kidders New Book, The Mighty Eighth Air Force Click Here's the Movie Script for Willow Run
B-24 Liberator Movies B-24 Liberator Aviation Art B-24 Liberator Models
B-17 Superfortress Movies B-17 Superfortress Aviation Art B-17 Superfortress Models
highway, double overpass, first overpass, willow run, b-24 Bomber, b-24 factory.
Click Here for a list of WW2 Fighter Groups
Click Here to go to the YellowAirplane Online Museum
willow run airport, first airplane, Charles Lindbergh, b24 liberator, b-24 liberator, test pilot
/WebSite/Book_Reviews/Kidder_8th_Air_Force_Action/Page_4_First_to_Land_on_Willow_Run_Airport.html|26035"