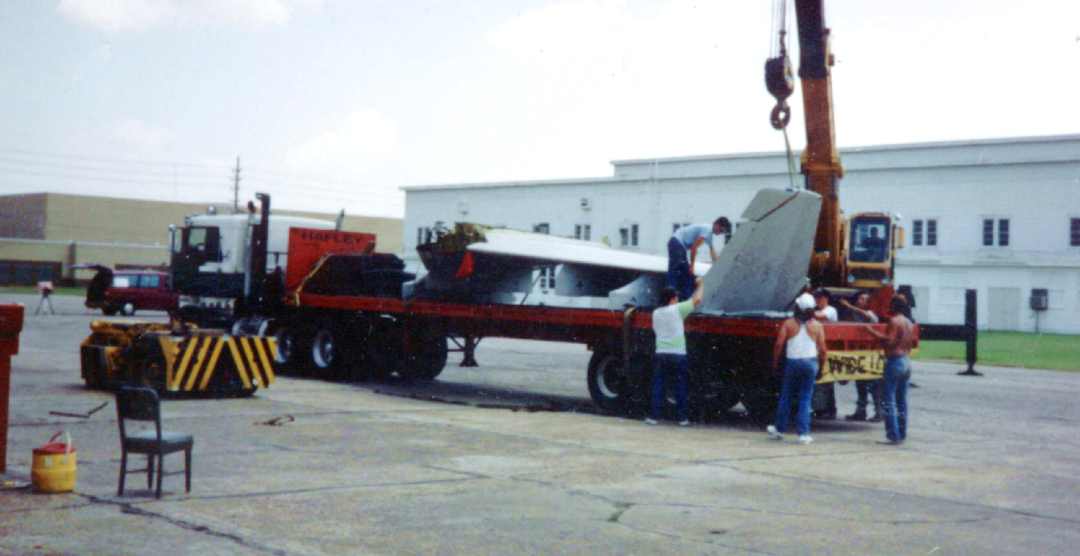 The A-7 Corsair's wings arrive in Bloomington Illinois.
A-7 Corsair II books * A-7 Corsair II movies * A-7 Corsair II models
Now that the fuselage has been removed, the wing needs to be removed from its trailer. This truck carried the Main Wing, the Vertical Stabilizer and Rudder plus the Horizontal Stabilizer, which Vought called the UHT for Unit Horizontal Tail. On most planes the Horizontal Stabilizer consisted of a fixed horizontal wing plus a moveable wing surface called an elevator. On the A-7 the entire horizontal wing moved giving it much more control surface. Newer planes like the F-14 Tomcat had the same type of horizontal control surface but each side moved independently from each other, controlled by a computer, and giving even more aircraft control not only in pitch but in roll too.
Prairie Aviation Museum Bloomington, IL.
Take a ride in a real Russian military MiG 29 jet fighter
A-7 Corsair II Model Airplanes Here.
YellowAirplane Virtual Online Museum