Airplane Calendars * Airplane Art * Railroad Calendars

by Jesse Pettey
Book Review

the One More Mission Tour Below
Photo Scanned by C. Jeff Dyrek
At that moment I forgot about the fighter escort and adjusted my comforting flak helmet and vest. The top turret guns began to chatter as the flight engineer fired at an approaching enemy BF-109. An instant later he was joined by the rattle of the right waist guns. We were engaged in the bomb run and unable to maneuver our airplane to evade the fighters: we could only fly in a stable flight path in the direction of the target so that the bomb load could, at the correct moment, direction, altitude and speed, be released. We were sitting targets for both anti-aircraft guns and enemy fighters. The next moment I witnessed and event that made me ill. A German FW-190 suddenly appeared from below the nose of our aircraft and with in a few seconds, released two rockets into a B-24 ahead of us. He then rolled upside down and disappeared in a dive underneath our airplane. It occurred so suddenly, our gunners had insufficient time to react or to fire. I could distinguish the German pilot as he rolled over because he appeared only a few yards ahead of the nose of our airplane. I could distinguish the German pilot as he rolled over because he appeared only a few yards ahead of the nose of our airplane. Instantly, the B-24 ahead exploded into a fireball and began a downward spiral. Only a few parachutes opened underneath the revolving inferno but even more terrifying, some of the parachutes and clothing of the airmen were on fire.

Jesse Pettey


To Order this Book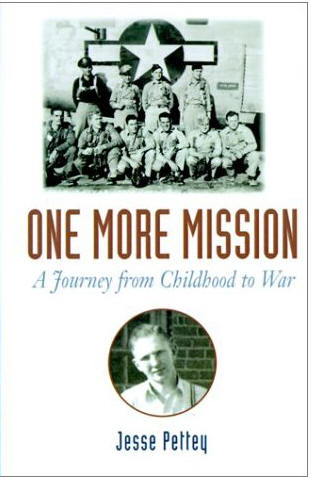 One More Mission: A Journey from Childhood to Warby Jesse Pettey

Hi Jeff,
Left you a fone message. I am thrilled and stunned that you are so close and have such an interest in

military aviation

. Yes, I will call Ben Kidder. The "Tulsamerican" was a Ford KD kit and the last B-24 built at Douglas Tulsa.

Kevin Gray

a Tulsa lawyer is one of the brass hats at the

Tulsa Air & Space Museum

and they would love to bring back all or part of that aircraft to Tulsa. The pilot, FE and nav all died in the crash.

The TA was 765 lead and was hit by FW-190A-8s of the II JG300 just before the IP in CZ. They made Split, Yugo on 2 engines and tried for Vis. Last 2 engines ran out of gas and the Lib rolled over into the Adriatic from a 100 feet.

A-4, Falklands--tell me more when you get a chance!

I worked with the IWM on a B-47E story. I've attached a draft. Capt. Galvan was 767 deputy lead on 17 Dec 44 mission. Shot up and made a forced landing, POW and KIA 26 June 1956 in B-47E at Smoky Hill AFB, KS.

Nobuko worked at a department store in Koza, Okinawa, while I was stationed at Henko, Okinawa 1968-1970, of course I didn't know her then.

Gerry Landry who retired from the Cal Tech subsonic wind tunnel, his cousin Russel Landry was the nav.

Ciao.
John


12-9-2008

Hi Jeff,
Very glad to hear from you. You did a super job with the content and presentation of your website. How in the world did I miss the fact that you are in Bushnell?? I've been to your website several times and your data has helped me solve the mystery of the Jesse Pettey's 461, Sq #52 and 451 B-24G #42-78436 "Shady Lady" which went MIA at 1320hrs, 18 Dec 1944 near the center of the Nagykanizsa Oil Triangle in southwestern Hungary.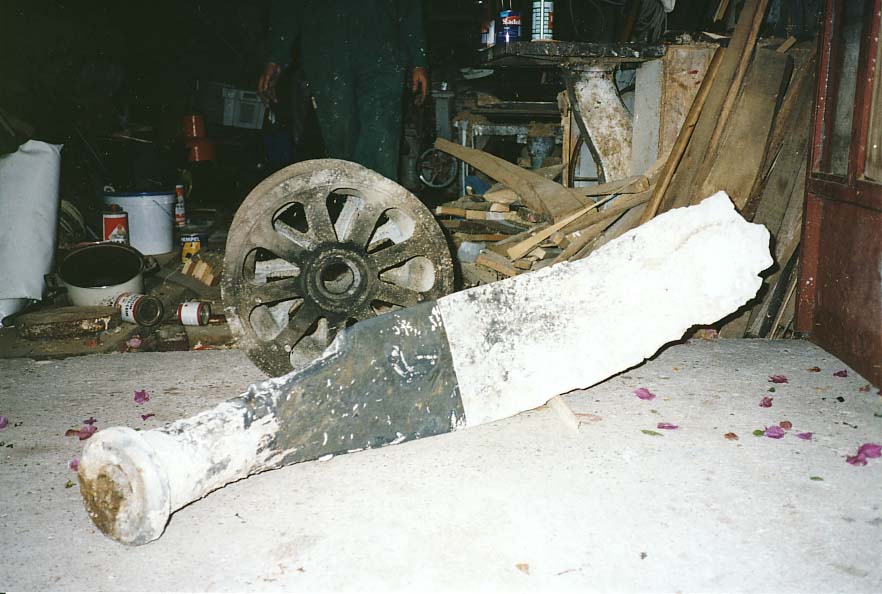 Have done research for a book on the Sunday 17 December 1944 mission flown by the 49th BW to Odertal, Germany (Kozle, Poland). The 485th BG on the return leg from this mission alleges that they had six B-24s damaged by SAMS at 1414hrs @ 12,000 feet @ 46-33N 16-30E. The "Shady Lady" went MIA in the same general area. The 2nd BG (B-17) recounts they were attacked by Rheintochter SAMS over Wiener Neustadt in late Dec 1944. I can send you links to a my blog on same. I've been fortunate to have 3 articles published in AIR CLASSICS. This spring I did an article on the 31 March 1931 TWA/Rockne crash for Randy Reynolds' TWA/Jack Frye website.
Currently, Gary Hyatt of the Davis-Monthan website has asked if I would be a guest editor and do the Fokker page for the website and Dave Powers of the PanAm LOGBOOK magazine desires that I do a piece on TWA. Do you follow the history of Camp Ellis? YES, I would love to have your insights and help for online publishing if I ever get the Odertal book done. I belong to the informal SPG (Same Page Gang) and we think we have found a prop blade and wheel off the 461st B-24J "Tulsamerican" lost off Hvar on 17 Dec 1944. Have attached a photo. Looking forward to your response.
Ciao.
John
Look at John Bybee's Home Page
8-7-2008
Greetings Jesse,
I am doing ongoing research on the Sunday 17 December 1944 mission to Odertal (Kozle, Poland) and Hughes G. gave me your new email address. I read very great interest you article about your book ONE MORE MISSION and the Goia Sgt/Painter that was selling Shady Lady nose art off a stencil. Is it possible that you flew #13, 42-51336 to Italy, this aircraft lost 24 Aug 1944 at Pesaro with Lt. John R. Wren hr.'s crew? Shady Lady #52,B-24G-16-NT, 42-78436 shows going to 451st on 24 November 1944 and went MIA on 18 Dec 1944 with 451/727, 2Lt. John D. Holland Jr. commanding. #52 went MIA in the center of the Nagykanizsa (Hungary) Oil Triangle. This was the same area that the 485th claimed they had six B-24s damaged by Nazi SAMs on 17 Dec 1944. Let me dig out my notes on Holland etc. Sincerely,
John D. Bybee
Vermont, IL
Jess
Somethings amiss big time since you flew 42-78436 over to Italy. You recall any extra electronic equipment like in RCM/ECM/ELINT mode?
John
John, I was a pilot concerned with getting that big box-car fully loaded off the ground, saying the correct prayers while under fire from the Germans, and controlling a crash - called a landing. We had bales of chaff to be thrown out the waist openings. We had no other electronic equipment on the Shady Lady or on any other aircraft I flew. I think I would remember any electronic intelligence devices.
Your research has been a revelation for me, although I have not spent a lot of time worrying about what happened to the

Shady Lady

. I was informed, probably by rumor, that she had been shot down and I accepted the information because about 50% were lost. Many years later I found on our website the same serial number for an airplane that a Lt. Wren piloted over Persaro and was MIA. Much later I stumbled across a photo of someone stenciling a Shady Lady in the 451st. I naturally assumed that someone was stenciling many aircraft with the same stencil, which I though was humorous. Now you uncover, with convincing evidence, that the aircraft was transferred from the 461 to the 451 in November and was later MIA. Since I was not consulted or asked for my permission to transfer the Shady Lady by the top command, I will accept your account of "The rest of the Story" of the Shady Lady.
Jess
0007402
Belle... Homeward Bound
John Young.

Capt. Robert K. Morgan and his crew climb out over the English countryside and the Eighth Air Force Base. This time, having already completed their 25th mission, they are heading the other way, across Scotland, the Atlantic, and home to the U.S. 850 S/N by artist. 33½"x 25¼" print.
...#0007402 145.00

B-24 Liberator Movies B-24 Liberator Models
B-24 Liberator Books B-24 Liberator Aviation Art
Y-I-BET
On the Youth of America
click here to see what your kids are learning now

Aviation Books
Aviation Videos
Airplane Models
Airplane On-Line Store
Would you like to go to the North Pole, You can. Click here find out how