[../../1-BannersSalesDeals/1-A1_ON_ALL_Pages.htm]
F-100 Super Sabre Books F-100 Super Sabre Art
F-100 Super Sabre DVD Movies F-100 Super Sabre Models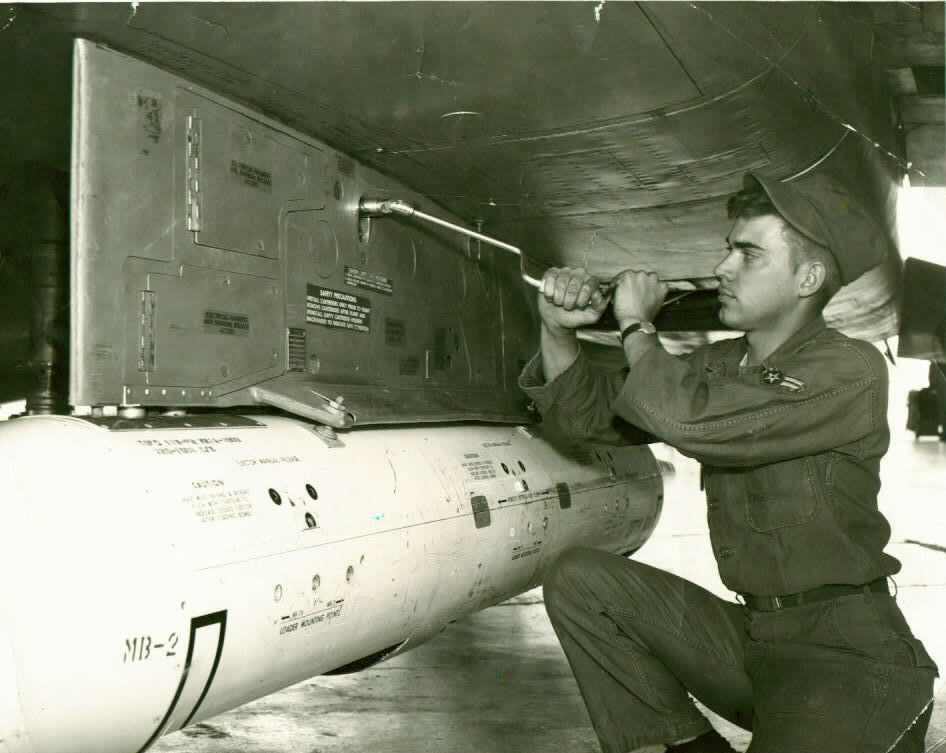 Dear Jeff,
I was stationed at Cannon AFB, NM 1961 -1964. As a Weapons Mechanic, 46250, I went TDY to Turkey with the 522nd Commanded by Major John J. Voll (Out top ace in the Mediterranean Theater of Operation, )

Saudi Arabia

with the 481 Commanded by Col Woody,

Iran

with the 27th TFW & Florida three times with during the Cuban Crisis.

The F-100 or "Lead Sled" as we called it was a well used and beautiful plane. I saw a picture once of a friend of mine who was a ANG Pilot with the SDANG of a formation a "Huns" in front of Mt. Rushmore.
I recall many of the airman and pilots that I worked with Sgt. Bobby Lord, Sgt. Alvie Reynolds, Sgt Rainwater, A1c Register, A1C Herzog, Sgt Sylvanus S. Jones, Capt Bradley, Murgatroyd, Wilt, Van Domlin, Elliot,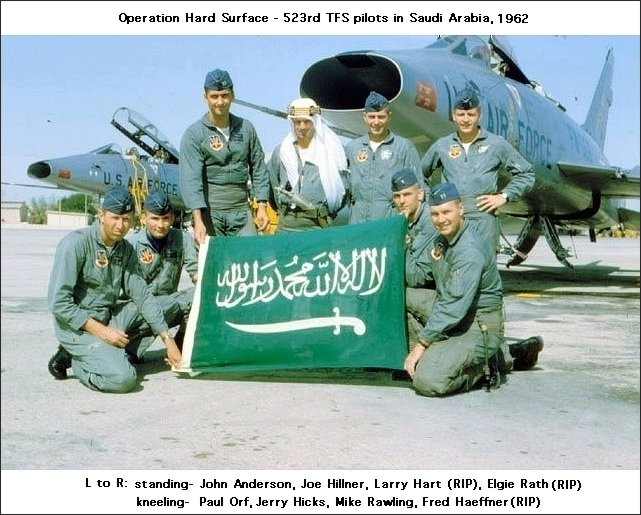 5
23rd TFS Tactical Fighter Squadron was taken in Saudi Arabia during Operation Hard Surface. Elgie Rath was killed when his 100 went in over in Japan.
Left to Right: Standing - John Anderson, Joe Hillner, Larry Hart, Elgie Rath,
Kneeling - Paul Orf, Jerry Hicks, Mike Rawling, Fred Haeffner.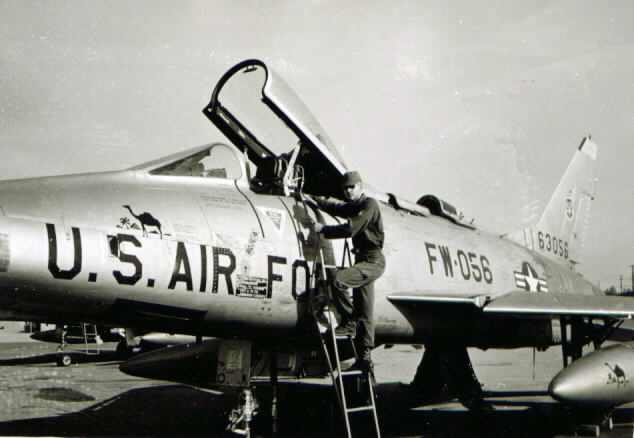 That is me putting the cartridges in the type VII pylon.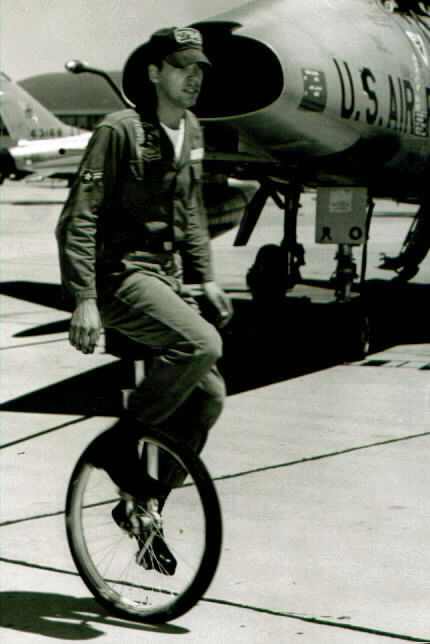 A picture of me on my Unicycle on the flight line take in 1962.
Look at Pete Byam's Website www.petebyamshow.com

Member of South Dakota Country Music Hall of Fame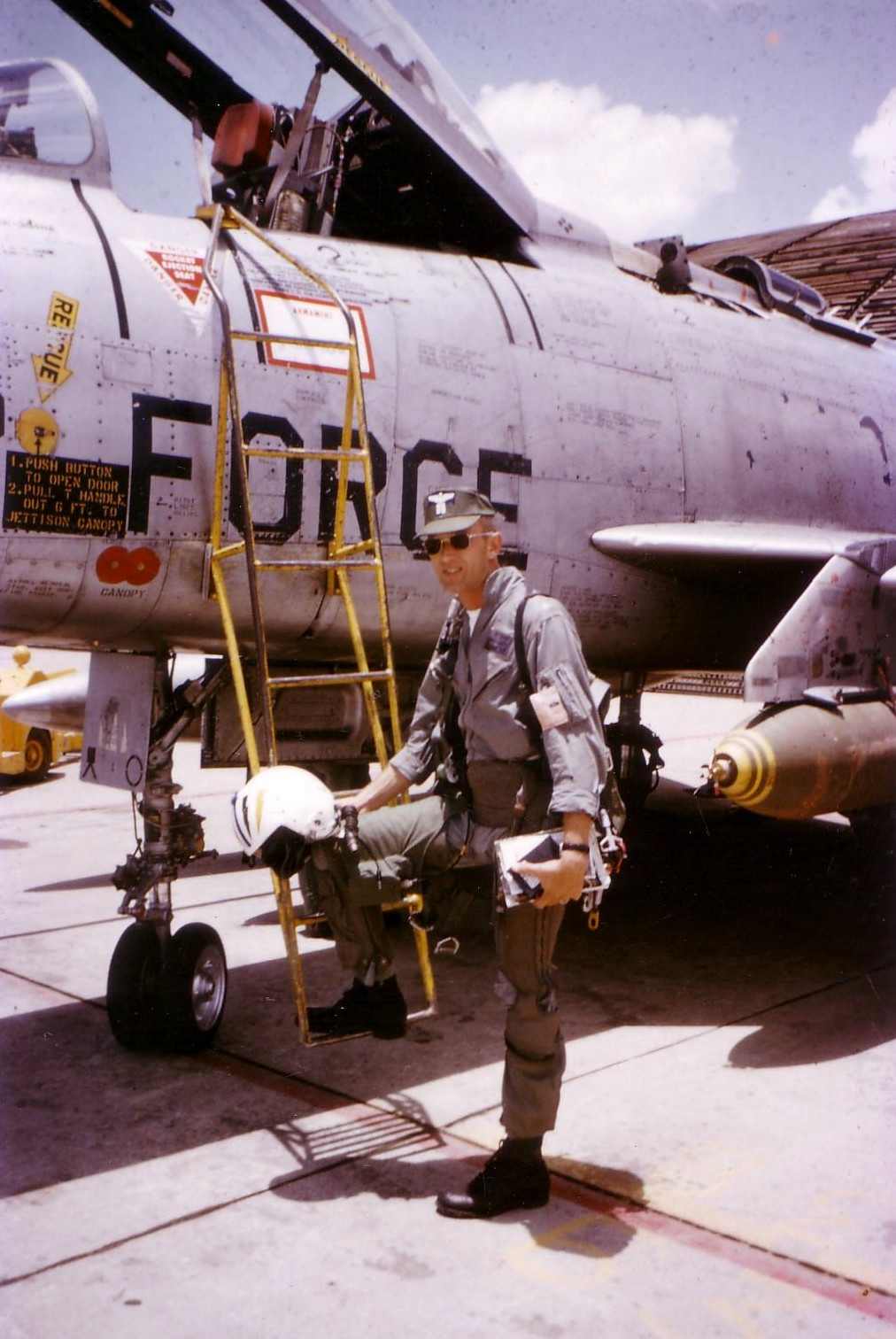 Lt. Col. (Captain when I knew him) Paul Cohagen. Col Cohagen was the test pilot for the 27th wing. He was also assigned to the 481st. I believe he was the favorite pilot of all of us. This picture was taken in Vietnam about 1965. Notice the 500# bombs on the type one pylon (inboard station on the wing)Pete Byam
Jeff,
Found my Cannon AFB Annual from about 1963. Has most of the people that were there at that time, who were not TDY. Attached is 481st.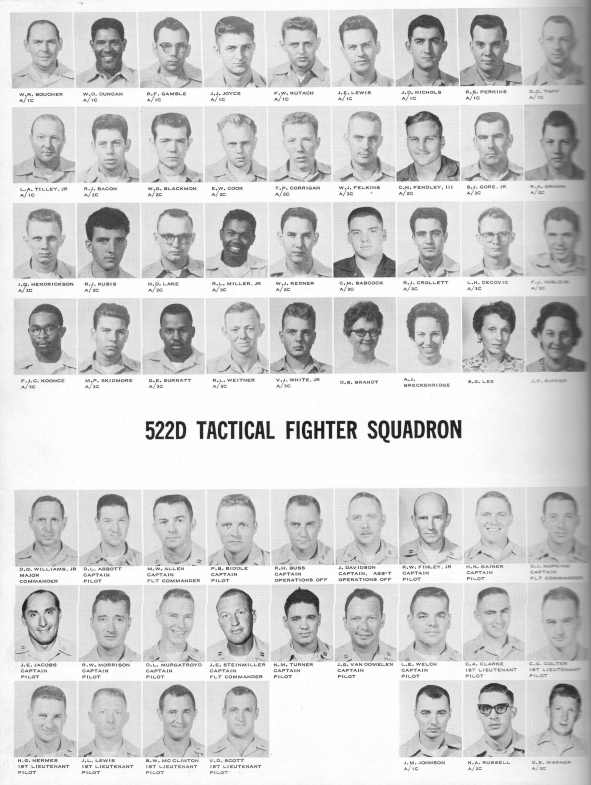 522 Tactical Fighter Squadron Crew Members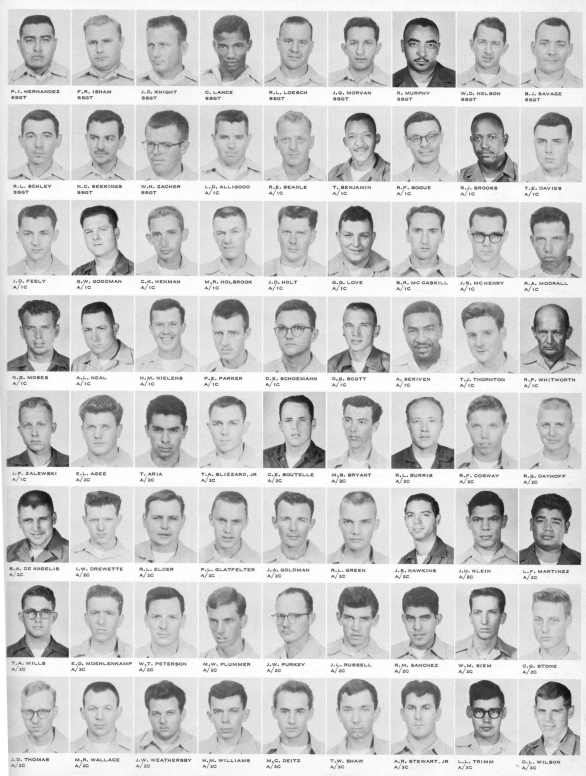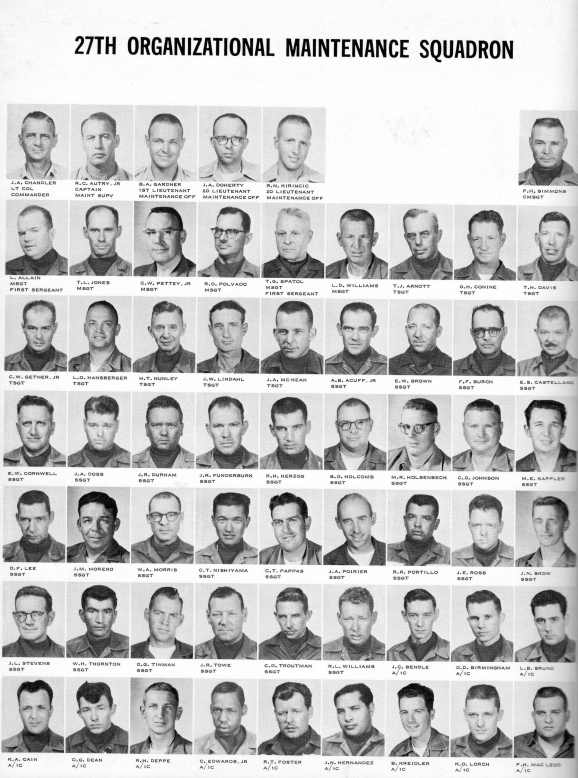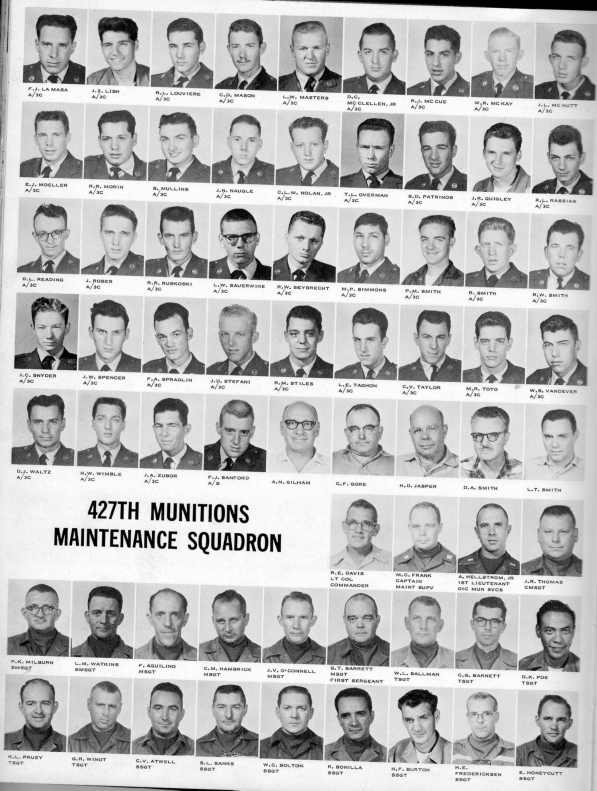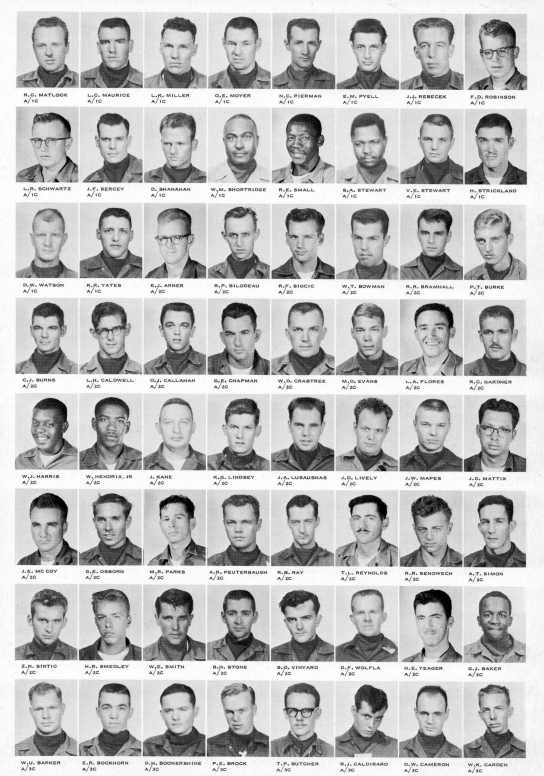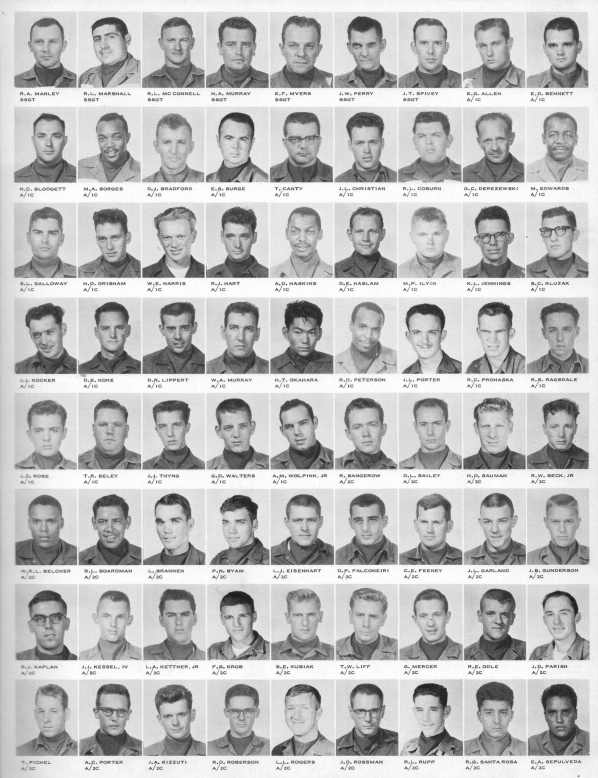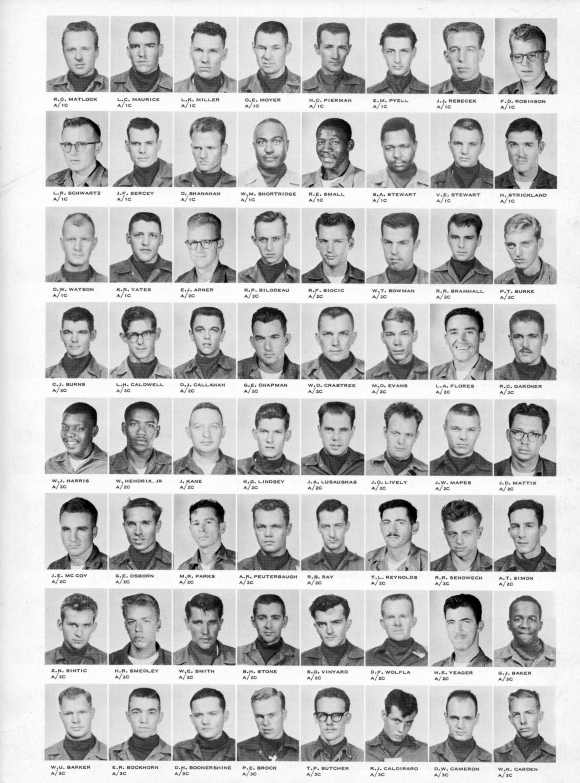 Here for North Pole Global Warming Adventure Travel Tours
Isreal Air Force Model Airplanes
Here to go to the
YellowAirplane Online Museum
Veterans, Read This
B-29 "Superfortress" Bomber over Korea
~ A True WWII Story ~
See C. Jeff Dyrek's YouTube Videos
Go to Yellow Airplane's own Online Museum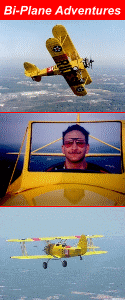 Read about North Koreas Atomic Bomb Program and the History of North Korean Atomic Bomb Nuclear Production