The NASA Version of the F-104 Starfighter
The NASA Version of the Lockheed F-104B Starfighter by Ken Marlatt Page 7
The F-104B Starfighter Changes in the NASA Version of the Jet Fighter Aircraft.
El F-104B Starfighter Los cambios en la versin de la NASA de los aviones de combate Jet
the USAF F-104 Starfighter Nasa Version

F-104 Starfighter Models F-104 Starfighter Movies F-104 Starfighter Aviation Art
Shown below is 57-1303 as it appears in February of 2006. When the aircraft was retired from NASA service in 1978 and donated to the McCellan Aviation Foundation collection of aircraft, it was repainted in a 'generic' (and largely incorrect) ADC grey color scheme. The aircraft was originally used in its production 'bare metal' USAF markings, with only a yellow NASA vertical fin band to identify its operation by NASA. Later, towards the end of its service life, it received the standard NASA 'house colors' liver of white, dark blue, and light blue, and ended its NASA light operations in that scheme. When the aircraft was received at the McCellan AFB (ALC) center in 1987, it was repainted in the incorrect scheme it wears today. It should be noted that the unique red/yellow 'dart' design it sports on both sides of its nose and tail was a proprietary Lockheed graphic device used only on the Lockheed YF-104 and XF-104 prototypes; it was never used on any active service USAF production USAF Starfighter, and certainly not by any of the NASA's Starfighters!
Photos Scanned by C. Jeff Dyrek

Click on the Right Arrow to go to the Next F-104 Starfighter Jet Aircraft Page.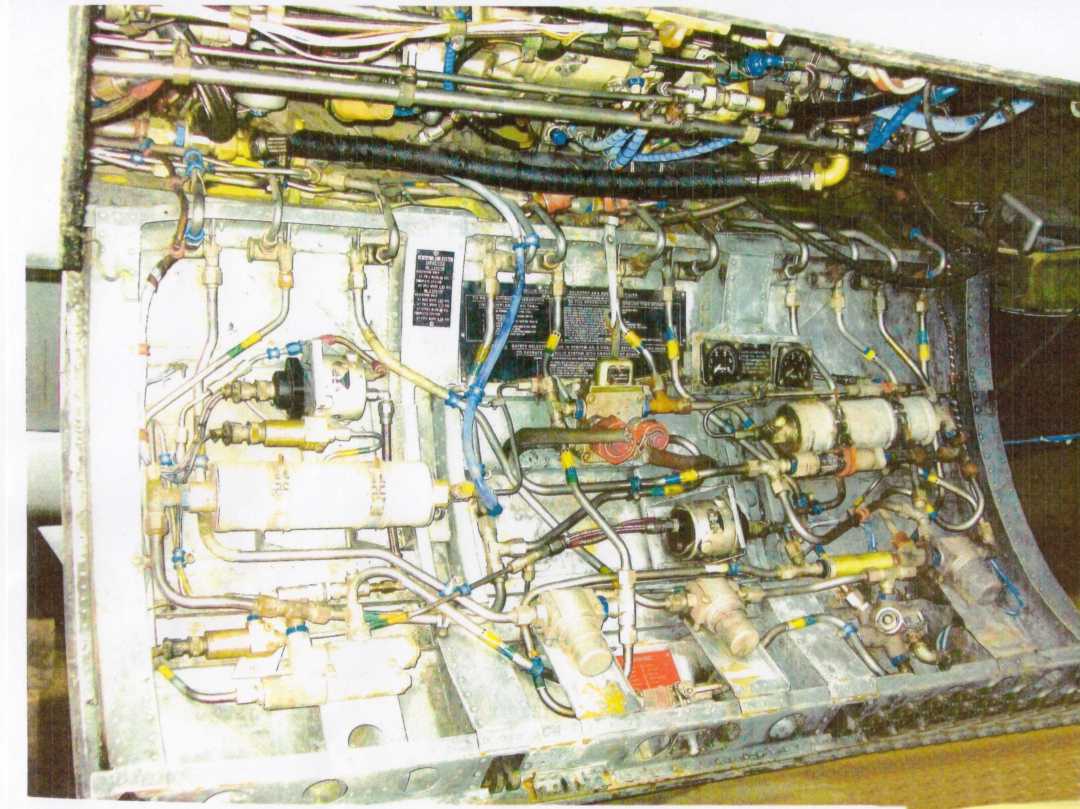 The F-104 Starfighter had two independent hydraulic systems; One emergency system (RAT); Two variable displacement pumps; A Hydraulic system pressure of 3000 PSI; A Closed Center System; A Type II hydraulic system / -65 to 275 degrees Fahrenheit; A Fluid Specification MIL-PRF-5606H; An Accumulator pre-charge of 800-1000 PSI; A Panel that is designed for hydraulic maintenance; A panel weight of 158 lbs.
Engineer Quote: "The design of this hydraulic panel is an engineer's feat in itself: REF: Lockheed Memo No. 56, Pgs 1, Issue#5, 1954
Photos Scanned by C. Jeff Dyrek
A
n Article by the webmaster
Read about the Prairie Aviation Museum in Bloomington Illinois.
Read about the 3100 model planes build by Captain Roberto Perez Dominguez

Ride in a MiG-25 Russian Fighter Jet to the Edge of Space
Click Here to go to the YellowAirplane Online Museum
f-104, f104, starfighter, star fighter, f104 starfighter, f-104 starfighter, jet fighter, fighter jet, nasa, nasa version, aircraft
/WebSite/Museums/F-104_Starfighter_Ken_Marlatt/Page_7_NASA_Version_F-104B_Starfighter.html|580"
11-12-2011