Click on Pictures Below for Much Larger Views
B-24 Liberator, "Tulsamerican"
The Very Last B-24 Liberator to be built
in Tulsa Oklahoma.
Construction of Willow Run Ford KD kit B-24J-10-DT #42-51430
"Tulsamerican" begins at Douglas-Tulsa.
L to R: Ina Overstreet, C.D. Pitts, Marguerite Foster, C.W. Kilgore. Inside: Clara W. Campbell
During WW II, in 1941, before Pearl Harbor, Ford converted a company farm in Willow Run, Michigan to a factory to produce the B-24 bomber. Over one million parts went together to get one completed. At peak production they were coming off the assembly line 24/7 at the rate of one every 55 minutes. If it wasn't for Henry Ford and the amazing employees at the plant, you may not be reading this today. This plane, the Tulsamerican, was a kit that was built at Willow Run Michigan, then sent to Tulas Oklahoma for it's final assembly.
Information Request
I was the navigator on the Bill Donald crew, whose photo appears on your home page with the Tulsamerican, which we ferried over to Italy. I'm the first one from the left in the standing row. I lost contact with Bill about two years ago. Do you have any suggestions for trying to, locate him? Stu Lefkowits Send me an email here
12 June 2010
Hi Jeff. My name is Al DeBoover. I`m trying to find out about my uncle who was a pilot of a B-24 bomber in WWII. All I have found out so far is that he was stationed in England, he flew a B-24, and he was shot down and killed in April 1944. He was 23 years old. Do you know who I can contact to find out information about him and his service record? Where in England he was stationed, what his bombing mission was when he was shot down, etc.? Any information you can give me would be very appreciated. Thank you. Al DeBoover
Hi Jeff,
Yeah it's solved:
1Lt Albert G. Ripley, nav, 446 BG, 704BS, KIA 11 April 1944 @ Lohne, Germany (Vechta, Germany)
B-24 #42-9942=B-24J--55-CO, built at Consolidated San Diego, CA "Brown Knowser"
Wallace R. Forman's "B-24 Nose Art Name Directory" does not have a photo
John Bybee
Hi John,
Oh my gosh I can`t believe all the information you`ve come up with! It answers so many questions. I asked my mom about the birth date and she confirmed that it`s right. When I asked her about whether he was a pilot or navigator she thought they were the same thing. So that also clears up a lot of questions. Phillip Westcott who survived the crash apparently stopped in and visited my grandparents many years ago and assured my grandmother that Uncle Bud was killed. She had spent a lot of sleepless nights worrying about him because she didn`t think he was dead -that he`d been taken prisoner and tortured. The MACR- if you think it will reveal any more information then yes go ahead and order it. As far as having his remains shipped back, my Mom didn`t seem too kean on the idea. She had another brother who served in WWII in the Pacific theater who made it back but suffered a lot of physiological problems for years after and with Uncle Bud`s death it was a very bad time for the family and she doesn`t want to go there again. Just knowing where he is-that there is actually a grave site- brings me a great amount of relief. I`ve always felt bad knowing he was over there alone. Wow I`ve got a lot of reading and writing to do now! I want to get it down in printed form before I lose it all. To actually read about the events as they occurred that day is far more than I ever could have imagined! I can`t thank you enough for everything. I`ve learned more today than I have in the last 2 years of looking and I`ll be sure to pass this on to the family. If you find out any more let me know-I find this whole era so fascinating. Thank you again. Al
5-May-2010
Daddy, Saw your piece on the TA and saw that my cousins name was spelled incorrectly - Jandry instead of Landry. Son Batdude. Gerald Landry.
Hi Jeff and Ben,
Speaking of Willow Run B-24s--another Ford Willow Run KD kit assembled by Douglas-Tulsa was B-24J-1-DT,
#42-51226, "I Walk Alone". #226 was assigned to the 8th AF, 482nd BG, 36th RCM (Radar Counter Measures) Squadron attached to 100th Group RAF. #226 (Sq code R4-L) was on a nighttime spoofing mission on 10 November 1944. At 0200hrs the 566th and 563rd SAW (Signals Aircraft Warning Sqs.-- Hattonville) vectored in error a 425th NFS P-61 to the B-24's location. The P-61 destroyed #226's #4 engine and damaged #3. #226 crashed at about 0230 about 1,000 yards north of Tincourt-Boucly, Dept of the Somme, France. Three crewmen died in the crash.
B-24J-5-FO #42-51546 was replaced #226 was painted with the same serial number and nickname.
Aerospace historian and author

Willis "Sam" Cole Jr.

(www.ww1.org) has spent over sixteen years researching and made over forty field trips to France to verify his thesis that the shoot down of #226 was covered up. On 9 November 1944, 15 1/2 hours before and 138 miles from where #226 crashed, a 452nd BG, 729th Sq. B-17G-35VE #42-97904

"The Lady Jeannette"

badly damaged by flak and fighters, had failed in its attempt to land at the emergency French airstrip A-72. The B-17 slammed into the ground and exploded. Author Cole maintains that the B-17's crash was transposed in flight history and location to cover the crash of #226. The bodies of the dead airmen from the B-17 were moved to #226's crash site.

Author Cole has published two books, THE LAST FLIGHT OF THE LADY JEANNETTE and THE BEST KEPT SECRET OF WWII which give considerable credence that a "cover up" spiraled upwards through the 9th AF and reached General Eisenhower and was link to the "accidental" death of General Patton.
Perhaps there is room for the inclusion of Mr. Cole's research and conclusions into the body of the forthcoming movie "

Willow Run

"?
Regards.
John Bybee
096627280317893909570966272803"> The Last Flight Of The Lady Jeannette

(Hardcover Book)

The Last Flight of the Lady Jeannette is outstandingly researched by Mr. Cole. The Book resolves around a legend of a grave located in Cartigny, France with a stone cross headstone that reads 'American Aviator-Unknown-23 November 1944'(in French) Normally all American remains of WWII are buried in a American Cemetery overseas or sent home at next of kin request. Mr. Cole based the book kind of like a autobiography during his research. He is a WWI enthusiast who stumbled upon this grave in Cartingy, France and became determined to find out whose remains are in this grave. His research leads him to many people and to many places in the United States and France. He finds a secret that has been kept for 50 years which involves two Medal of Honor winners. The grave holds the remains of four Airmen of the B-17 Bomber 'The Lady Jeannette' Today Mr. Cole had placed a Monument at the grave identifying these 4 men who died for their country in a horrible way and at the crash site. These four men also have official graves in the states and at an American Cemetery in France which gives the book a good twist of reading. The book is almost set up like a mystery which does keep you interested even while he goes thru his routine of visiting WWI places and giving a book tour of the WWI battlefield areas. This could get boring if you are not a history buff or a military history buff at that. The book is good reading for both WWII and WWI buffs.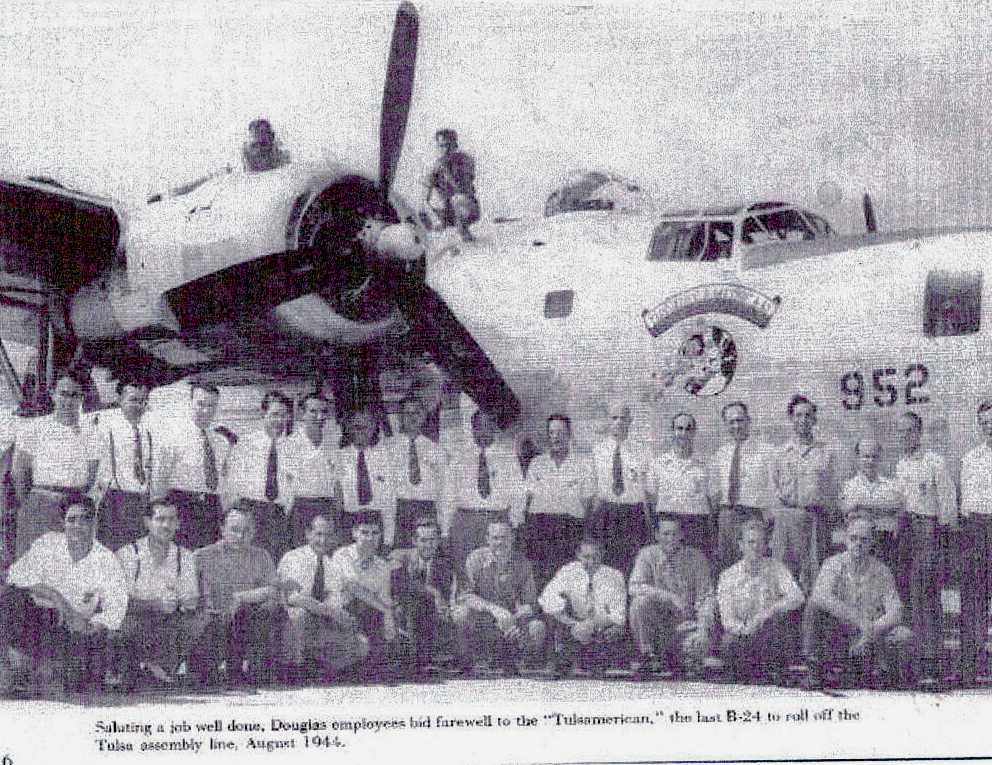 Saluting a Job Well Done,
Douglas employees bid farewell the the "Tulsamerican."
the last B-24 to roll off the Tulsa Assembly Line, August 1944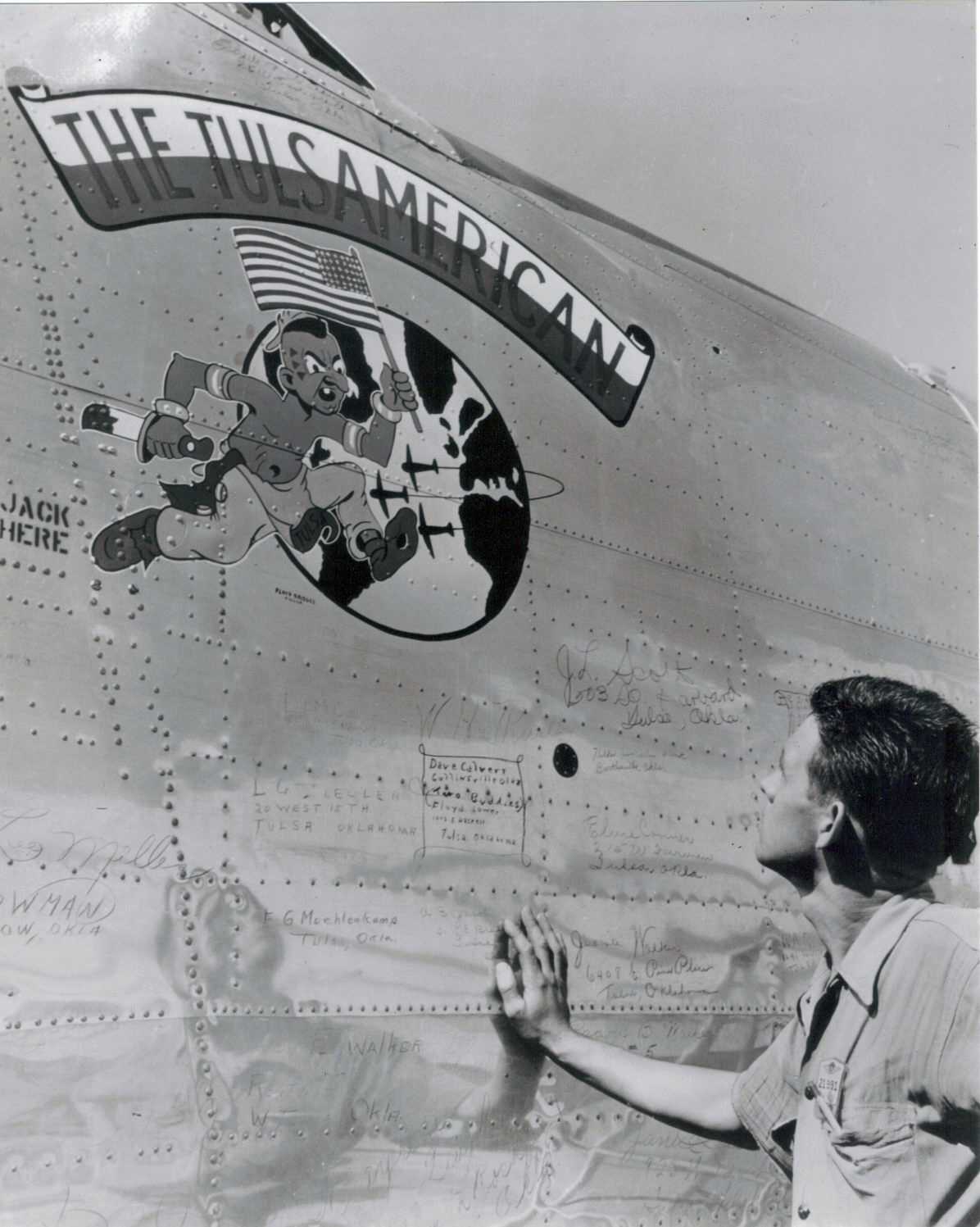 The Tulsamerican Nose Art
Click Here's some of the names that are signed on the aircraft.
L. Miller, F. G. Mochlcakamp, Tulsa, Okla. E. Walker, Okla. LG. Wleylen, 20 West 1st H. Tulsa Oklahoma. J. L. Scott, 503 So. Harvard, Tulsa, Okla. Elaine Connelas. J. Walker 6409 E ??, Tulsa. Dave Calvert, Floyd Lowes
Mans Badge Number 21891
From the Webmaster. This is the best that I can do trying to read the signatures printed on this aircraft. But click on the photo and look at the rivets very closely. You will notice that the rivets are not drilled straight and, by today's standards, this plane would not pass any inspection for aircraft quality. These rivets just had to be close and that was it. This shows the difference in the technology of yesterdays aircraft and today's.
Now the rivets on modern aircraft are flush mounted and perfectly straight. Also, even more advanced, there are no rivets, instead many components are either welded or bonded. As far as stealth, every rivet is a radar reflection point.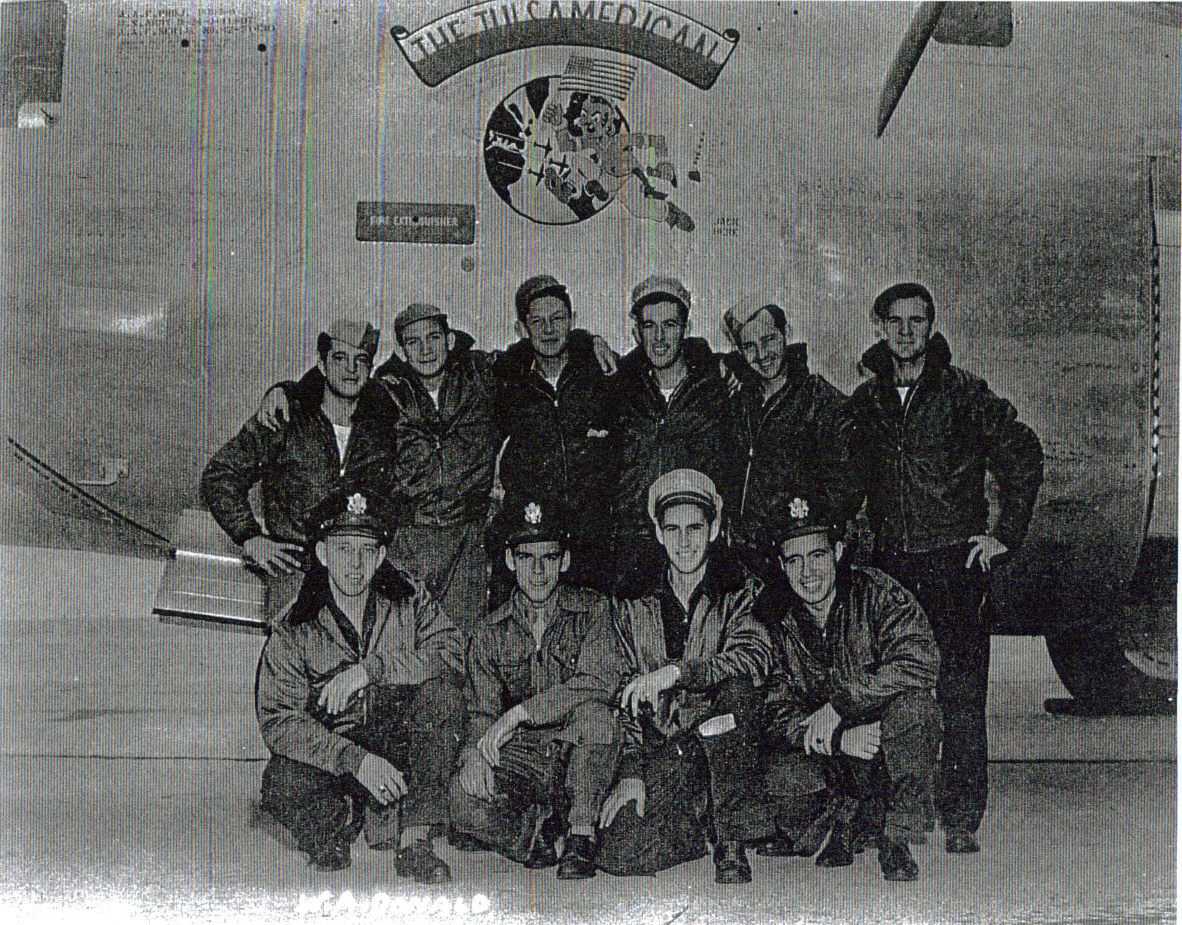 William Donald

crew flew Tulsamerican to Italy.

The 461st Bomb Group, 765th Bomb Squadron
"The Tulsamerican" Ship Number 24
S/N 42-51430. White Cowling, Red Tails.
B-24J-10-DT #42-51430. 15th AF, 461st BG, 765 BS.
Ford KD Kit arrived 7 July 1944 by truck convoy @ Doulas-Tulsa.
Crashed into Adriatic Sea @ 1412hrs Sunday, 17 December 1944.
Pilot 1Lt.

Eugene P. Ford

, Navagator

Lt. Russell Landry,


Flight Engineer SSgt. Charles Priest went down with the B-24.
Daddy, Saw your piece on the TA and saw that my cousins name was spelled incorrectly - Jandry instead of Landry. Son Batdude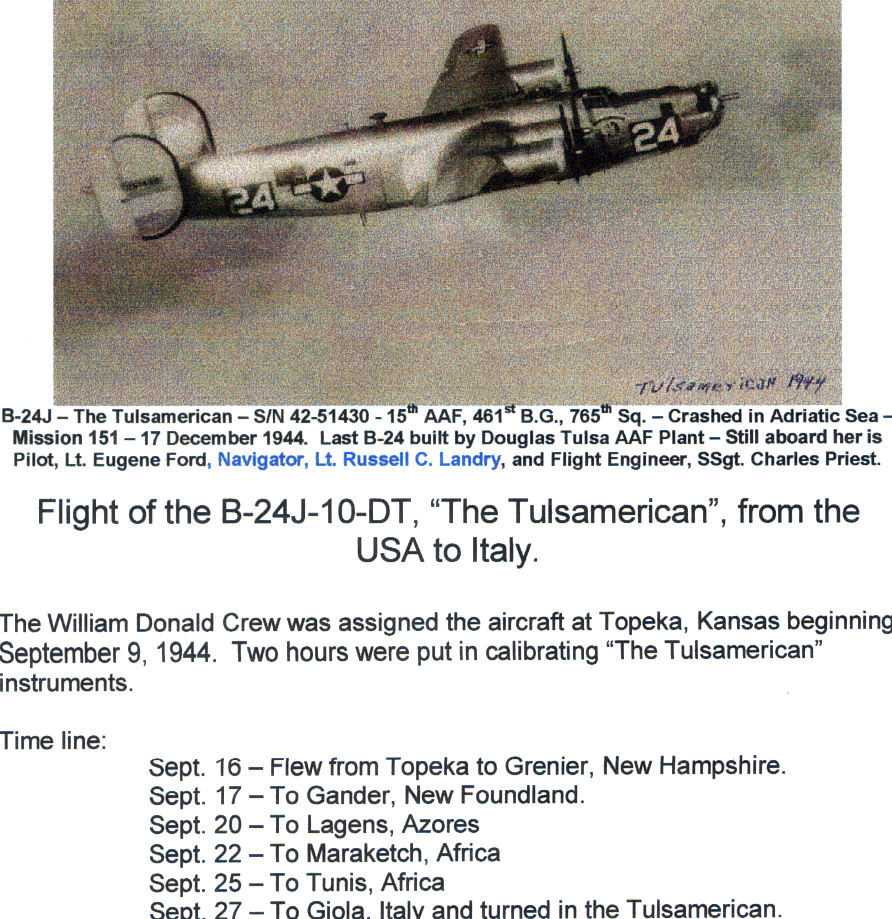 B-24J - The Tulsamerican - S/N 42-51430-15 AAF, 461 B.G., 765 Sq. - Crashed in the Adriatic Sea Mission 151 - 17 December 1944. Last B-24 built by Douglas Tulsa AAF Plant - Still aboard her is Pilot, Lt. Eugene Ford, Navigator, Lt. Russell C. Jandry, and Flight Engineer, SSgt. Charles Priest.
Flight of the B-24J-10-DT, "The Tulsamerican", from the USA to Italy.
The William Donald Crew was assigned the aircraft at Topeka, Kansas beginning September 9, 1944. Two hours were
pun in calibrating "The Tulsamerican" instruments
Time Line:
Sept. 16 - Flew from Topeka to Grenier, New Hampshire.
Sept. 17 - To Gander, New Foundland.
Sept. 20 - To Lagens, Azores
Sept. 22 - To Maraketch, Africa
Sept. 25 - To Tunis, Africa
Sept 27 - To Giola, Italy and turned in the Tulsamerican.
Oct 2001, Springfield, IL. L to R: Paul Beard, John Bybee, Norma "Joy" (Ford) Beard.
Norma was six months old when her father 1Lt. Eugene P. Ford was killed aboard the "Tulsamerican"
Prop blade and wheel off the
461st B-24J "Tulsamerican"
lost off Hvar on 17 Dec 1944.
Click Here for North Pole Global Warming
Click Here's another Book Review about a B-24 Pilot in WW2, Jessie Pettey,
One More Mission, A Journey from Childhood to War.
Click Here to go to the
YellowAirplane Online Museum
Veterans, Read This
See C. Jeff Dyrek's YouTube Videos
Go to Yellow Airplane's own Online Museum