The 5000th B-24 Liberator to be Built at the Ford Willow Run Factory.
The Mighty Eighth Air Force WW2 Page 6
El 5000a B-24 Liberator que se construir en la fbrica de Ford en Ejecutar Willow.
A Picture of the 5000th B-24 Liberator ever to be built at the Willow Run Factory in the state of Michigan
Una imagen de la 5000a B-24 Liberator jams construido en la fbrica Willow Run en el estado de Michigan
The Mighty Eighth Air Force
World War II
by Warren Benjamin Kidder
Sequel to "Willow Run the Colossus of Industry" about the construction of the B-24 Liberator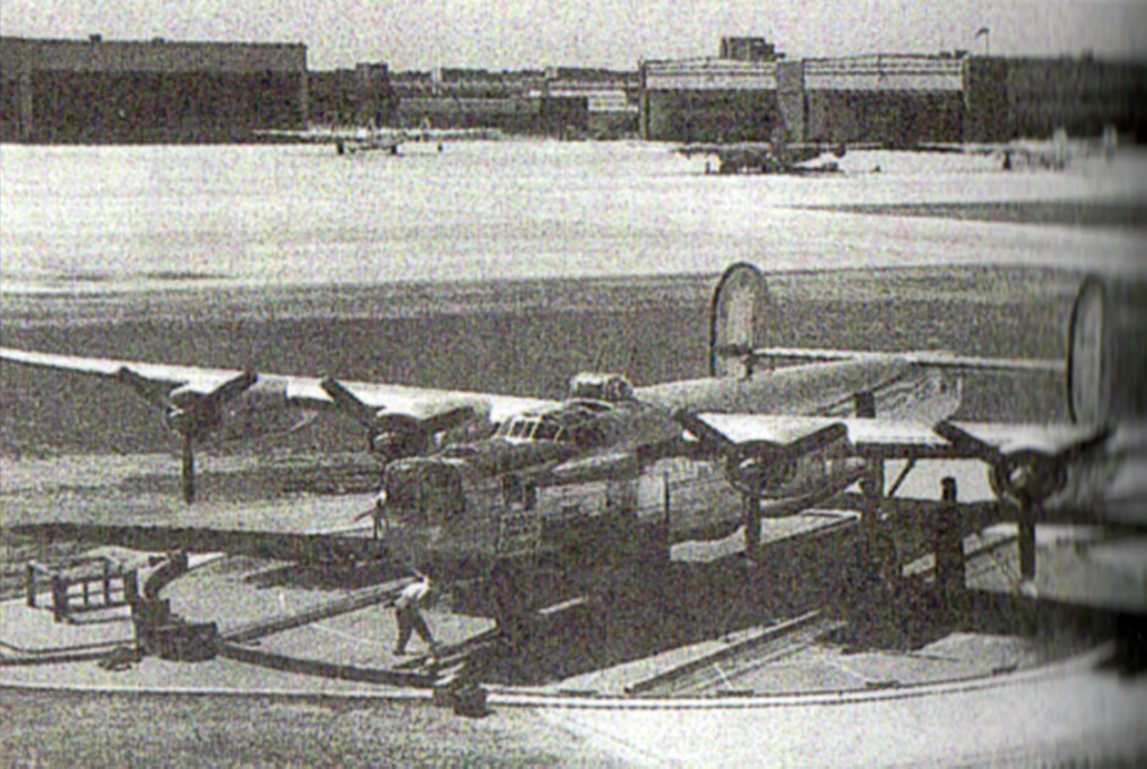 B-24 Liberator on the turntable used to calibrate the compasses, Compass Rose.
In the picture, in the upper right is exit of the assembly line. On the top left is Hanger !.
Photo Scanned by C. Jeff Dyrek
Click Here's Warren Benjamin Kidders, Willow Run The Colossus of Industry Click Here's the Movie Script for Willow Run
This famous WWII bomber fought its way through the dangerous skies of Europe and the Pacific. The B-24 Liberator was one of the most versatile and important aircraft of that era. It did not get the press attention that the Flying Fortress received, but it certainly earned its way by fighting through swarms of Luftwaffe fighters to drop bombs on the Third Reich. It also earned the same laurels in the Pacific.
Originally designed by the Consolidated Aircraft Company in San Diego California, the B-24 was put into a full force mass production by the Ford Motor Company at the Willow Run Airport in Michigan at about 650 bombers per month and became the most produced American military aircraft with over 18,400 aircraft produced in total. The B-24's that were built at Willow Run were not all assembled there. The Willow Run factory also built "Kits" that were sent to Tulsa, Oklahoma for final assembly.
The general characteristics of the B-24 were a crew of seven to ten members, length of 67' 8", Wingspan of 110 ft, Height of 18 feet, Wing Area of 1048 feet, an Empty Weight of 36,500 lbs and a loaded weight of 55,000 pounds with a max takeoff weight weight of 65,000 lbs. The B-24 used four Pratt & Shitney R-1830 turbosupercharged radial engines at 1,200 hp each, with newer versions at 2000 hp. The flat plate drag area was 42.54 sq ft and the plane had fuselage aspect ratio of 11.55 to one. The B-24 Liberator had a Max speed of 290 mph a cruise speed of 215 mph, a stall speed of 95 mph a range of 2100 miles with a ferry range of 3700 miles. It's service ceiling was 28000 feet and it had a rate of climb of 1025 feet per minute. It's wing loading was 52.5 lbs per sq ft. There were many variants of the B-24 which included long range bombing, refueling tankers, anti-submarine, front nose turret versions and a single vertical stabilizer version instead of the twin tail aircraft. The very last B-24 built in Tulsa was the Tulsamerican.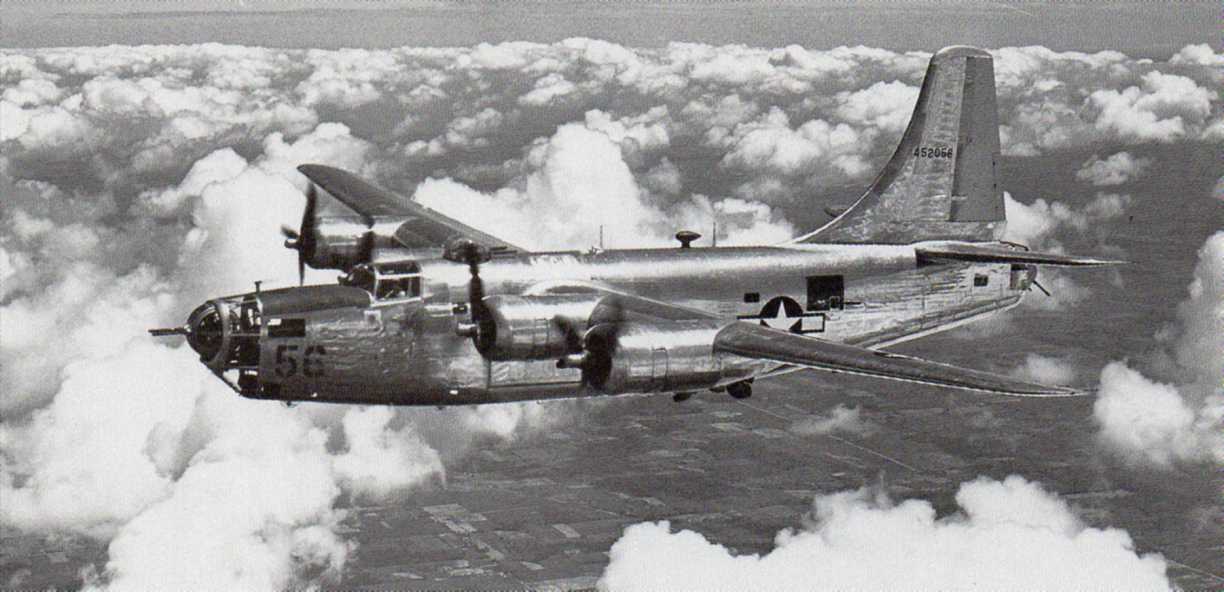 A single tail version of the B-24 Liberator
The Tulsa American, the last B-24 to be made.
B-24J-10-DT #42-51430. 15th AF, 461st BG, 765 BS.
Ford KD Kit arrived 7 July 1944 by truck convoy @ Doulas-Tulsa.
Crashed into Adriatic Sea @ 1412hrs Sunday, 17 December 1944.
Pilot 1Lt. Eugene P. Ford, Navagator Lt. Russell Landry,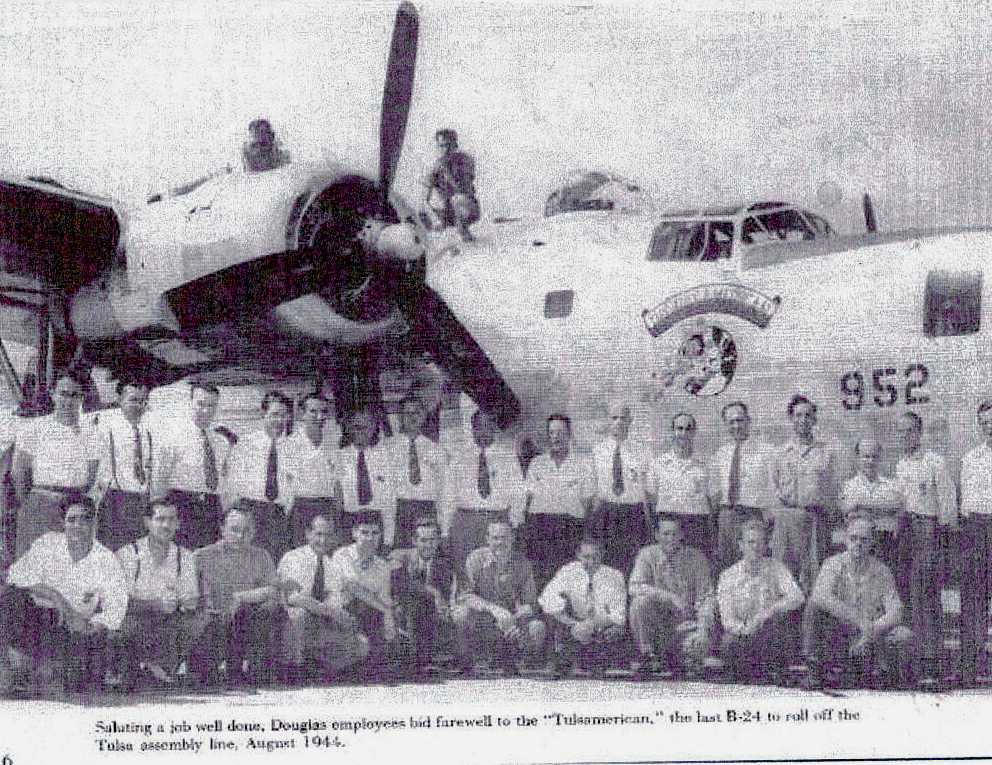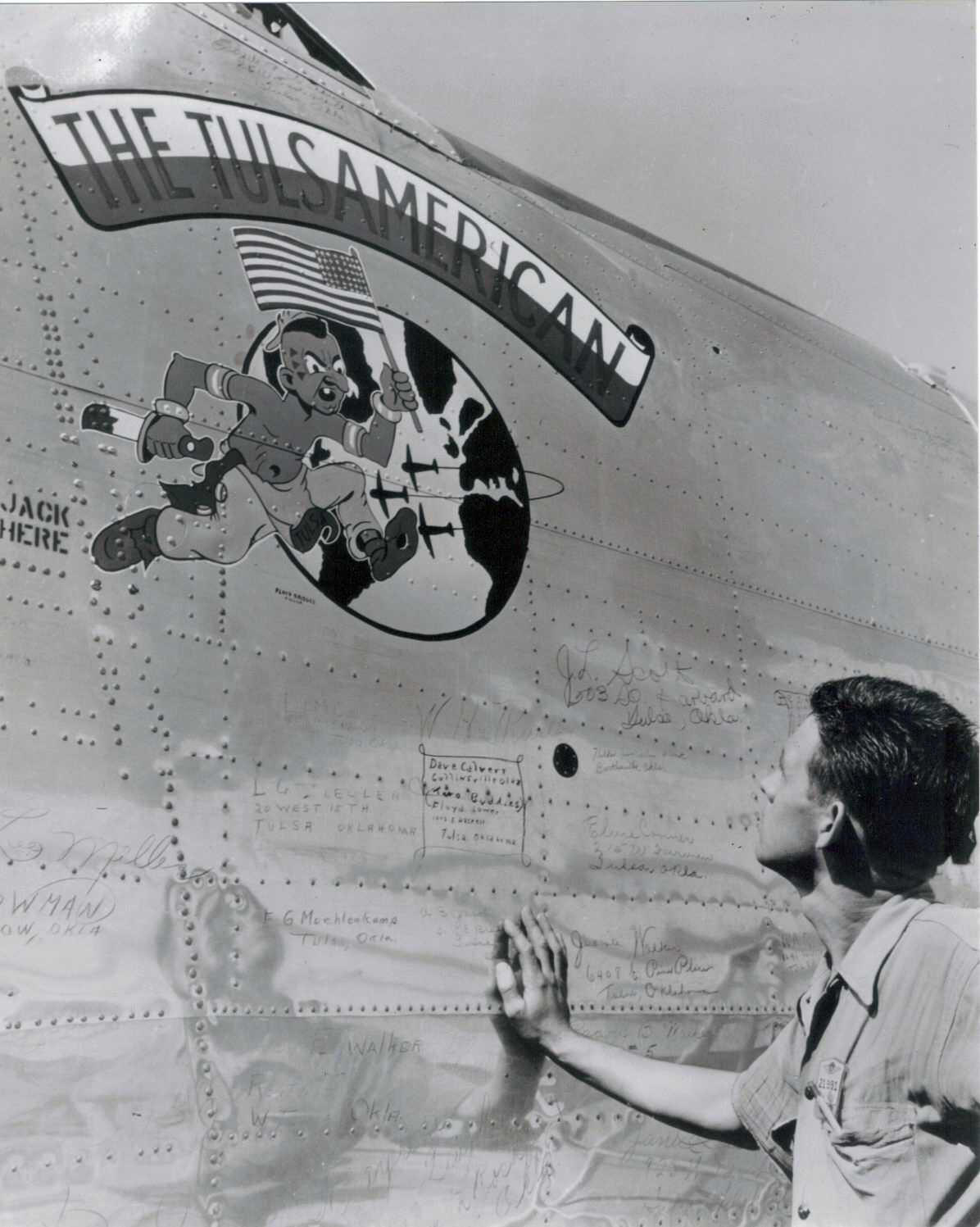 Click Here to see the Script Release for
"Willow Run The Eighth Air Force WW2 Movie"
Order Willow Run, the Book.
To Order
Your Personal Autographed Copy Contact

KFT Publishers,
3617 Christine Dr.
Lansing, MI. 48911

For Information Contact
Email: kidderfr@ATT.net Phone 517- 394-2849
Here's another Book Review about a B-24 Pilot in WW2, Jessie Pettey.
an Article by the webmaster
Click Here's Warren Benjamin Kidders New Book, The Mighty Eighth Air Force Click Here's the Movie Script for Willow Run
B-24 Liberator Movies B-24 Liberator Aviation Art B-24 Liberator Models
B-17 Superfortress Movies B-17 Superfortress Aviation Art B-17 Superfortress Models
B-24 Liberator Bomber on Wikipedia
Click Here for a list of WW2 Fighter Groups
Click Here to go to the YellowAirplane Online Museum


/WebSite/Book_Reviews/Kidder_8th_Air_Force_Action/Page_6_The_B-24_Liberator_Bomber_Aircraft.html|16571"